Fourth of July's Long Weekend Sales
Happy Fourth of July! Chances are, you're finally caught up on Instagram after the obnoxious outage yesterday. So, before you have to hold your fur baby's paw during fireworks, you're free to do some shopping scrolling. Lucky for you, there's some great long weekend sales going on.
Here are the best sales and deals from some of my favorite stores, along with my favorite pieces from each:
---
Bloomingdale's
Bloomingdale's has an extra 30% or 50% off certain sale and clearance items. If you shop on their website, the qualifying items are indicated under the full price. This sale lasts until 7/6/19 online and 7/7/19 if you're shopping in-store.
There are some great items on sale, including from the bigger brands like Kate Spade and Longchamp. Longchamp's large Le Pliage Nylong Shoulder Tote is marked down from $145.00 to $101.50!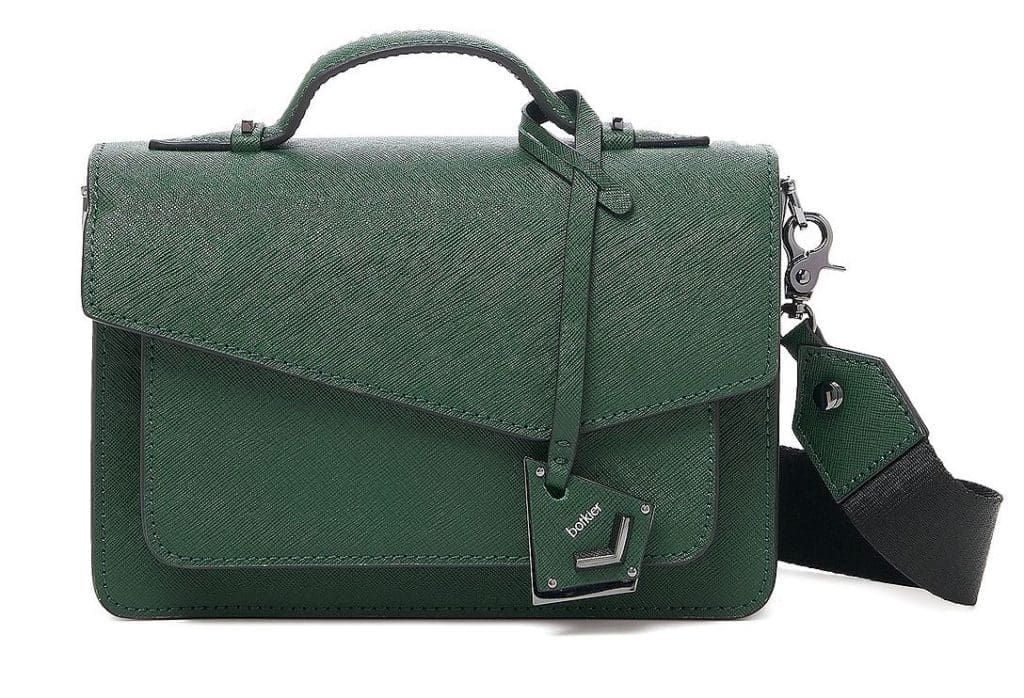 As far as clothing goes, a bunch of my favorite designers have some staple pieces available, including AllSaints, Joie, and Rag & Bone. Plus, one of the Rag & Bone tops I mentioned here is now on sale for $80.30!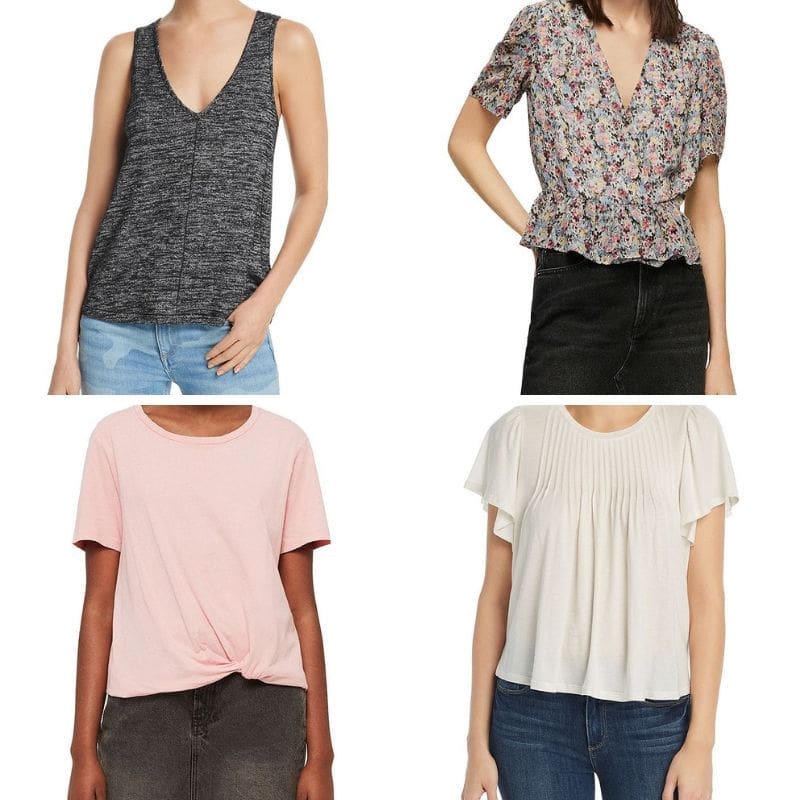 Clockwise from top left:
Rag & Bone Hudson Heathered V-Neck Tank (currently $80.30)
AllSaints Ilia Sketch Floral Wrap Top (currently $75.00)
Joie Myrlie Pintuck-Pleated Top (currently $76.80)
AllSaints Wilma Twist-Front Tee in Pink (currently $40.00)
---
Target
If you're in the market for home goods or furnishings, Target is the place to go. Home and patio items are up to 30% off online with the code "AMERICA".
My favorite item ever — this black and white Highland Cow framed wall canvas — is even on sale for 15% with the promo code! The picture says its out of stock online but available in certain stores. We have this hanging over our bed. His name is Scottie. We love him.
On the bathing suit front, women's swimsuits are up to 20% off with the code "SWIM" — so, if you're coveting any of the Target options from my Summer Swimsuit Shopping Guide, now's a great time to check out the options! This cute crochet swim top is on sale, for example, as is the striped top and army green bottoms I bought a few weeks ago.
Similarly, mens and kids swimwear are up to 30% off!
---
Wildfox
I have been loving Wildfox's graphic tees lately, so I was pretty excited to see they had a sale going on for the Fourth of July. Wildfox is offering 30% off their Fourth of July line with the code "GETSPANGLED"!
A good graphic tee, in my opinion, really toes the line between loud vibrancy and subtlety. I like these options because, for the most part, they look like regular tops. The first two — the Pride and Lady Liberated options — allows you to express social values in an easy and cute way, while the third ocean views tee is just fun.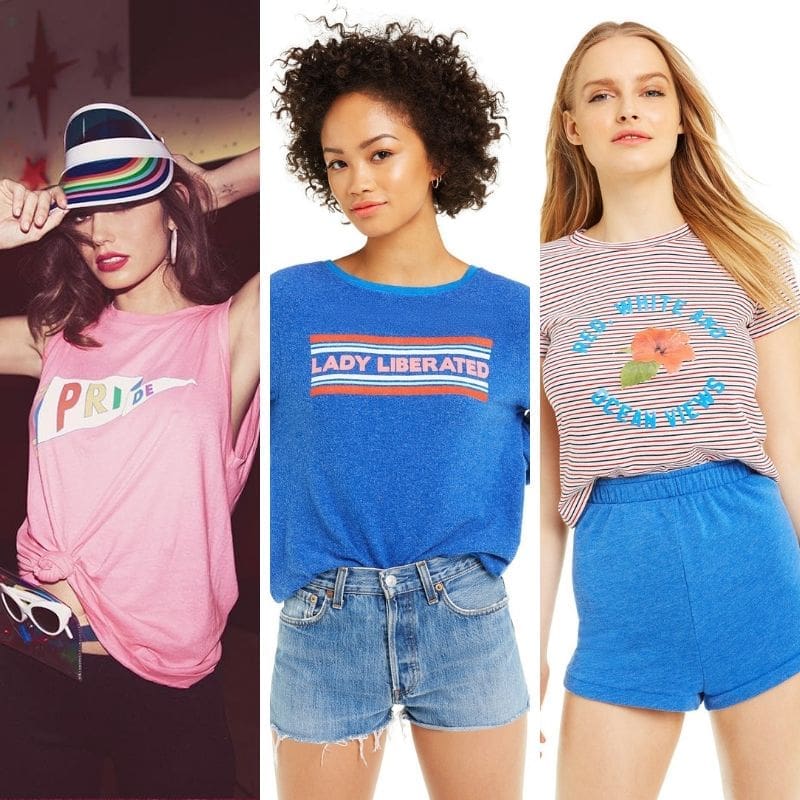 ---
Neiman Marcus
Neiman Marcus is having a Last Call Summer Sale between now and 7/17/19 with up to 75% off select women's styles.
Most noteworthy to me in this sale was the selection of Frank & Eileen button down tops they have available on markdown. My favorite Stewart tartan top (this Tartan Check option) is on sale for $111, as is the brighter red option I ordered from the brand's sale a few weeks back. The navy on the right is another favorite of mine.
---
Splendid
Splendid's summer sale runs through 7/8/19 with 30% off select styles with the code "30SUMMER".
Besides their staple tees and tanks, like this high neck tank top option, the sale includes some super cute dresses and bathing suits. The sale isn't only summer items, though; a lot of great jackets and sweaters are on sale, as well, including the Dune Sateen Jacket I wrote about here.
Overall, the more basic items — tees and tanks — from this sale were tempting to me. This colorful striped Splendid X Gary Malin Sunday Tank, in particular, is totally calling my name.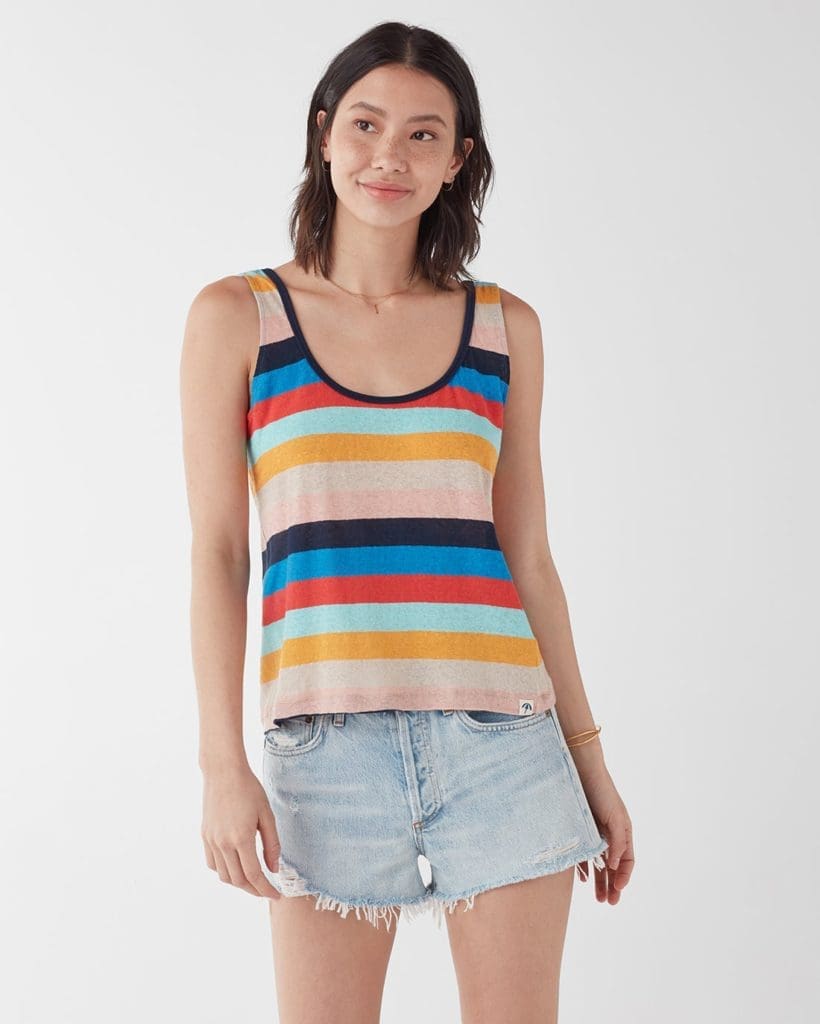 If you find something from the Splendid sale that you really like, though, I recommend acting fast. While I wrote this up, one of the dresses I was eyeing sold out!
---
Yoga Outlet
Yoga Outlet is getting in on the Fourth of July long weekend sales, too, with up to 75% off a bunch of different items and categories. No coupon code necessary!
Of course, Yoga Outlet is great for buying actual yoga clothes. However, I have a shopping hack/tip: they have a ton of great Free People items at great prices! So, if you're in the market for some FP basics, I recommend starting your search here. Obviously, you're not going to be able to find Free People dresses here, but Yoga Outlet has a great selection of bras — sports bras and braletts, like the popular Adella Bralette and the Cami Lace Lacey — and tank tops, like the Rise and Fall Tank.
Besides Free People, Yoga Outlet has a bunch of great clothing brands on sale, including ALO and Spiritual Gangster.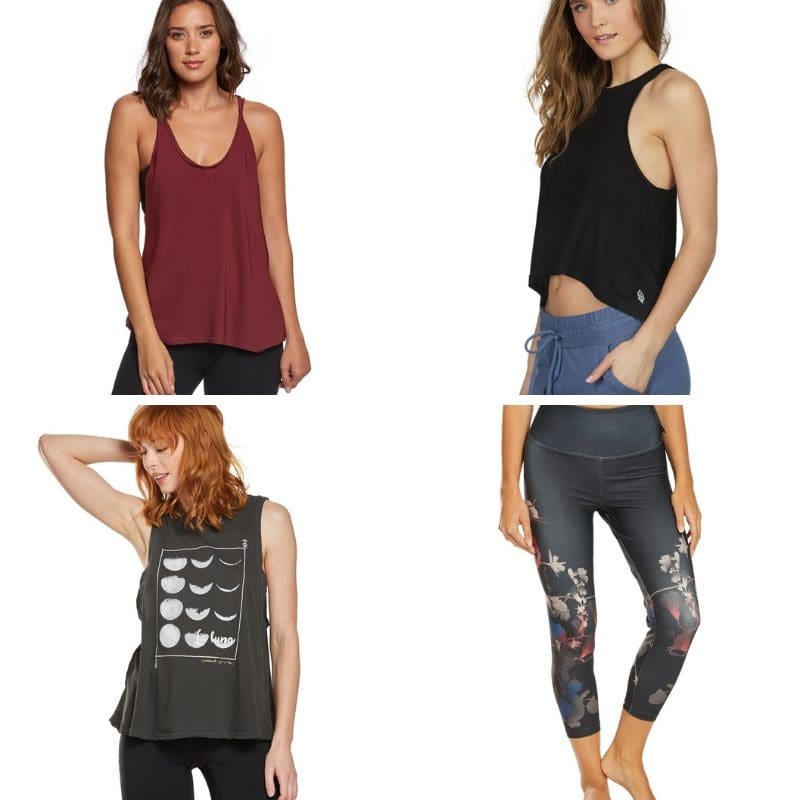 Clockwise from top left:
Manduka Enlight Twist Yoga Tank Top (currently $25.99)
Free People Rise and Fall Tank (currently $17.99)
Marika Persephone Mid Calf Yoga Capris (currently $25.95)
Spiritual Gangster Luna Gigi Muscle Tank (currently $36.99)
---
Jack Rogers
Can't forget Jack Rogers' sale! I wrote about it in my latest Current Loves post.

Jack Rogers has a sale going on until July 7th. A large variety of the company's shoes, including the pretty crochet variety pictured here, are 30% off with the code "FIREWORK".