Madewell Insiders Event Sale
Between now and 3/21/2022, Madewell is having a huge site-wide sale for members of their Insider Loyalty Program. Insiders will get 20% off throughout the sale whereas Stars and Icons level members will enjoy 25% off. You can find your tier of membership by logging into your account on their website. Since Madewell is one of my all-time favorite stores, I am personally shopping the sale and wanted to share my favorites with you! Here, I'll be sharing my favorite finds from the Madewell Insiders Event by category, including tops, dresses, jeans and shorts, and accessories and jewelry: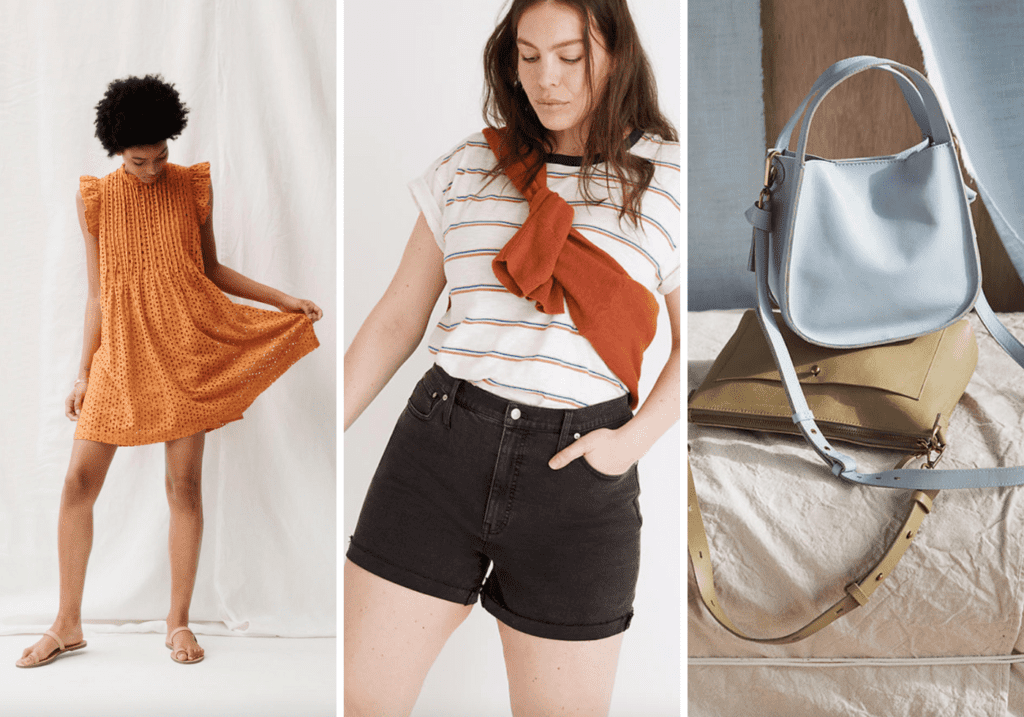 Favorite Finds from the Madewell Insider Event Sale
Tops & Dresses
Most of my daily-wear t-shirts and tank tops are from Madewell (I'm actually wearing this tank as I write this!). While their t-shirts are generally reasonably priced to begin with, they are even better deals now with the Madewell Insiders Event. The basic tee in the bottom row of this graphic starts at $9.99 with the sale, for example, and is available in ten colors; the v-neck in the top row starts at $12.99 and is available in fourteen colors.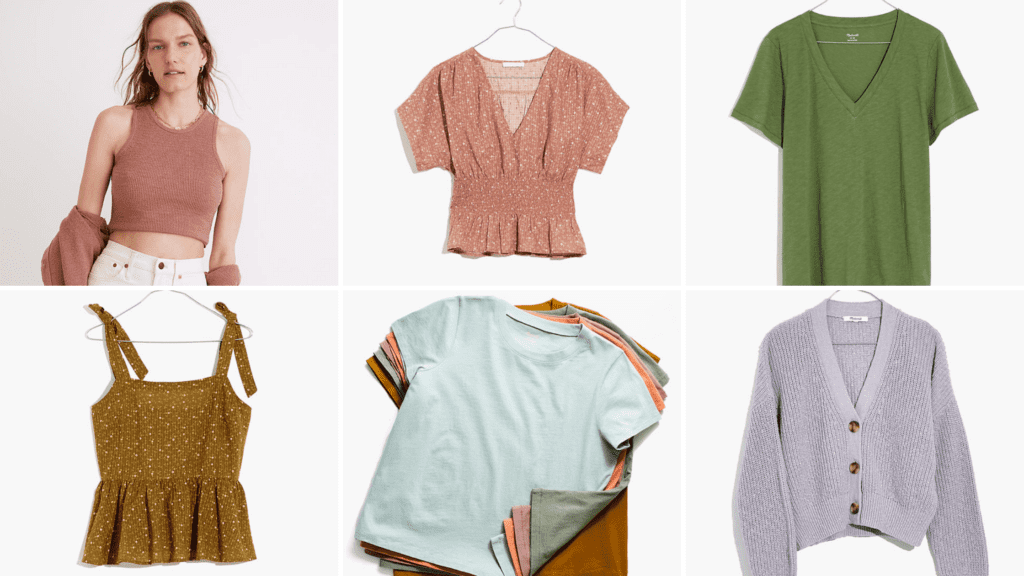 Top Row: Birchmoor Sweater Tank | Daisy Stitch V-Neck Smocked-Waist Top | Whisper Cotton V-Neck Tee
Bottom Row: Daisy Stitch Rosalie Tie-Strap Top | Northside Vintage Tee | Greywood Crop Cardigan Sweater
Beyond tanks and t-shirts, Madewell has a number of great summer tops on sale now, including this super cute Daisy Stitch Rosalie Tie-Strap Top which is currently sitting in my shopping bag online. And even if it's already feeling like summer here in Tampa, I am a huge fan of cozy Madewell sweaters, so this Crop Cardigan continues to call my name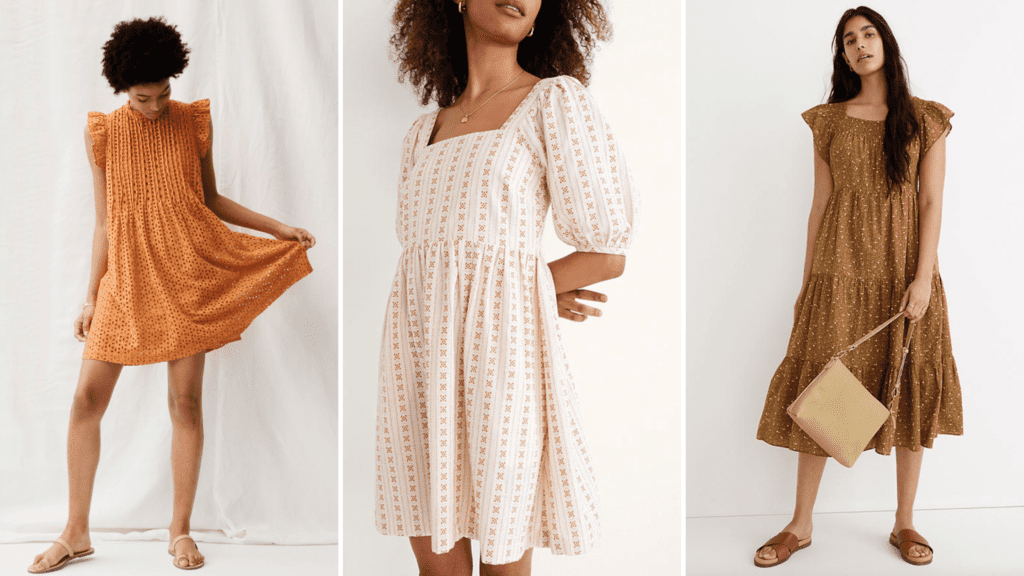 Left to Right: Eyelet Ruffle-Sleeve Mini Dress | Jacquard Stripe Puff-Sleeve Dress | Daisy Stitch Ruffle-Sleeve Tiered Midi Dress
Madewell dresses tend to fit petite women really well, I find, and they have a number of great Nap Dress inspired styles available for spring and summer. The Jacquard Stripe Puff-Sleeve Dress is the perfect style to dress up or down throughout the changing seasons. Similarly, I love how casual and cool the Ruffle-Sleeve Tiered Midi Dress is. For a more intricate option, this Eyelet Ruffle-Sleeve Mini Dress is calling my name.
Jeans & Shorts
I recently shared a post about my favorite denim shorts for petite women, which featured Madewell prominently. Happily, many of my favorite shorts are being repeated here since they're still available and currently on sale!
Top Row: Relaxed Denim Shorts in Essen Wash | Pull-On Shorts | The Perfect Vintage Military Short
Bottom Row: Curvy High-Rise Denim Shorts in Lavista Wash | High-Rise Denim Shorts in Lunar Wash | Relaxed Denim Shorts in Renfield Wash
Besides denim, I am loving The Perfect Vintage Military Short (top row, far right). I have this style in the Palm Tree green color (basically the same as the Pull-On Shorts in the middle top row above). Both of these non-demin styles come in a few colors each.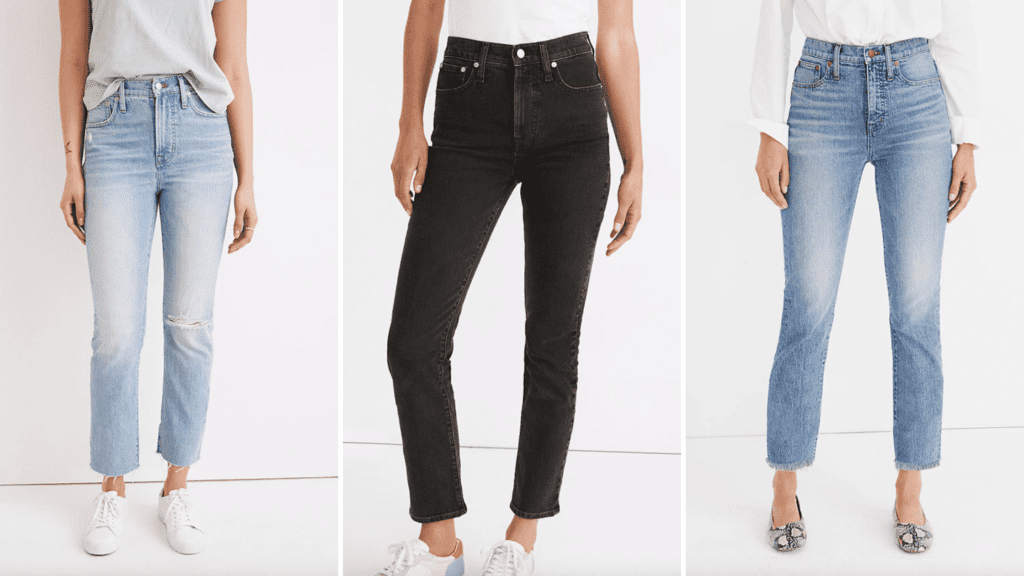 Left to Right: Coney Wash Jean | Lunar Wash Jean | Ainsworth Wash Jean
Now, I don't typically wear jeans a lot, but, when I do, they are almost always Madewell. Like with their dresses, Madewell jeans tend to fit petite bodies quite well, and they are incredibly durable. In all, they are well worth even the original price, in my opinion. So, adding 20-to-25% off that is even better! The Perfect Vintage Jean is my favorite style from Madewell, so I picked three different washes of that style to feature above.
Jewelry & Accessories
Beyond clothing, I really love Madewell's purses and accessories. I have two Transport Totes (you can see my dark cranberry bag here) and get a lot of use out of them. Since I purchased my two, though, they have added a zipper to the top, which is a brilliant addition. Beyond the Transport Tote, though, I am loving the Transport Shoulder Crossbody Bag, a mini-version of the bag, and the Sydney Crossbody Bag. Both of these smaller bags come in multiple colors, as well, and I picked my two favorite hues to feature here.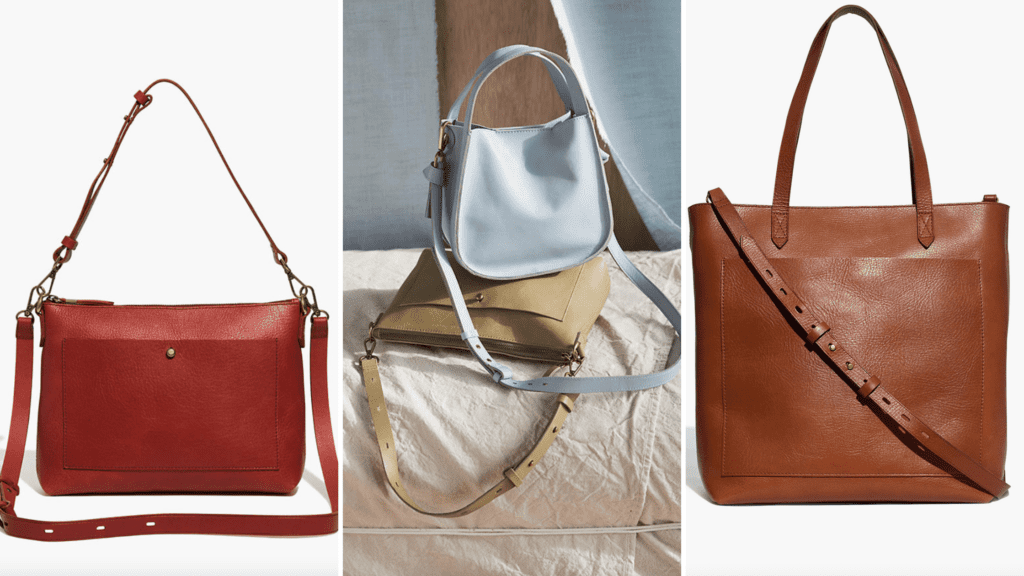 Left to Right: The Transport Shoulder Crossbody Bag | The Sydney Crossbody Bag | The Zip-Top Medium Transport Tote
Last but not least: jewelry and accessories! These are great options if you're looking to add just a bit of flair to your daily-wear outfits. I especially love the Oval Statement Earrings in vintage gold; they're so simple and elegant, casual and classic.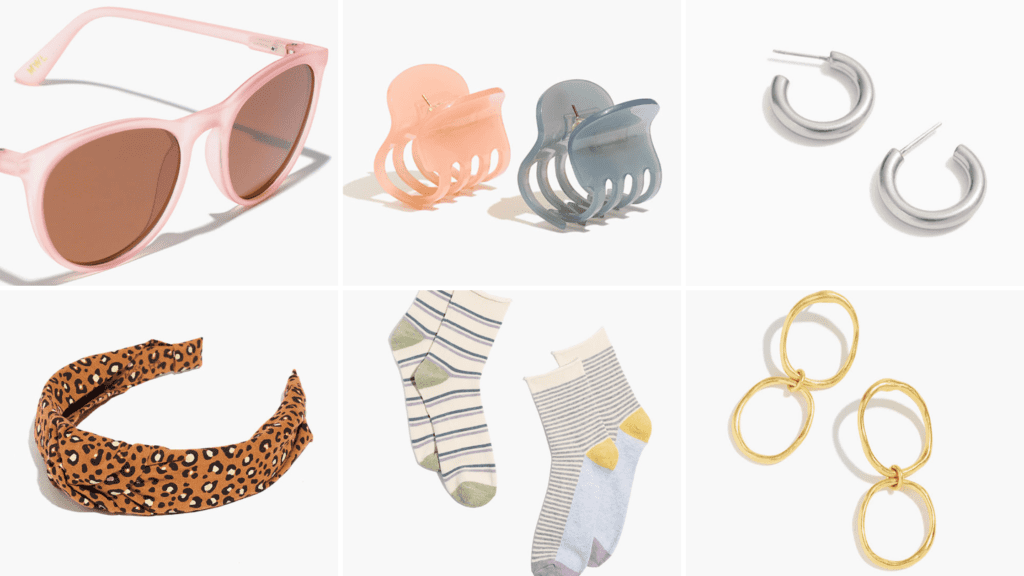 Top Row: MWL Sport Sunglasses | Small Claw Hair Clips | Chunky Small Hoop Earrings
Bottom Row: Knotted Covered Headband | Earth-Dyed Stripe Ankle Socks | Oval Statement Earrings
Besides jewelry, though, the Small Claw Hair Clips are my most practical recommendation; I find that Madewell (and J.Crew) clips hold really well with my hair so I tend to stock up when they're on sale.
What are you shopping for during the Madewell Insiders Event sale?
I like to use these site wide sales to stock up on staples,
like their t-shirts, jeans, and summer dresses!
*This post was originally published on March 15, 2022. It was most recently updated on March 17, 2022.