Milk Makeup's Clean Beauty Brand
It's no secret that I'm a fan of Milk Makeup. It's a fun new beauty brand that prioritizes cruelty-free makeup and skincare that is good for us and for the planet. When a good friend of mine — and fellow Milk aficionado — pointed out to me that the brand was co-founded by a woman, I was even more enthralled. I decided to do some research on Zanna Roberts Rassi, who co-founded the brand with her husband and two other business partners, Diana Ruth and Georgie Greville, in 2016.
A Note on Why I'm Writing This
In a time when the economy is unpredictable and many of us are becoming more anxious about spending money, I want to highlight brands that really mesh with my values as a consumer. I don't think I'm alone in saying that I want to support female-founded and female-run brands. Besides this, though, I am working to prioritize clean and cruelty free beauty products in my own life and writing.
Knowledge is power, so I want to educate myself and be a source of information for you all, who I believe share my values. If everything goes according to plan, this is the first part of an ongoing series I'd like to explore about awesome, groundbreaking women in business and the public eye. Many of the ideas I have for this focus on beauty, but the project isn't solely beauty based.
So, feel free to share your favorite groundbreaking brands and individuals either in the comments here or by dropping me a quick message!
Who Is Zanna Roberts Rassi?
Zanna Roberts Rassi's CV is impressive, to say the least, and the woman sure does keep busy! Rassi was born in the U.K. and currently is based in New York, where she works as the senior fashion editor for Marie Claire. Besides this, she is a fashion correspondent for both E! News and the Today Show on NBC, a stylist for Target, co-founder of Milk Makeup, and a mother of twins. Rassi also acts as host for shows like Project Runway All Stars and Glam Masters.
Photo Source: The Newsette – The Co-Founder of Milk Makeup Shares Her Morning Routine
Founding Milk Makeup
Rassi's husband, Mazdack Rassi, founded Milk Studios, a creative media company, in 1998. This "unconventional conglomerate" has worked with a variety of big names in fashion — including a personal favorite of mine, Alexander Wang. Milk Studios maintains a strong brand ethos, as described by S Magazine, and acts as a "one-stop shop for magazine cover shoots, concerts, and New York Fashion Week runway shows and parties." Milk Makeup is a natural extension of this vibe.
Rassi and her husband co-founded Milk Makeup along with creative director, Georgie Greville, and product developer and COO, Diana Ruth. The basis of the brand can be boiled down to this: Milk Makeup "believes in good ingredients and epic payoff."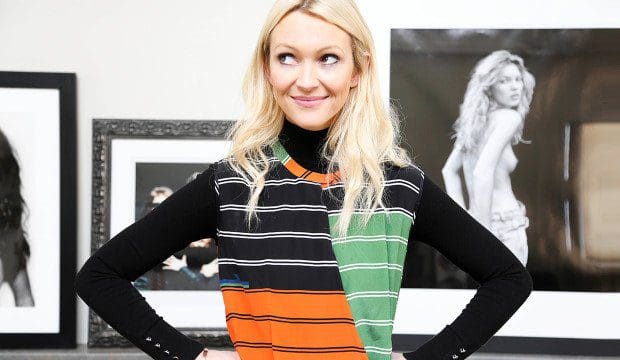 Photo Source: The New Potato, Zanna Roberts Rassi
Zanna Roberts Rassi's Influence at Milk
Besides the focus on clean, vegan beauty, Milk Makeup is also known for its empowering messaging regarding gender and the beauty industry. Rassi, along with Georgie Greville, is credited with influencing the brand's gender-blending focus, which has garnered positive reactions in the press.
For example, the brand's 2017 Blur The Lines ad, released to promote the Milk Blur Stick Primer (coincidentally, a favorite of mine), "challenges every notion you've ever had about gender."

Photo Source: Revelist, This ad blurs makeup-loving men and women to show a wide gender spectrum; Jai Odell/Milk
---
My Milk Makeup Favorites
---
Sources/For More Info…:
---