Cottagecore is a popular and evolving aesthetic, both for the home as well as for style in general. Akin to Provençal  or shabby chic, cottagecore naturally suits the kitchen and dining spaces, celebrating a simplistic and earthy lifestyle aligned with organic foods, home cooking, and slow living. Here, I'm sharing some beautiful modern cottagecore kitchen finds, from useful kitchen gadgets to decorative pieces!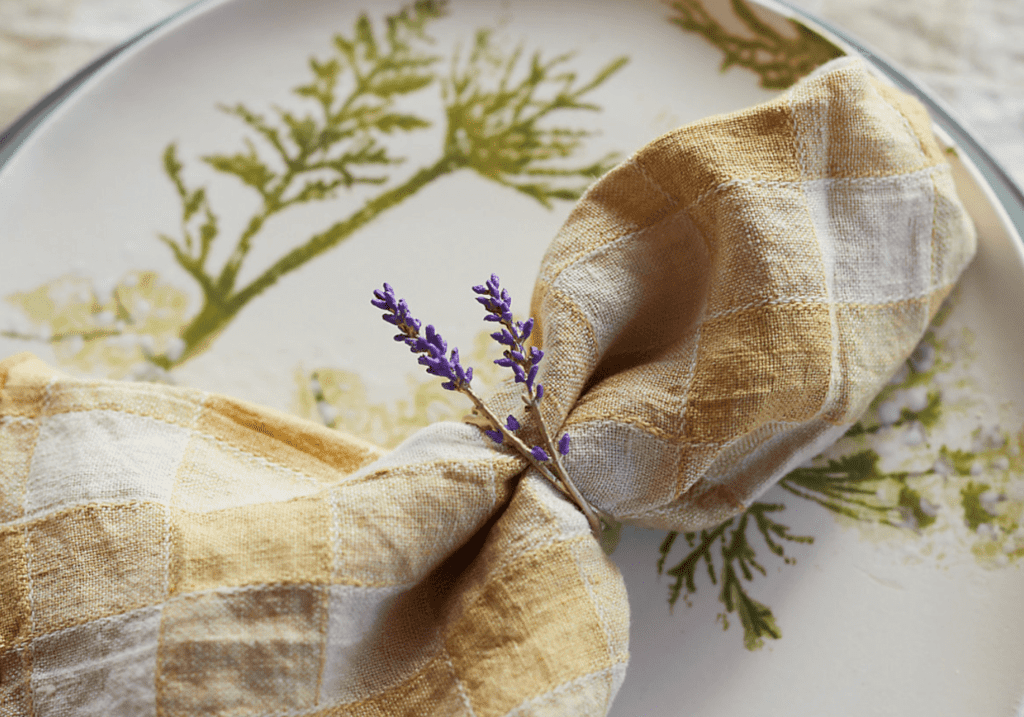 Lavender Napkin Rings from Terrain
Cottagecore Kitchen Ideas
Highlighting casual livability, the modern cottagecore kitchen highlights natural fibers and earth-tone dyes. With organic, simple shapes, this aesthetic is all but the embodiment of the slow living movement. Overall, this style brings uncomplicated design to a much-used area of the home.
Useful Tools Made Lovely
One of my favorite things about a cottagecore kitchen vibe is how simple things are made lovely through texture, pattern, and small design changes. For example, cloth napkins and dish cloths are a great tangible, tactile swap for disposable paper towels and rags. Besides being more sustainable than single-use alternatives, they also offer an opportunity to add color and character to the kitchen. In my kitchen, I like to keep a mix of dishcloths and tea towels or cloth napkins. The former I use for cleaning and drying dishes, while the latter I use for meals.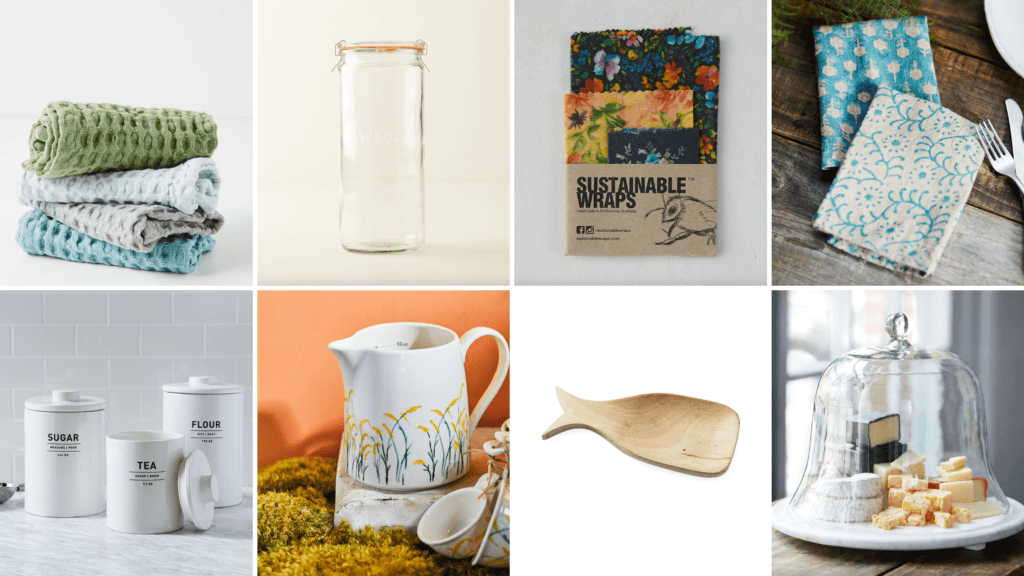 Top Row: Market Dishcloths | 1L Weck Jar Set | Reusable Beeswax Food Storage Wraps | Tulsi Floral Linen Napkin
Bottom Row: Utility Stoneware Kitchen Canisters | Goldenrod Ceramic Measuring Jug | Whale Spoon Rest | Marble & Glass Serving Cloche
Pro tip: for cloth dishtowels and nice fabric napkins, be sure to check the sale sections. I keep an eye on stores like Anthropologie, Crate & Barrel, West Elm, and Williams Sonoma. I have found some of my favorite sets of these cloth towels in this way!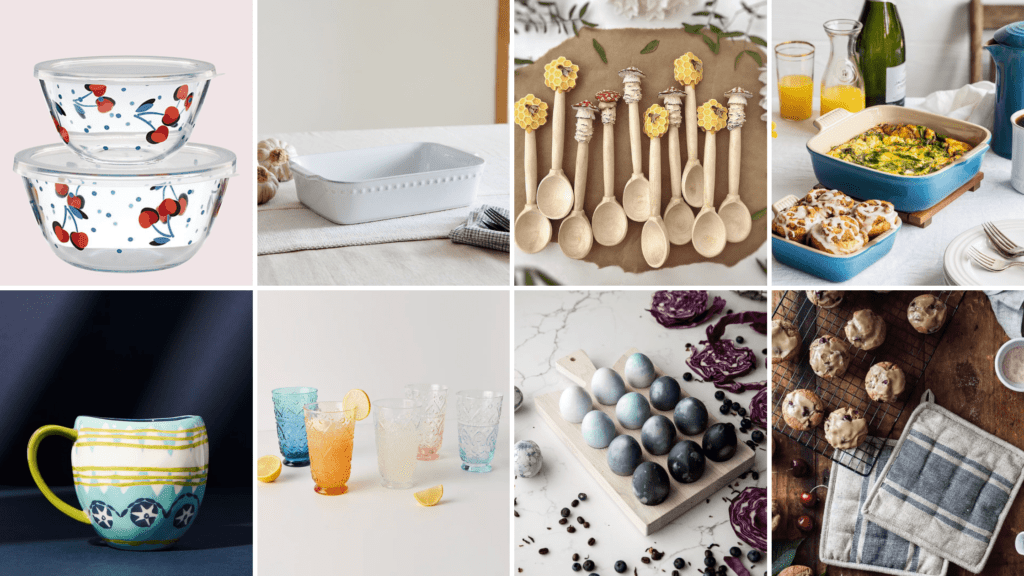 Top Row: Vintage Cherry Dot Round Serve-And-Store Set | Pearl White Rectangular Baker | Cottagecore Wooden Spoon | Le Creuset Square Dishes (Set of 2)
Bottom Row: Nyla Mug | Bombay Glasses, Set of 4 | Farmhouse Pottery Araucana Egg Board | Farmhouse Pottery Stripe Potholders
Cottagecore Kitchenware & Serving Plates
Whether you're hosting guests or simply cooking during the week, these pieces make it easy to dress up your kitchen and dining area. Overall, think lovely mugs, delicately detailed glasses, and subtly antique-styled plates and bakeware.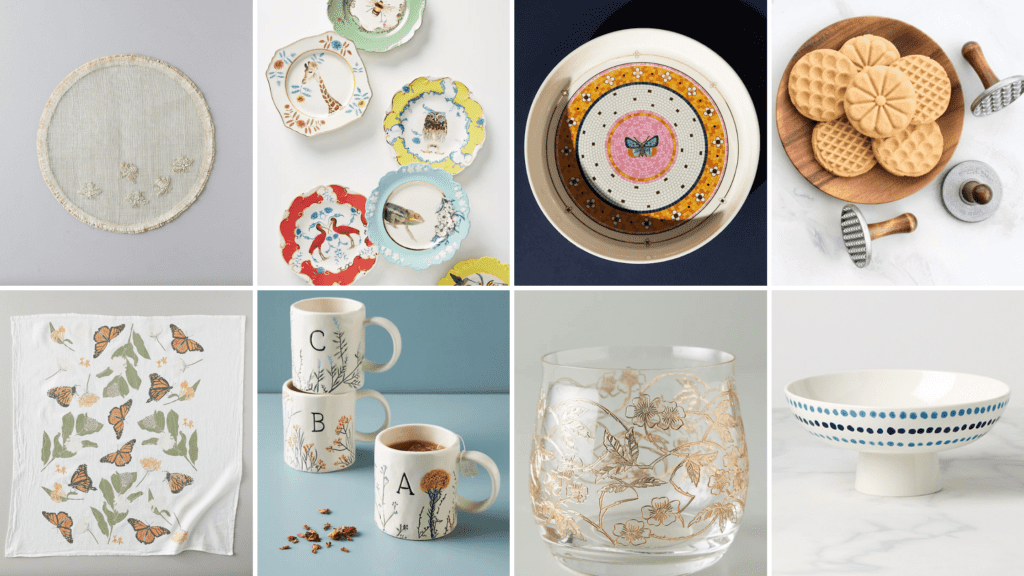 Top Row: Straw Bee Placemat | Lou Rota Nature Table Dessert Plate | Garden Tile Pie Dish | Nordic Ware Heirloom Cookie Stamps
Bottom Row: Monarchs + Milkweed Tea Towel | Dagny Monogram Mug | Fiorella Stemless Wine Glasses | Floral Way Footed Serving Bowl
Each of the serving pieces here offer both form and function. They are easy to use when preparing a meal but also act as lovely modern cottagecore kitchen decor when not in use. I think this is particularly true of the pretty pie plate and small dishes above, or the engraved cutting board below. Each of these could be displayed with a simple stand like this between uses.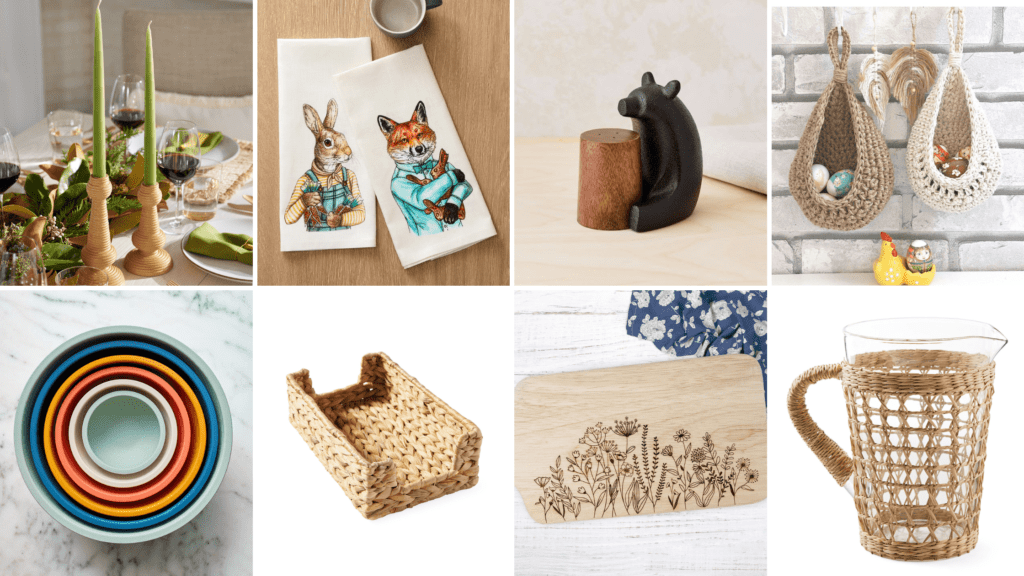 Top Row: Tapered Candles | Dapper Animal Tea Towel | Bear Salt & Pepper Shakers | Cloth Hanging Storage
Bottom Row: Aubin Melamine Colorful Bowls | Braided Napkin Holder | Wildflower Engraved Cutting Board | Cayman Seagrass-Wrapped Pitcher
Which of these modern cottagecore kitchen finds is your favorite?
I am loving the Goldenrod Ceramic Measuring Jug, Fiorella Stemless Wine Glasses,
and Dagny Monogram Mugs the most!