Design Ideas For Small Backyards
Summer is nearly here, which means we have more time in the day to spend outside. Whether you're looking to refresh your backyard or patio, or you are starting at square one, I wanted to share some favorite small backyard design ideas. These pieces can be accommodated for different sized spaces, but each seem to suit a small yard well. Plus, they all tend to build off two of my current favorite home decor styles: Coastal Grandmother Home Decor and Earthy Home Inspiration. The accent pieces are great for any size garden or yard, and some can even be considered indoor-outdoor options. Here are my small backyard design favorite finds:
Vintage & Farmhouse Inspired Small Backyard Deck Ideas
Classic Farmhouse Styles for Outdoor Decorating
When it comes to designing small backyards and patio spaces, I tend to favor lighter looking pieces. This does not necessarily mean lighter in color Rather, I like open structures that seem to make the space seem larger (for example, the little green table in the top middle below). Bonus points for pieces that fold up and can be moved away if not needed. However, if you're looking for a full bar set, I like this one from Bloomingdale's, even though its a heavier-looking style.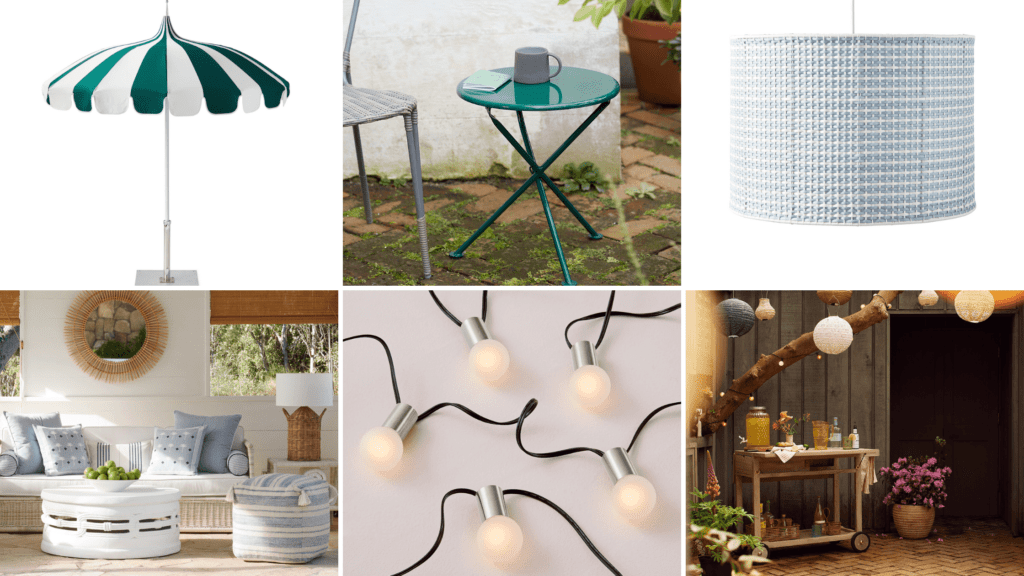 Top Row: Eastport Striped Umbrella | Folding Galvanized Iron Side Table | Muir Outdoor Pendant
Bottom Row: Parkside Pouf | Simple String Lights | Outdoor Teak Trolley
Outdoor String Lights & Entertaining Spaces for Small Backyard Decks
Lighting is a major focus of designing small backyards and patios. If you don't have built in lights on a ceiling or along the exterior of your house or apartment building, outdoor string lights are a great way to add a bit of bright ambiance for once the sun starts to set. There are a lot of great options for these out there. I love the simple bulb design of this set, for example, but am also drawn to a set of solar-powered string lights I found at Target.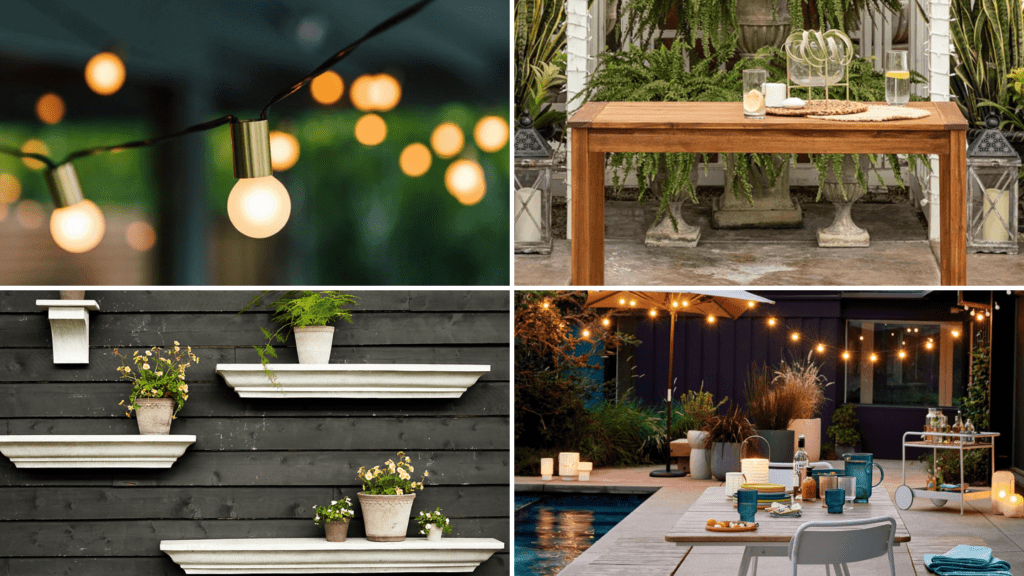 Top Row: Simple String Lights | Acacia Wood Counter Height Table
Bottom Row: Galvanized Iron Shelf | Decorative Patio Lights
Candles, Fire Pits, & Vintage Decor Accents
If you want a fire pit but think you can't have one in a small backyard, think again. When researching small backyard ideas with fire pits, I came across this perfect little option from Bloomingdale's. At $80, this portable tabletop fire pit offers all the benefits of a fire pit without the size of conventional options. Pair it with some twinkly light up trees from West Elm and these customizable teak camp stools and you're all set to roast some marshmallows.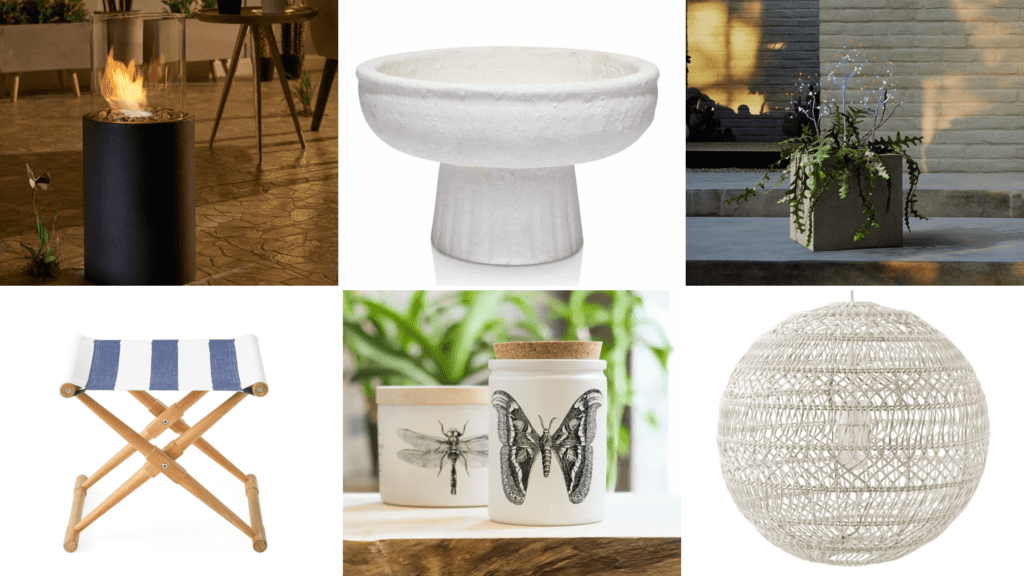 Top Row: Portable Tabletop Large Fire Pit | Jamie Young Aegean Small Pedestal Bowl | Light-Up Trees
Bottom Row: Teak Camp Stool | Skeem Design Citronella Eucalyptus Candle | Summerland Outdoor Round Pendant
Final Touches for Small Backyard Design
Last but not least, I wanted to include these three little accents for your consideration. Whether you build up a garden or not, this three-tiered iron plant stand is a great accent piece for any patio. Put nosy neighbors on notice with this antique decor inspired "private" sign. Lastly, can't forget some comfy outdoor pillows. This diamond lines case struck me as a great organic design for any style patio.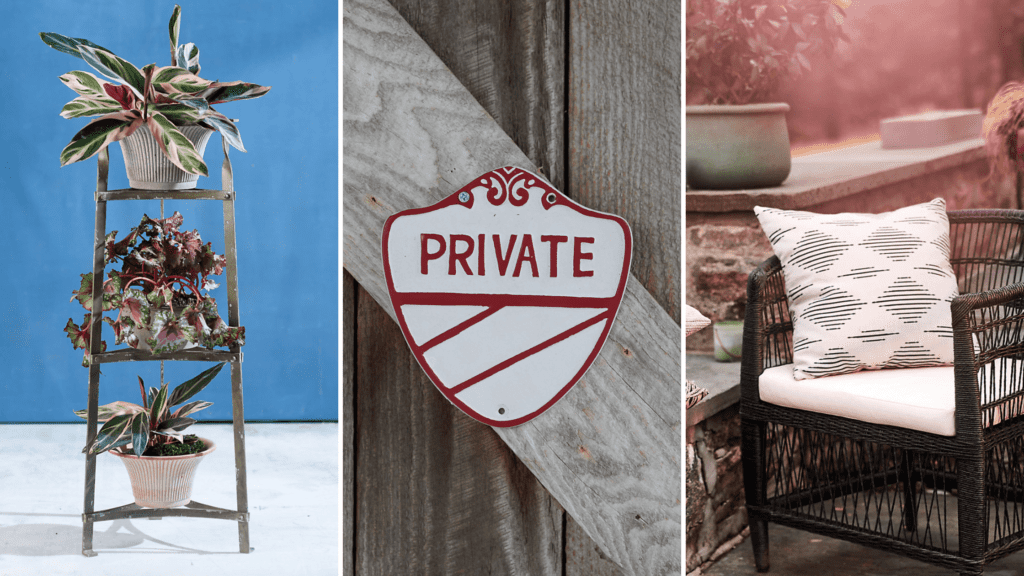 Left to Right: Three Tiered Iron Plant Stand | Private Sign | Diamond Lines Outdoor Pillow
Looking for more home decor inspiration?
Explore all of my home design articles here!
 *This post was originally published on May 26, 2022. It was most recently updated on June 7, 2022.