I'm not sure exactly where I go wrong, but I am terrible at packing for trips. Without fail, I inadvertently pack quantity over quality or simply forget to pack staples. My trip to Scotland this past March can serve as a case study for this issue.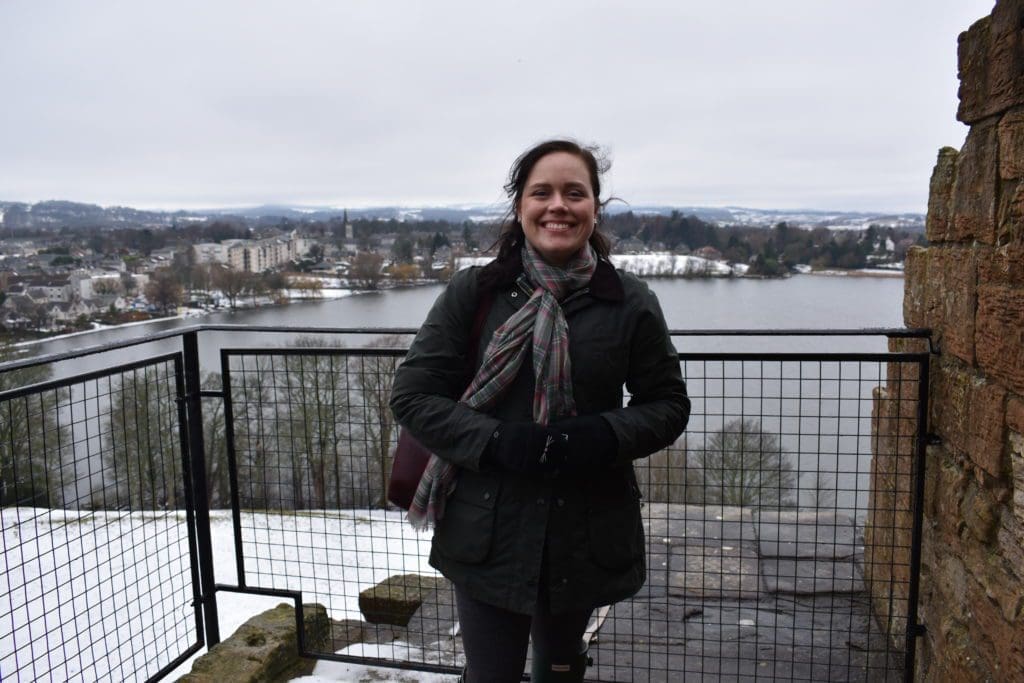 My mom and I went to Scotland for nine days during a terrible winter storm that basically shut down both Glasgow and Edinburgh, our two destination cities. This was only the second time that I had seen snow. As a Floridian, one may assume my mistake would be in over packing. However, I packed only one pair of jeans and one pair of leggings. So, including the black Lululemon leggings that I spent the better part of a day travelling in, I had three pairs of pants for two winter-besieged cities. Needless to say, we took a shopping trip the first day in Edinburgh and stocked up on more winter wear.
I have a few trips coming up in the next few months, and I figured that compiling a list of all my travel necessities may help me remember them all.
---
Hair Care
I have color treated hair and am very careful to use color-safe products. Even when hotels have high quality toiletries, I still opt for my own shampoo and conditioner, just to be safe. It took so long for me to find a dark brown hair color that I am happy with that I am very protective of it!
Usually, I fill little travel bottles with whatever my favorites are at the time – usually some combination of Paul Mitchell or Living Proof products.
Don't forget styling products, either! First things first, a hair brush is a must. Secondly, bobby pins and hair ties. Lastly, I like to bring the Paul Mitchell Awapuhi Wild GingerMirrorSmooth High Gloss Primer . It's a relatively small bottle and is great to use with wet hair or during styling.
---
Skin Care
Although it can be a burden to travel with all the little bottles and vials from my skincare routine, I've found that it's worth while not to skimp while out of town. My skin is sensitive and temperamental, and once you throw in vacation food and drinks, all bets are off.
I prioritize a good cleanser over everything else. My favorite is the Obagi Foaming Cleanser, which is especially great for travel because it is really good at removing makeup besides just cleansing.
I like to bring a nice, all-purpose moisturizer whenever I travel, but it is especially important if I'm going someplace cold. Dry, flaky skin is no fun, and recovering from it can take a long time. Kiehl's Ultra Facial Oil-Free Gel Cream has been a go-to of mine for years.
Relatedly, I like to make sure I have a good lip balm with me. Lucas Papaw Ointment is my first choice.
---
Makeup
Like with my skincare, I try to limit my makeup to the necessities or what I know I'll use. This is an area of packing where I often go wrong, especially if I don't stop for a second and really think about what kind of products I'll use while away.
First, the basics: primer or foundation, bronzer, and blush.
Trish McEvoy's Beauty Booster Tinted Moisturizer is a great first step for any look, whether it's a day of shopping or museums or a fancy dinner out. Next, I can't forget Sephora's Matte Perfection Powder Foundation, which is a lightweight powder that works well with the Beauty Booster Moisturizer and is easy to reapply or layer if needed. As for bronzer and blush, Urban Decay's Naked Flushed Palette in Naked is a fantastic all-in-one option.
Next, I turn to my eye products: eye shadow, mascara, and brow products.
Like the Urban Decay Naked Flushed Palette, the Urban Decay eye shadow pallets are fantastic for travel (and life in general) since it's all-in-one. The Naked Smoky pallet is my favorite color option. The Trish McEvoy High Volume Mascara is a great all-purpose mascara and – bonus! – it comes off with regular face wash and water. Lastly, this Tom Ford Eyebrow Pencil is a great addition for a polished look.
Lastly, don't forget a nice lip color! I'm a big fan of the Lipstick Queen Frog Prince Lipstick. This lipstick provides a nice amount of color and is fairly moisturizing, too!
---
Walking Shoes
Whether you like to rock casual sneakers or Birkinstocks, and whether you plan to get a lot of steps in or not, it is important to have comfortable walking shoes whenever you travel.
If you're anything like me, you'll get lost or turned around at least once while travelling. Dealing with these hiccups is only made worse by sore feet and knees.
---
Flip Flops
As a native Floridian, I have an innate aversion to close-toed shoes, so even if I'm going somewhere cold, I'm always sure to bring a pair of flip flops or sandals with me. That way, if I have to run down the hall to get ice or if we pop down to the hotel restaurant for a late night bite to eat, I don't have to bother with socks or boots.
---
Loungewear
In the same vein as the flip flops, I'm always sure to bring some comfy clothes to wear around the hotel room. I like to bring Lululemon Speed Shorts and a comfy t-shirt or two.
d
---
A Proper Number of Outfits
I think one of the fatal flaws for me is that, if I'm rushing to pack, I don't plan outfits out. Trips where I do consider the number and type of outfits I need, and where I actually lay out the outfits before packing them, tend to go better, style-wise.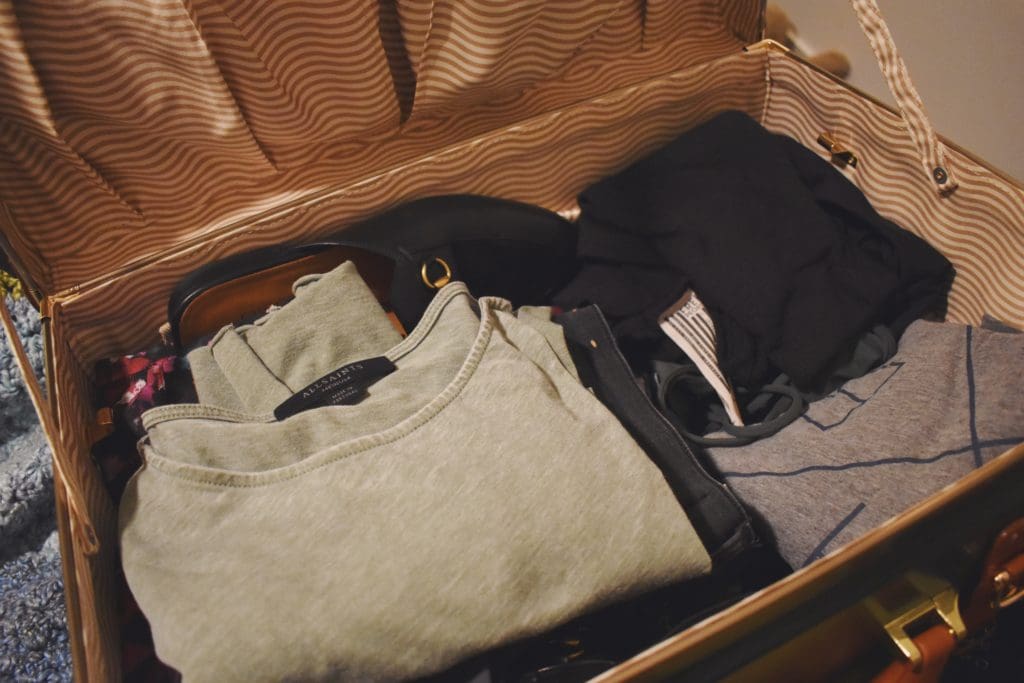 Consider the number of days you'll be gone and the type of outings you'll have. For a five-day trip, for example, I like to pack at least three pairs of pants or shorts and six or so tops. This way, I can make different combinations with the pieces I bring. It also accounts for times when I decide I don't want to wear an outfit I had previously planned.
I always like to bring one dressy outfit, even if I don't have plans that require it. You never know where you'll end up, so it's better to be prepared!
d
---
Snacks
Although you can't fly with water, you can fly with food. Although I love breakfast food, I tend to skip breakfast or rely on something small.
In order to avoid airport snack food that always makes me feel gross or high-calorie (and often expensive) breakfasts, I like to bring a handful of Luna or Larabars and maybe a bag of trail mix. This gives me something to snack on without taking up too much space in my carry on bag.
d
---
Reusable Cup
I always bring an empty Hydroflask with me when I travel, so I can avoid buying single-use water bottles while I'm out of town. The Hydro Flask Flip Top 16 oz. Bottle is a great choice, since it's small enough to fit in a lot of purses but big enough to last for more than a few gulps. Ice lasts for forever in these, too, so if you fill it up with ice water in the morning before going out exploring, you'll have chilled water ready for whenever!
Pro Tip: don't put carbonated water in a Hydro Flask and leave it in the bottom of your purse to get shaken around all day. I did this and when I opened it in J. Crew in Rockefeller Center, it made a really loud noise and water went everywhere.
d
---
Chargers
Last, but certainly not least, make sure you have chargers for all of your electronics! I usually travel with my laptop, iPad, iPhone, and Apple Watch. Try to bring longer charging cords when possible and multi-port chargers like the Anker 40W 4-Port USP Wall Charger since you never know where the outlets are going to be in your room.
---