What is Organic Modern Design for the Home?
Organic modern style home decor offers a welcoming minimal and modern interior design with a touch of warmth. With this theme, the goal is to create a cozy, uncluttered home, combining the clean look of midcentury modern and contemporary design with farmhouse-style warmth. As someone who likes each of these styles individually, and also wants to create a space that is easy to maintain, organic modern interior design really speaks to me. Here, I'll be sharing more about this versatile home decor style, along with some of related pieces to spark your inspiration!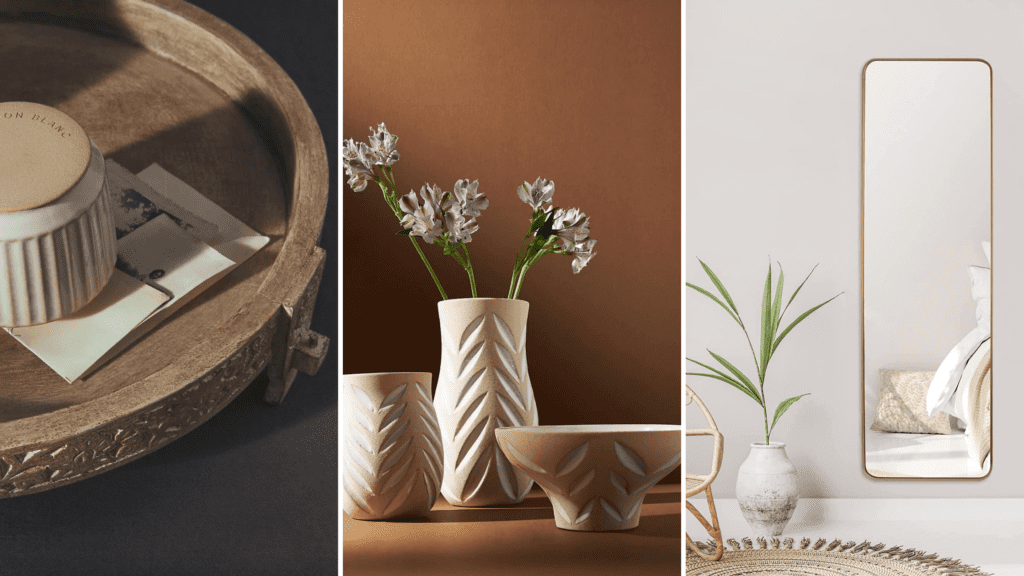 Handcarved Kiri Tray | Jacari Vase | Gold Full Length Mirror
Organic Modern Interior Design
Sometimes described as minimalism meeting Mother Nature, organic modern design uses modern architecture as the base upon which to layer natural and organic materials. With this in mind, the goal is to create a comfortable and effortless vibe.
Colors & Textures for the Home
Typically highlighting neutral colors, this style incorporates pops of rich accent colors and textures. Overall, organic modernism blends comfort and cozy vibes with clean contemporary design. With a crisp, clean base, this home style is easily customized with boho chic or rustic vogue accents or earthy home decor.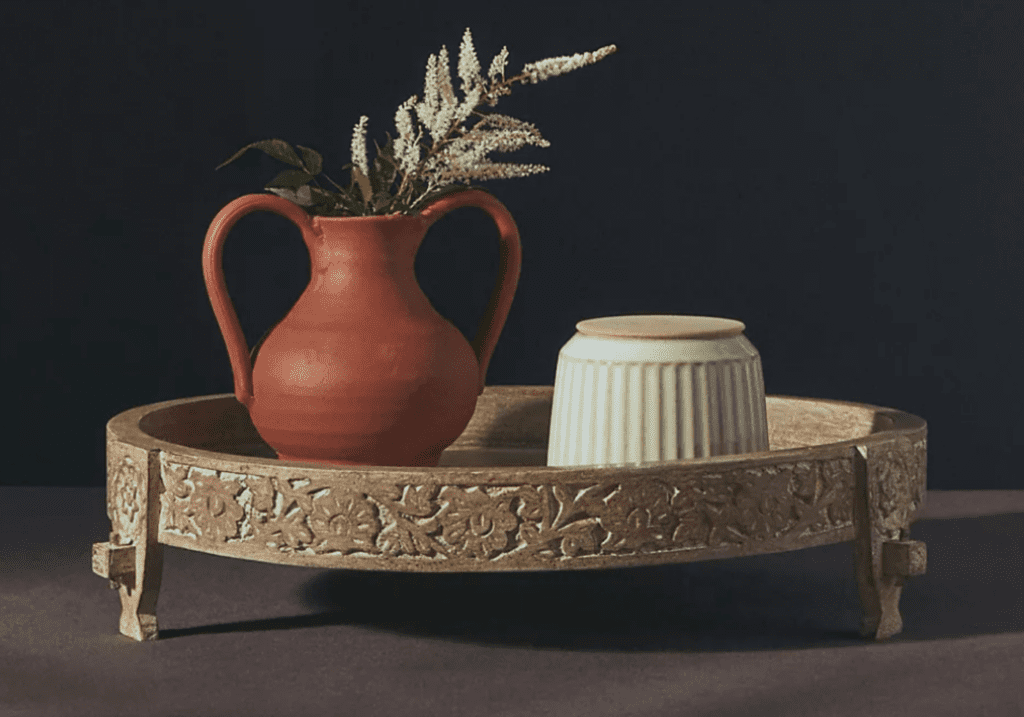 Make the space your own with natural materials and textures, along with soft, organic shapes. For example, add color to the area with plants, as desired. Similarly, handmade crafts are a great way to add character to the space.
Organic Modern Interior Style Pieces
Here, I'm sharing a selection of organic modern style pieces I've found in my research, from my favorite Ruggable rugs to furniture to small planters and accents. Whether you want to make big changes or simply add small details, there are plenty of great modern organic decor pieces to try.
Rugs
Here, I have opted to share three machine-washable Ruggable options. As they are so easy to clean, Ruggables are a favorite of mine, particularly for high-traffic areas. For a bolder look, try the Prado Black Opal Rug style. For a more muted motif, the Hendesi Heriz Rug comes in five colorways; I shared my top two favorites below.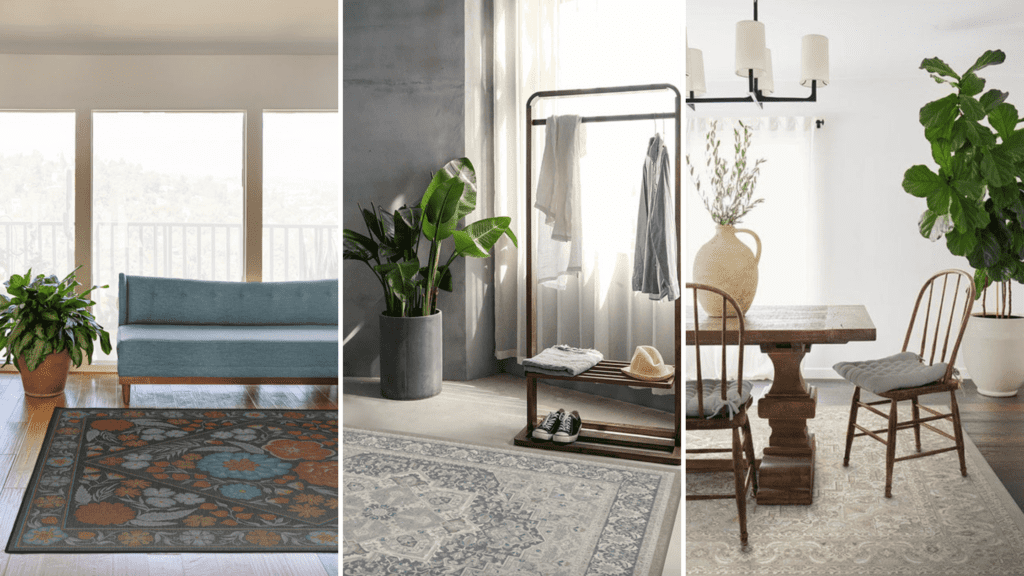 Left to Right: Prado Black Opal Rug | Hendesi Heriz Abalone Rug | Hendesi Heriz Cream Rug
Wall Art & Accents
My wall art choices align with the organic modern farmhouse style. Like the art pieces on the far left, muted wall art pieces are great if you have expansive wall space. Meanwhile, for smaller spaces, mirrors help the space seem larger. Lastly, a blanket ladder is a simple way to store and show off favorite cozy blankets.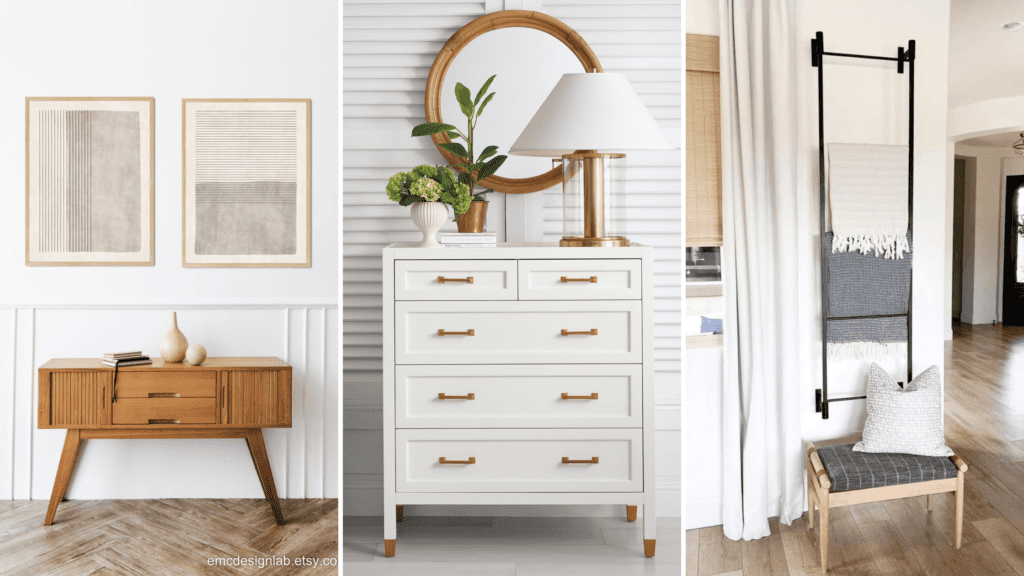 Left to Right: Minimalist Neutral Art Prints | Montara Mirror | Wall Mounted Blanket Ladder
Living Room Furniture
Simply based on size, furniture is the easiest, most effective way to create an organic modern style space. Whether you are outfitting a full home, or looking to replace a piece at a time, these pieces are perfect for an organic modernism living room.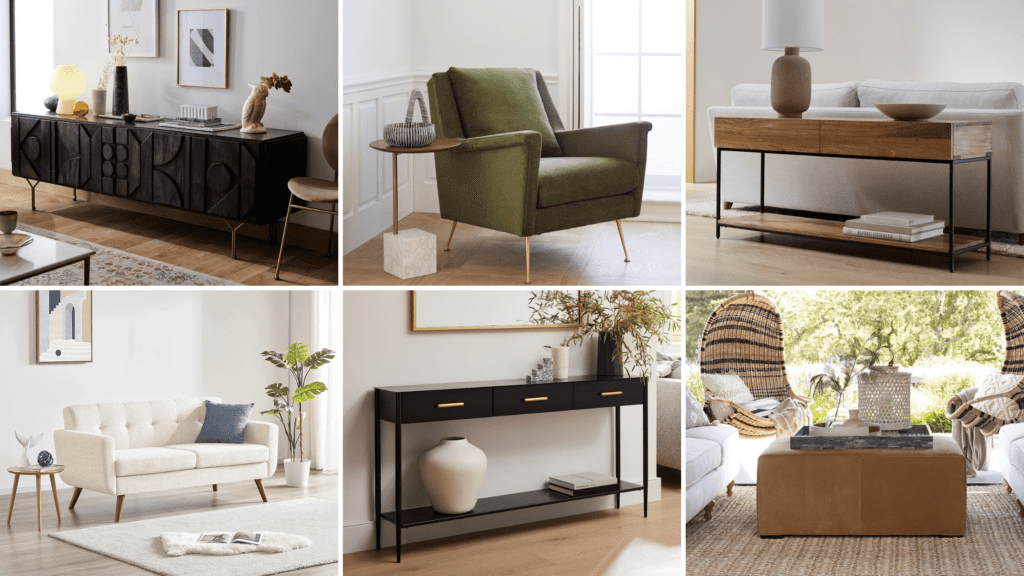 Top Row: Pictograph Media Console | Carlo Mid-Century Chair | Industrial Storage Console
Bottom Row: Mid-Century Tufted Love Seat | Metalwork Console | Norfolk Ottoman
Kitchen Pieces & Serveware
I love to cook, so kitchenware are some of my favorite pieces to shop for. The kitchen pieces here place emphasis on neutral tones with natural textures. From textured cotton napkins to rich wood serving bowls, these are beautiful organic modern farmhouse style pieces for any home chef.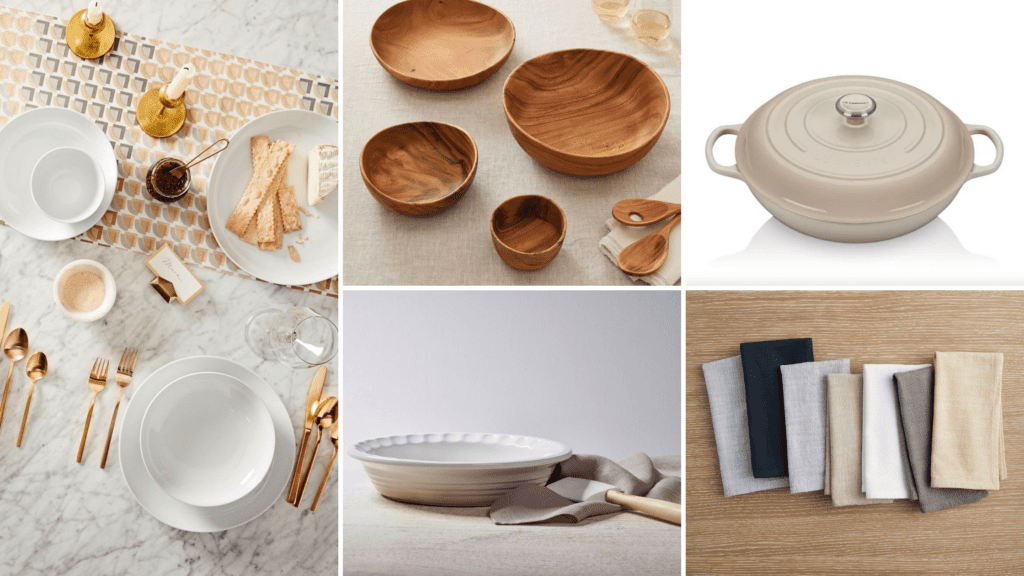 Far Left: Organic Porcelain Serveware
Top Row: Organic Shaped Wood Serving Bowls | 3.5-Quart Signature Braiser
Bottom Row: 9″ Deep Dish Pie Dish | Cotton Napkins
Vases & Planter Accents
Last but not least, I have a selection of planters and smaller accents to share. Here, I chose to share a mix of earthy textures and tones, like the Wicker Basket Iron Plant Stand, with soft, natural shapes, like the Jacari Vase. These pieces are ideal for adding greenery or flowers to the living space without creating clutter.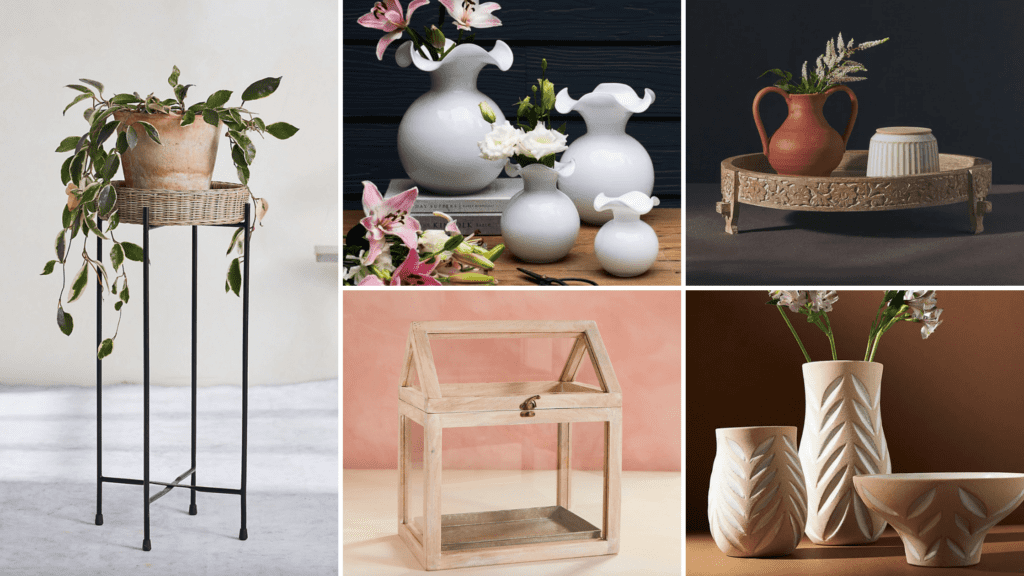 Far Left: Wicker Basket Iron Plant Stand
Top Row: Hibiscus Glass Fluted Vase | Handcarved Kiri Tray
Bottom Row: House Terrarium | Jacari Vase
Which of these organic modern style finds is your favorite?
I especially love the Pictograph Media Console (we have this!)
and the Handcarved Kiri Tray. Lovely pieces with character!