Office Desk Essentials and Accessories
As someone prone to clutter, I find desk organizers and accessories to be incredibly helpful. Whether it's a monitor stand or letter tray, such desk accessories give me a fighting chance at keeping organized. This is particularly important, in my mind, for my work from home set up When I was in an office job, I found it easier to maintain a clean and orderly workspace. At home, though, all bets are off. Here, I'm sharing a variety of useful and cute desk accessories and organizers that I find useful or beneficial for an office set up.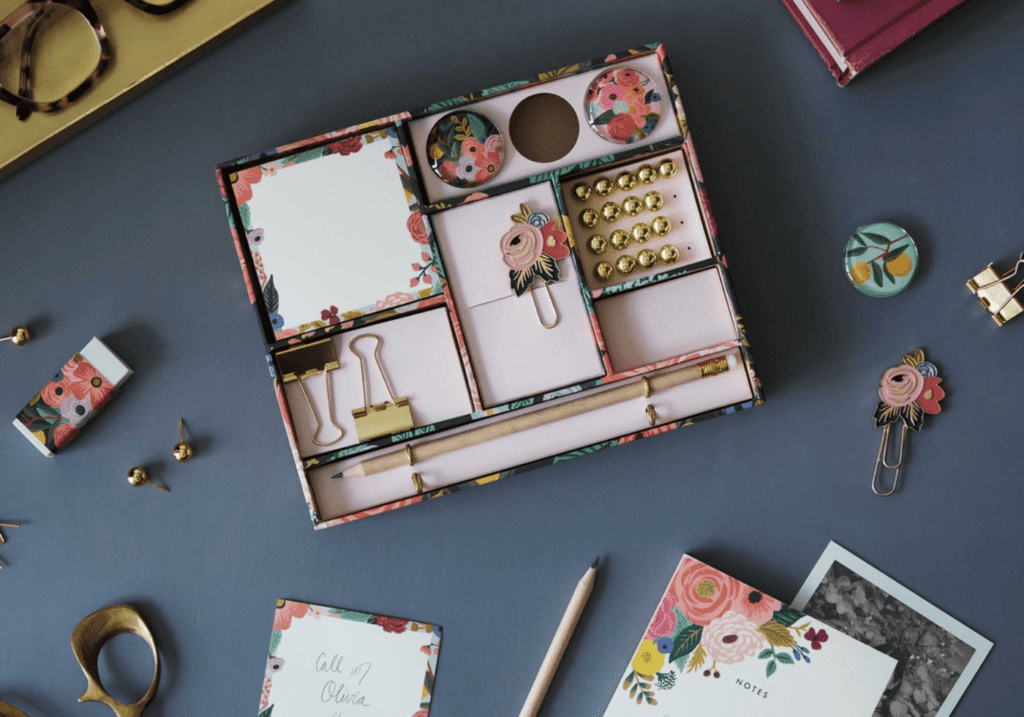 Photo of the Garden Party Tackle Box from Rifle Paper Co.
Colorful Desk Sets, Stationary, & Home Office Essentials
As much as I like sleek and modern styles, I also like color. Specifically, I really like Rifle Paper Co. florals. Luckily, there are plenty of colorful desk sets and stationary from the brand to help optimize your home office. Similarly, Kate Spade has some fantastic options for fun work desk essentials, like the colorblock calculator and the stylus set pictured below.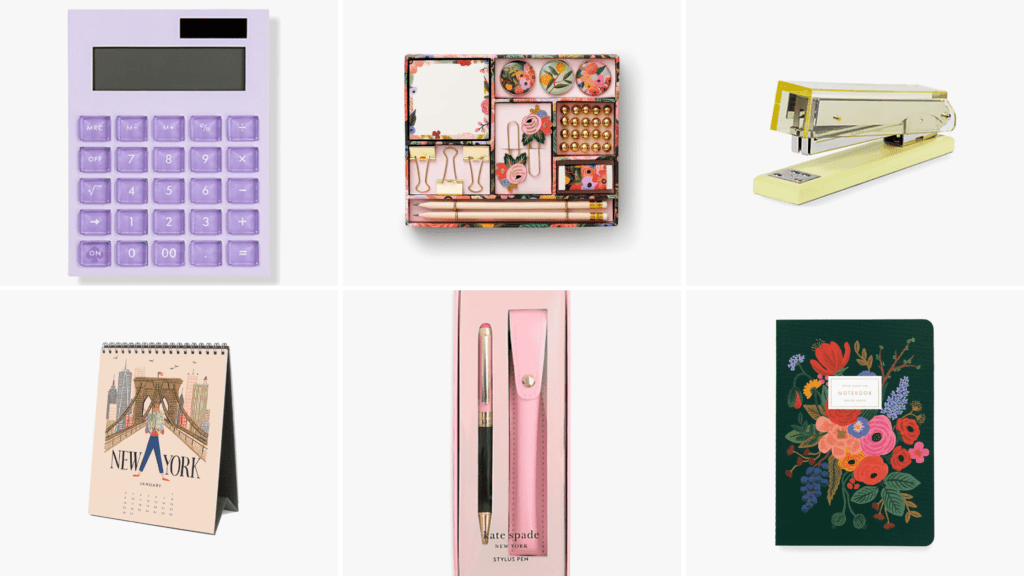 Top Row: Colorblock Calculator | Garden Party Tackle Box | Colorblock Stapler
Bottom Row: Explore The World 2022 Desk Calendar | Stylus Pen with Pouch | Stitched Notebook Set
For my home work desk essentials from Rifle Paper Co., I swear by their notebook sets, notepads, and pens. The pens write really nicely and are fun to look at, so win-win. The notebooks come in sets of three, making them ideal for jotting ideas or bringing work on-the-go.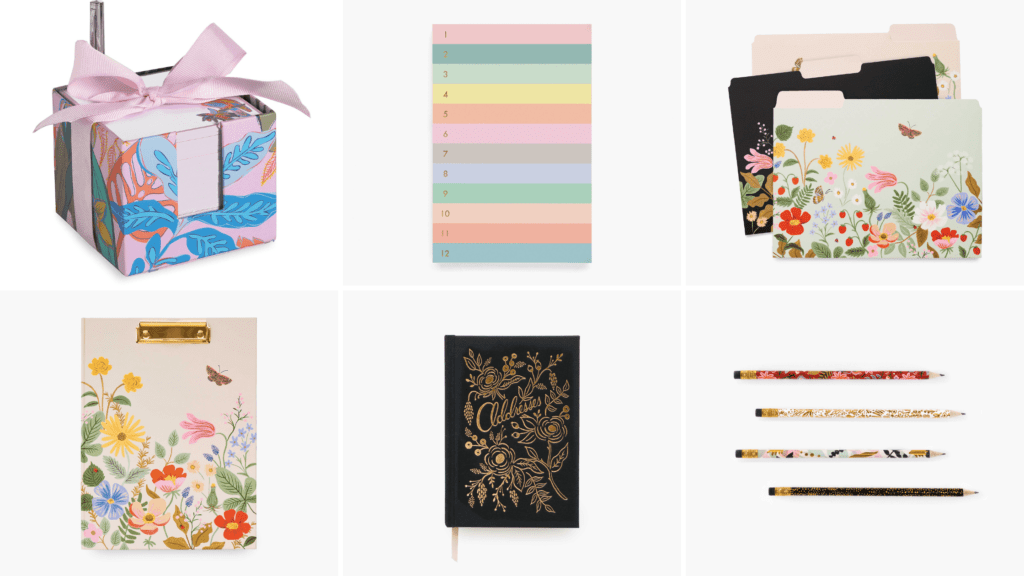 Top Row: Note Cube with Pen | Numbered Colorblock Notepad | Assorted File Folders
Bottom Row: Strawberry Fields Clipfolio | Raven Address Book | Modernist Writing Pencils (similar pens here)
Office Desk Accessories & Organizers
For further office organization, this section offers some more utilitarian options. My monitor stand (similar version here) has been a godsend, in part because it offers storage, but also because it helps with my posture and allows me to work with a double screen between the monitor and my laptop. Before, when the monitor was on my desk itself, I felt like I was slouching more to read both screens; now, I can see both at once in a more streamlined manner.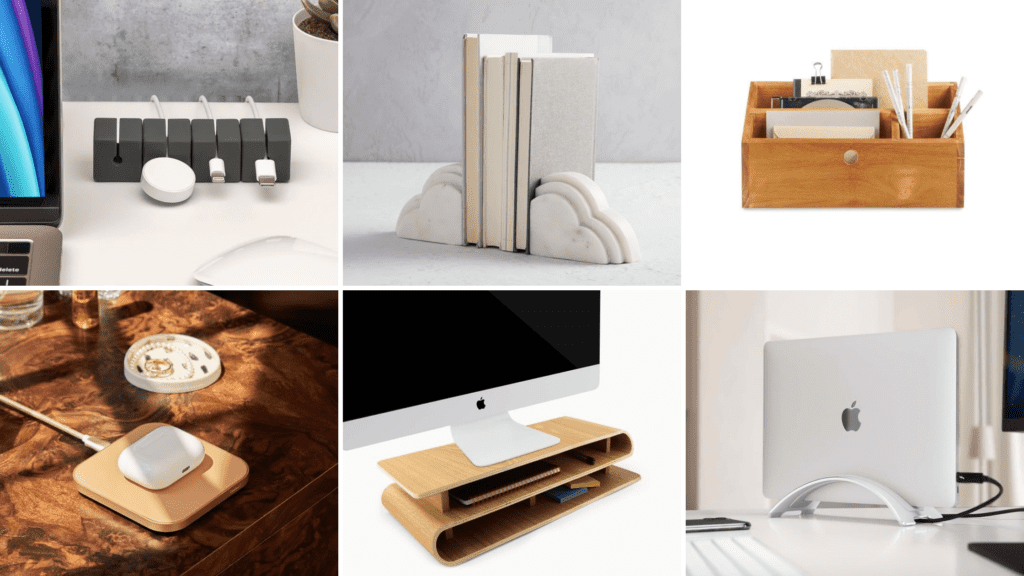 Top Row: Cable Organizer Blocks | Cloud Bookends | Takara Organizer
Bottom Row: Wireless Charger (standing version) | Uprise Monitor Riser (similar style here) | BookArc Laptop Stand
Besides monitor stands, though, cable management is incredibly helpful, as is a simple wireless charging pad or stand for your phone. Similarly, if you don't use a dual monitor system, you may want to consider a laptop stand. These help open up space on your desk. This BookArc option pictured above is a sleek option.
Looking for more cute desk accessories and organizers?
Check out my Desk Essentials list on Amazon here!