The Holiday Collection from Gotham Chocolates
A major perk of having a brother in the food industry — and, specifically, the craft chocolate business — is being able to try out all of the handcrafted confections his team creates. The Gotham Chocolates Holiday Collection features a number of exclusive and creative sweets created by Chef Ron Paprocki, award winning pastry chef.
With a focus on sustainability, Gotham Chocolate sources the best ingredients from small, sustainable farms. Beyond the cacao itself, this team works with local suppliers to build out their stunning collections.
This chocolate collection is available for sale online, as well as in the Gotham Chocolates and Nordstrom NYC Pop-Up shop through the end of December. I wish I could visit the Pop-Up shop myself, since they have some specialty hot chocolate flavors only available there, along with a few other exclusives to the store.
What I Tried from Gotham Chocolates
The White Chocolate Rainforest Bark
I am a huge white chocolate fan, so the Rainforest Bark was the most intriguing to me. This particular confection benefits the Coalition for Rainforest Nations, as well, so you can feel really good about indulging with it! The bark is made from 29% Amedei Tuscany white chocolate and features tropical candies throughout. Each tin contains six ounces of bark, and offers a few sizable portions!
Learn more about the Rainforest Bark here.
The Good Food Award Winning Hazelnut Praline Crunch Bonbons
Beyond white chocolate, hazelnut-inspired desserts are near and dear to my heart. This is why I can't keep Nutella in the apartment. Gotham Chocolates' Hazelnut Praline Crunch Bonbons have an amazing flavor profile. The bonbons feature salty-sweet hazelnut flavor and texture along with a subtle praline crunch. Each bonbon features an entire roasted hazelnut from a family-run orchard in Oregon's mid-Willamette Valley, along with an Amedei Tuscany dark chocolate exterior.
The bonbons won the 2020 Good Food Award for confections, and it's easy to see why. Pick up a set of nine bonbons here.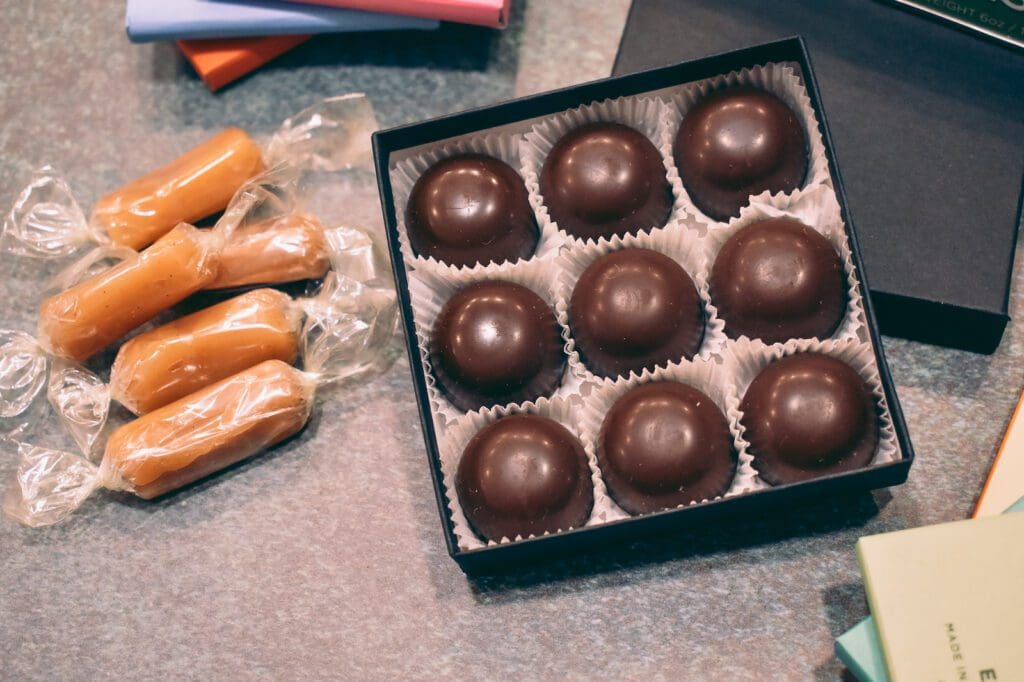 The Sea Salt Caramels
Any fan of salted caramel is going to adore the Sea Salt Caramels from Gotham Chocolates. Featuring Maine sea salt and the creamiest, butteriest caramel I have had, the Sea Salt Caramels are sweet and savory. One of my favorite parts of these is the fact that they aren't too chewy. Sometimes, caramels can be almost abrasively sticky, but these are the perfect texture.
Learn more about Gotham Chocolate's Sea Salt Caramels here.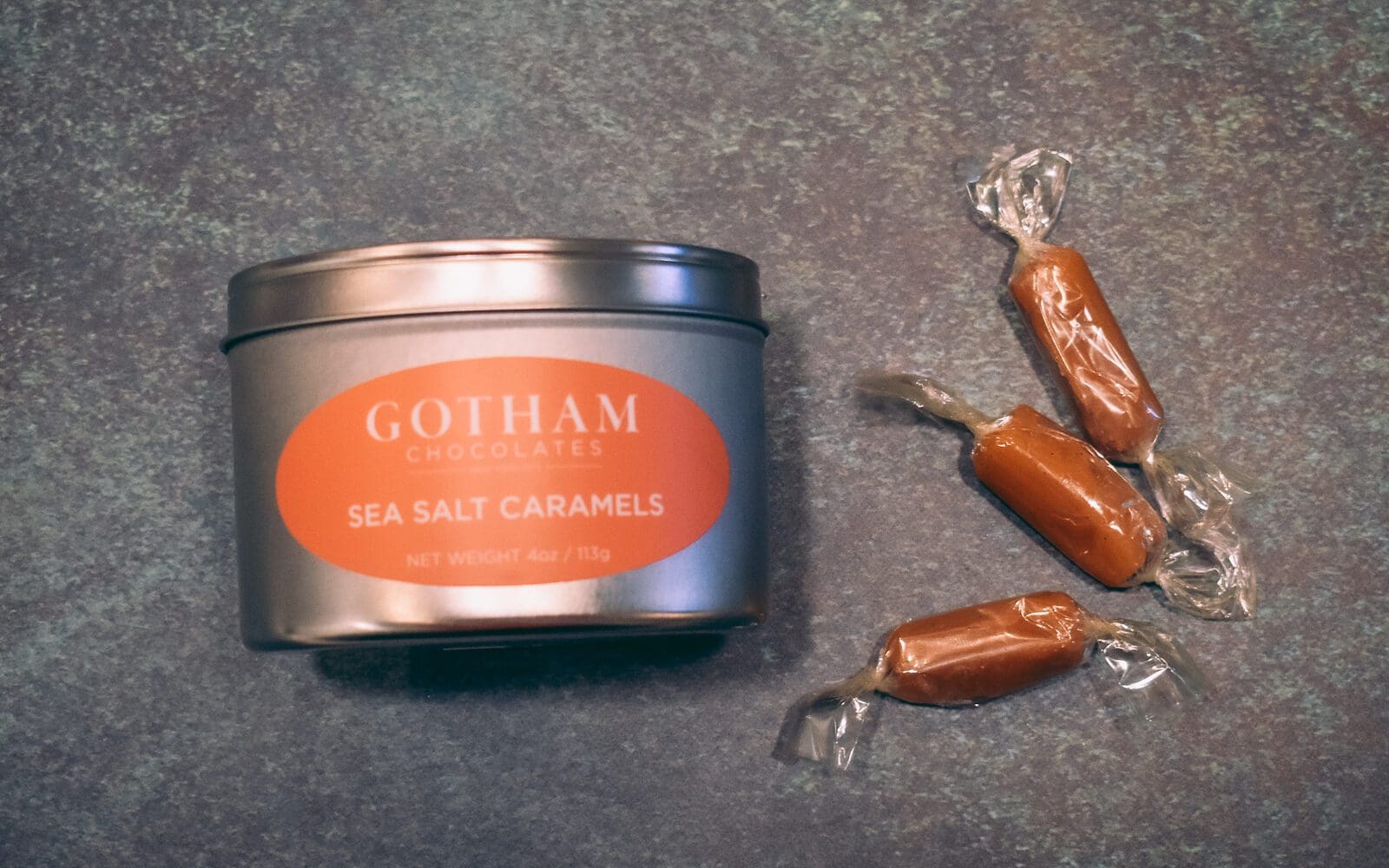 The Gotham Bean to Cup Hot Chocolate
Rich, indulgent, and naturally vegan, Gotham Chocolates' Bean to Cup Hot Chocolate contains an entire bar's worth of dark chocolate in each serving. Made with organic cacao beans sourced from Madagascar, Chef Paprocki roasts the beans and refines the cacao for 48 hours. This results in a bright and lively chocolate in the process. The hot chocolate mixes well with skim milk, plant-based milks, or water.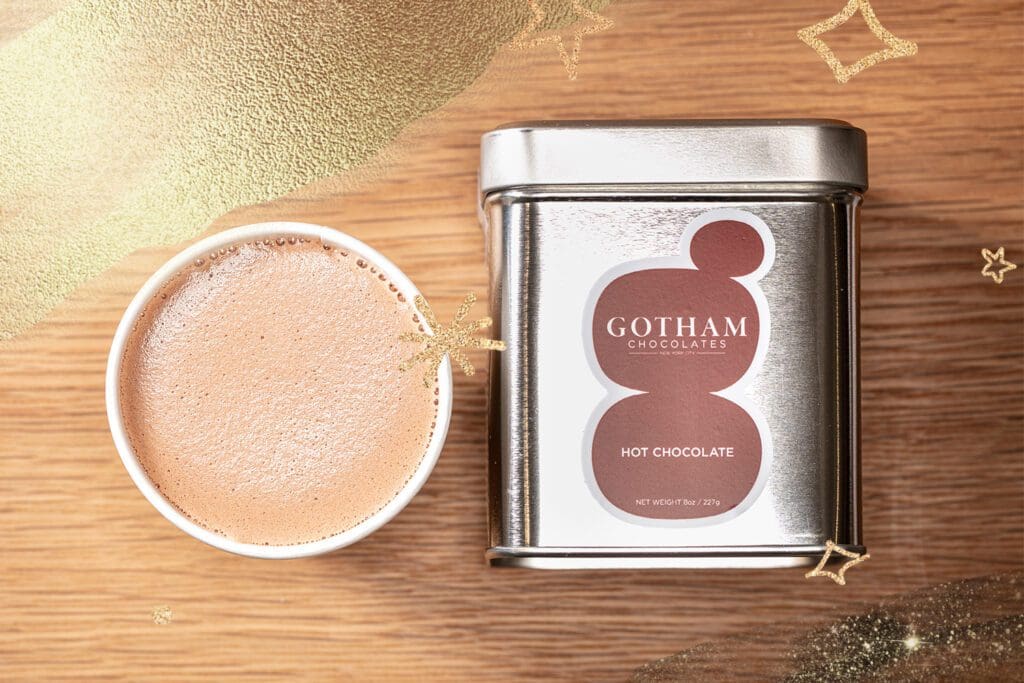 Regrettably, I did not get a photo of the hot chocolate actually prepared, so here is a festive graphic I made for use on Gotham Chocolate's social media.
The Hot Chocolate is currently sold out (it's that good!), but keep an eye out for it soon.
The New York-Inspired Chocolate Bar Collection
Last, but not least, are the chocolate bar series inspired by the City of New York. The series features eleven recipes named for character traits applicable to the bars and New Yorkers alike. But you don't have to be a New Yorker to appreciate them! (Although they will trigger your desire to travel to the City once more, to be sure.)
With wrappers riffing on the New York abstract expressionist movement of the 1950s, the bars are stunning from start to finish.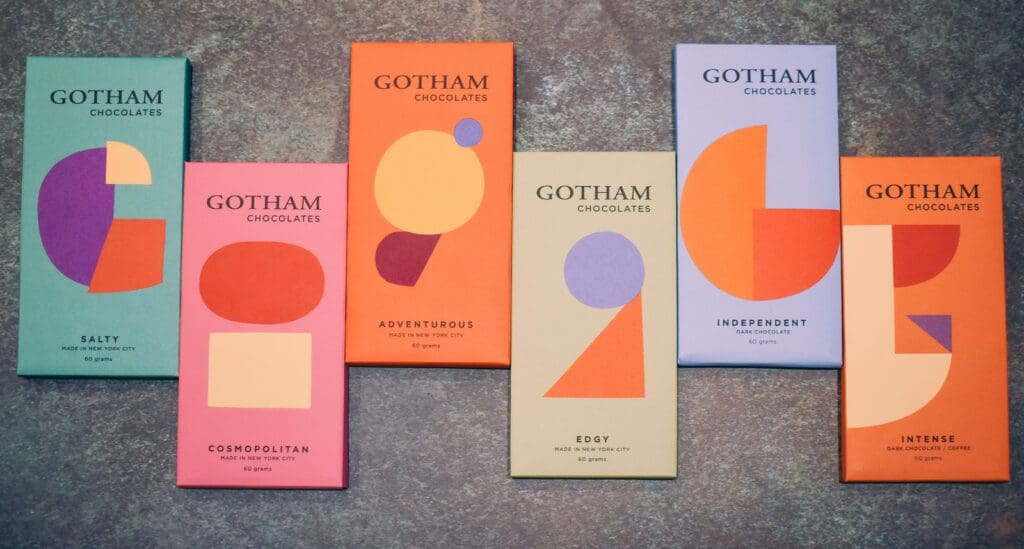 As of writing this, my favorite so far has been the Adventurous Bar. The Adventurous Bar is 70% dark chocolate with a flavor profile of creamy butterscotch, caramel, hazelnut, honey and a hint of spice.
Next up, I'm opening the Intense Bar, which features coffee from For Five Coffee Roasters. I have a feeling that may become my new favorite.
Gotham Chocolates' Chocolate Bars are available individually or in a six-pack. Follow Gotham Chocolates on Instagram to learn more about each of the bars' unique attributes
Where to Find Gotham Chocolates Online
Learn more about Gotham Chocolates and the Holiday Collection here.
Be sure to give them a follow on Facebook and Instagram to keep up with all the great confections they're rolling out in the coming months.