Small Space Holiday Decor Ideas
This year, I've gone back and forth on whether I want to decorate for the holidays and, if so, how much to decorate. Some days, I'm very much in the holiday spirit; others…not so much. But, once I put up a couple little Christmas birds, I began to feel a bit more festive. This inspired me to seek out some sweet holiday decor ideas, with an emphasis on smaller spaces.
Holiday & Christmas Birds

Small Space Christmas Decorations
Overall, Target has so many great small space holiday decor pieces. This first collage is entirely from there, for example, and really highlights the different styles of decoration they offer. When it comes to holiday decor ideas, I like to mix and match traditional and colorful decorations, and there are plenty of ways to do that with their offerings this year.
The sparkly silver birdies I bought from Target come in a few varieties, including some really cute and colorful options, like the Christmas tree one below. Besides that, though, there is a Ski Goggles Bird, a Reindeer, and a Nutcracker. During the same shopping trip, I almost picked up a few of the Bottle Brush Christmas Tree Figurines but decided against them. I wasn't sure exactly where I would have put them. I might go back for them, though, because I really love the colors.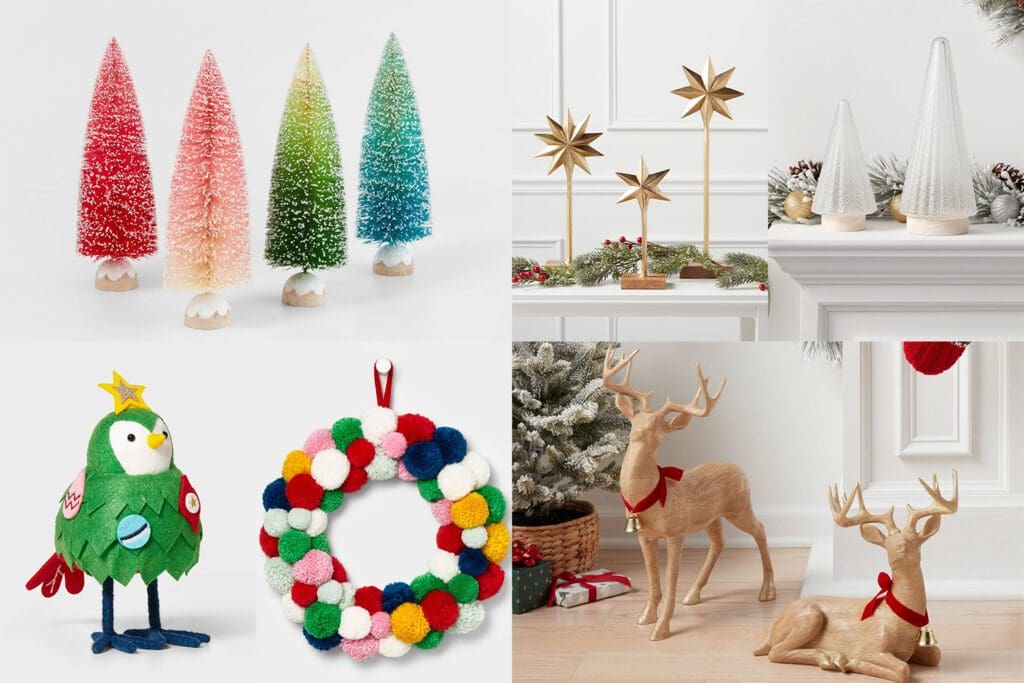 Top Row: Bottle Brush Christmas Tree Figurines | Gold Star Decorative Figurines | Glass Trees
Bottom Row: Christmas Tree Bird | Multicolor Pom Pom Wreath | Wooden Deer Figurines
For more traditional Christmas decorations, I largely turned to West Elm and Pottery Barn. While some of their larger pieces can be quite expensive, I was generally impressed with the affordable nature of the holiday decor items. Similarly, I was also impressed with the size varieties available. Many of the pieces, like the Faceted Mirror Trees in the third collage, come in a wide range of sizes.
As a cat mom, I'm intrigued by these Faux Poinsettias, which look quite realistic. Poinsettias are toxic to pets (and even if they weren't, Louis likes to chew up and destroy plants I keep inside within his reach), so the faux option is a great way to go for indoor decorating.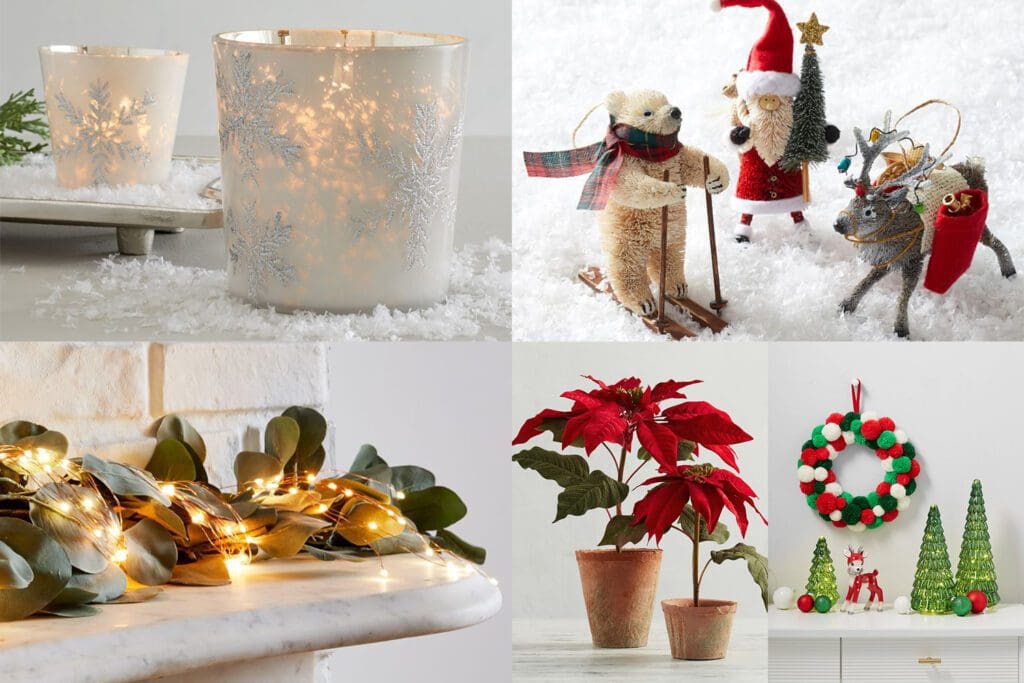 Top Row: Glitter Snowflake Votive Candle Holders | Bottlebrush Ornaments Set
Bottom Row: Spring String LED Lights | Faux Poinsettias | Pom Pom Wreath
As always, when I see tartan, I need the tartan. So these plaid holiday picture frames, which come in both a red and a blue motif, are really calling my name. Besides being great as far as holiday decor ideas, the frames would make a great personalized gift!
Doormats are an easy way to accessorize for the season, and this minimalist, hand-painted option is just too cute. I love how simple it is, while also providing some seasonal flair. Relatedly, the reindeer figurines below, particularly when paired with the mirrored trees and metal loop candle holder, make for beautifully modern holiday home decor.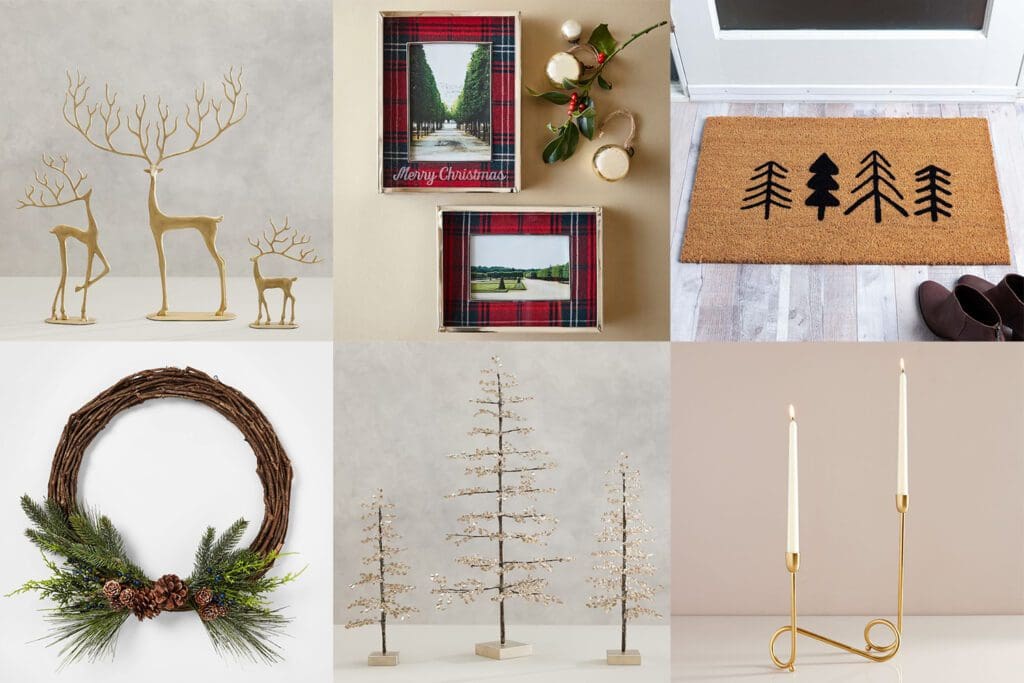 Top Row: Brass Merry Reindeer | Lynbrook Plaid Picture Frames | Hand-Painted Modern Tree Doormat
Bottom Row: Mixed Greenery & Blueberry Grapevine Wreath | Faceted Mirror Trees | Metal Loop Candelabra
P.S. This Christmas light organizer from Williams-Sanoma didn't quite fit into any of the collages above, but it was too intriguing not to share. It looks like such a smart design!
---