How I Came to Love Lulu Organics
I first came across Lulu Organics through the company's amazing dry shampoo. Recommended by a friend with similarly fine long hair, I found that the product helped extend a hairstyle without being too heavy or flattening. I loved the dry shampoo so much that I made it one of My Current Loves! Linda 'Lulu' Aldredge, the owner and founder of Lulu Organics, was kind enough to send me a few other products of hers to try out: the Calming Balm, the Sniffle Balm, and the Ruby Mint Lip Balm.* I'm happy to say that I loved each of the new finds I sampled, particularly the Calming Balm, but more on that in a minute!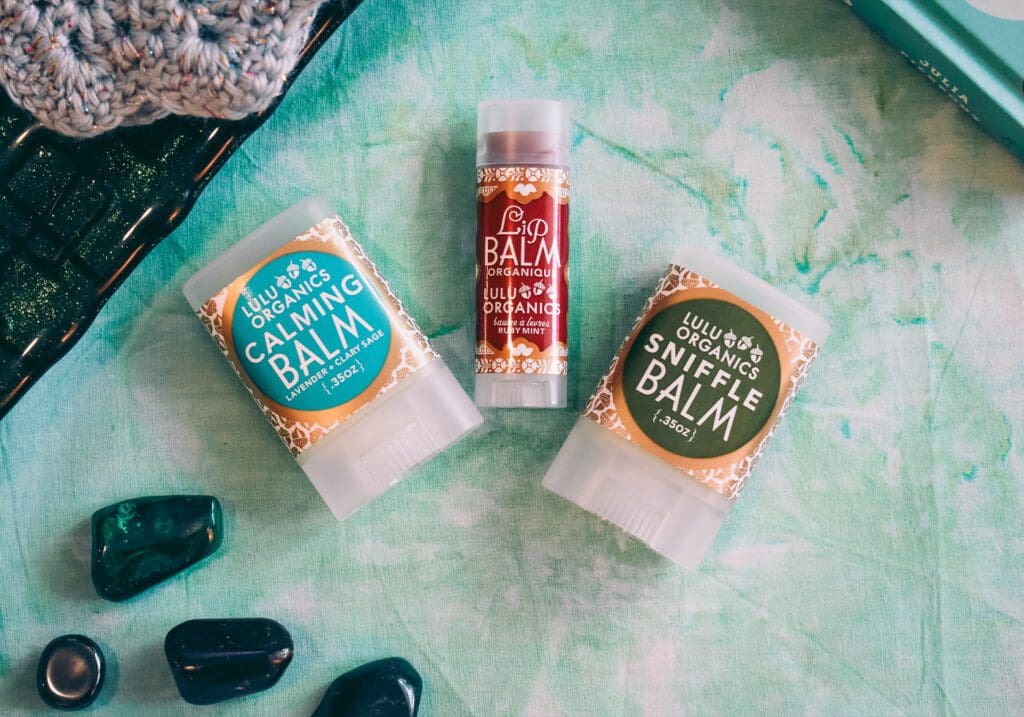 About Lulu Organics
As I mentioned, Linda 'Lulu' Aldredge is the woman behind the brand here. Founded in New York City in 2007, Lulu Organics is based on Aldredge's interest and background in herbalism. Aldredge decided to start the company because she felt like her desires weren't met by the corporate beauty industry; she wanted "simple, pared-down products with food-grade ingredients and no preservatives — much less chemicals [she] couldn't decipher (or pronounce)." As a clean beauty lover myself, this really resonated with me.
Perfecting small batch beauty, Lulu Organics offer simple products designed for a straight-forward purpose. The products are handmade and each listing on the brand's website offers a robust, easy-to-understand list of ingredients. Beyond all this natural goodness, the products are very fairly priced; each of the products reviewed here cost just $10 each and are long lasting balms. If you're looking for an easy way to treat yourself, I can't recommend Lulu Organics' no-nonsense organic beauty enough.
What I Tried & Loved from Lulu Organics
Lavender and Clary Sage Calming Balm
I loved the scent of the Lavender and Clary Sage Hair Powder dry shampoo, so I knew I had to give this one a shot. The Calming Balm is a paraben and petroleum free beeswax balm featuring a clean, fresh lavender and sage scent. It is easy to apply directly to the skin, wherever you feel like it would benefit you: the temples, inside wrists, chest, forehead, etc. Lulu Organics recommends using it before yoga or meditation, or before bed when you're trying to relax. It reminds me a bit of the Eve & Keel Chakra Roller I reviewed here, but a balm version rather than a rollerball oil.
I've been using it nightly before bed and find it's a simple little luxury to help clear one's mind. The scent is not overwhelming, the balm is not sticky; it is the perfect balance of both relaxing aromas and a bit of skin nourishing moisturizing.
Click here to shop the Calming Balm.
Sniffle Balm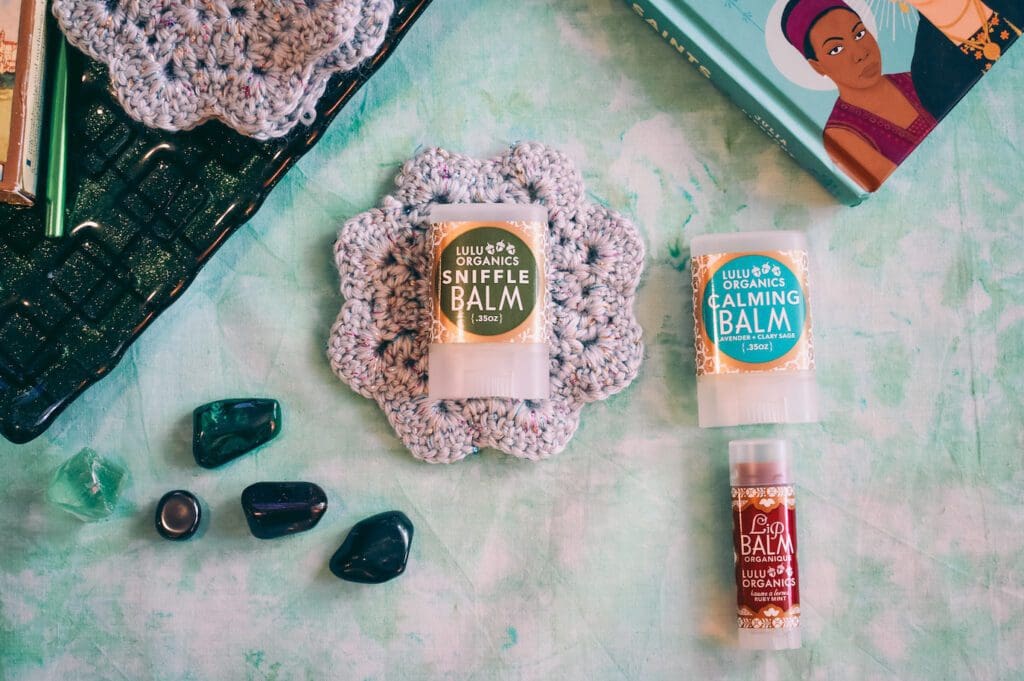 A similar product to the Calming Balm, the Sniffle Balm features a beautiful bouquet of herbs designed to alleviate allergies or a cold. As someone with seasonal allergies, I was definitely intrigued.
Like the Calming Balm, the Sniffle Balm's scent is effective but not overwhelming. Featuring a mix of clove, lemon, eucalyptus, cinnamon, rosemary, lavender, thyme, bay, coco butter, and camphor, it is subtly spicy without assaulting the senses. The texture of the balm is lovely, blending nicely into the skin without causing clogged pores or congested skin. The brand recommends applying the Sniffle Balm to your chest to stimulate the thymus gland, open up clogged nasal passages, in order to aid breathing and to prevent a cold. It is also nice when you're dealing with dry skin (same goes for the Calming Balm).
Click here to shop the Sniffle Balm.
Ruby Mint Lip Balm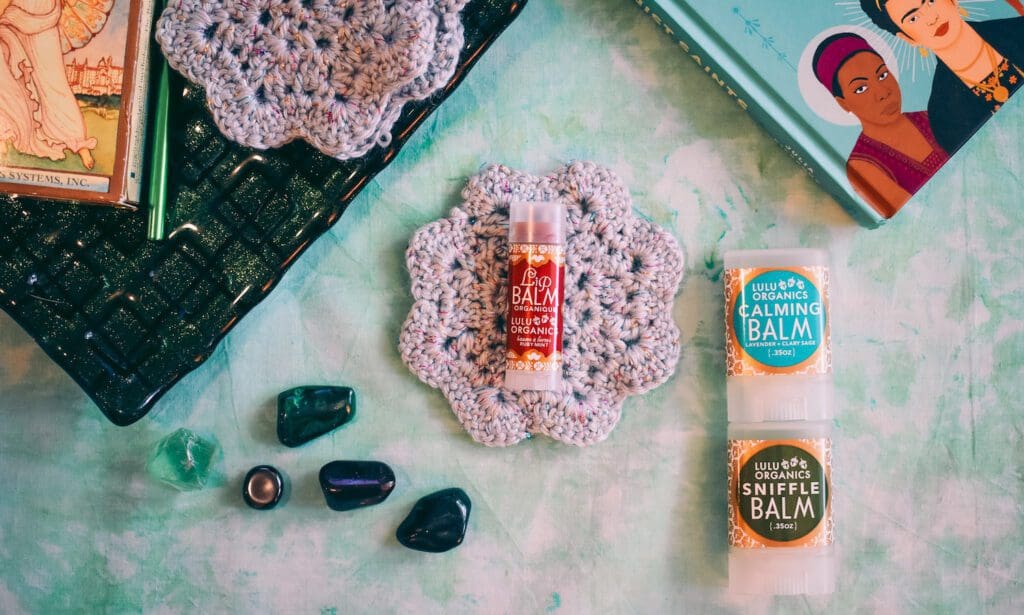 Last but not least, I asked to try out the Lulu Organics Ruby Mint Lip Balm and found I loved it. I'm not sure if it has to do with the masks lately or what, but I've found myself reaching for lip balm more often than usual lately. This lip balm is the perfect mix of minty and soothing, offering a bit of crispness without tickling your nose. It features both spearmint and peppermint essential oils, which create a gorgeous scent alongside the ruby coloring.
Like the Calming and Sniffle Balm, Lulu Organics' lip balms are also petroleum and paraben free. Besides Ruby Mint, the lip balm is also available in a heady and exotic Cardamom flavor.
Click here to shop the Ruby Mint Lip Balm.
Where to Buy Lulu Organics Products
To shop all of Lulu Organics' products, I recommend visiting the brand's website product page here — it is easy to navigate and offers great details on each of the offerings. Lulu Organics products are also available in a number of boutiques and stores across the United States; a list of retailers can be found here. The brand is also available on Amazon.
---
*Lulu Organics gifted me these products without obligation to post about them. All opinions are my honest thoughts. Please visit this page for more information about sponsored and gifted content on Cats & Coffee.