Rustic Vogue and Cottagecore Home Decor
Earthy and simple, cottagecore home decor — sometimes called rustic vogue for home styling — is a popular motif lately. The natural extension of TikTok's cottagecore aesthetic, these home decor trends blend traditional shabby chic, and farmhouse or cottage styles.
With our new apartment, I've been looking around for some new decor with which to refresh our space. We're not looking to replace furniture, really, so I've been eyeing more purely-decorative pieces. My own taste has always leaned rustic vogue and cottagecore, and there are lots of great pieces along these lines out there. If you're finding comfort in the earthy tones and grounded designs of this aesthetic, here are some great products to add to your home: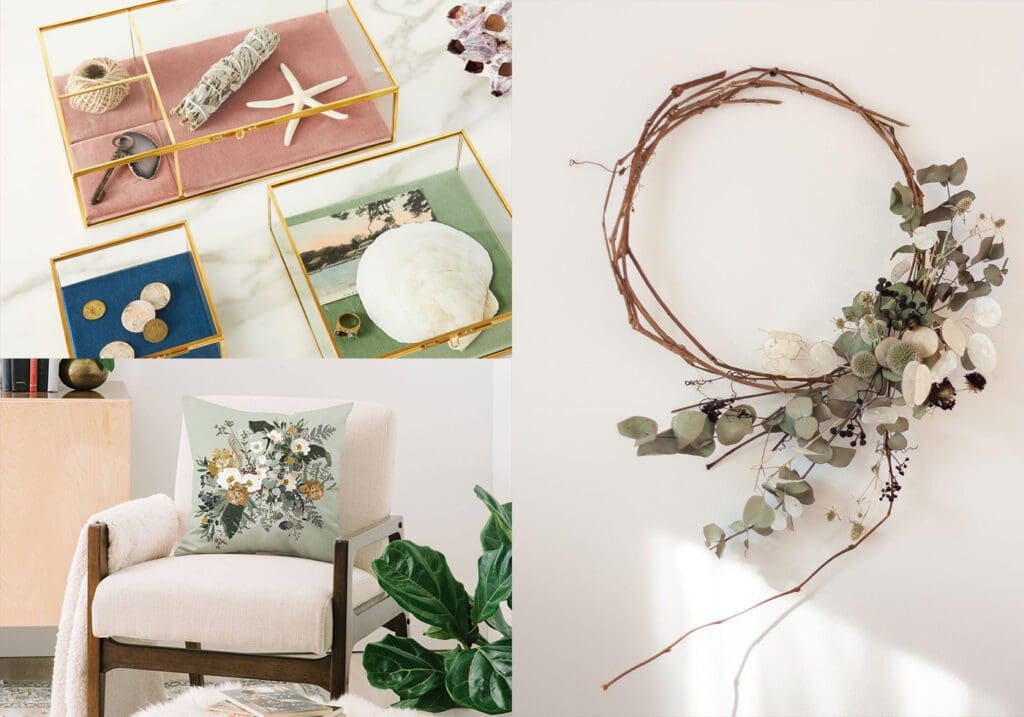 Cottagecore Home Decor Inspiration
Plants & Planters
Plants and foliage are a major theme in cottagecore. Plus, many people have developed interests in plants throughout the past year thanks to social distancing and working from home. Besides the plants themselves, there are lots of cute little planters available that are rustic vogue and useful, at the same time. I particularly like the little llama planters below, and the three-tiered shelf!
Top Row, Left to Right: Ceramic Llama Planters | Natural Jute Macrame Plant Hanger | Decorative Wall Hanging Shelf | Closed Mondays Hanging Planters
Bottom Row: Faux Thistle, Yarrow & Lavender Bouquet | Wood & Recycled Glass Terrariums | Vase Holder with 5 Glass Vases
P.S. looking for more planters? Check out more cute little planters here!
Wall Art
Cottagecore home decor wall art is an easy way to refresh a space, whether rent or own. Each of the pieces I chose below are smaller, easily suitable for apartment living, aside from the wallpaper on the far right. For more pictures of what the wallpaper looks like in real life, Jessica Kellgren-Fozard (featured in my Curated Content Series here) has some photos with it on Instagram.
Top Row, Left to Right: Butterfly Linen Scroll Wall Hanging | Pressed Leaves Foliage | Manzanita Wall Jewelry Branch | Near the Big Tree Wall Mural Vintage Wallpaper 
Bottom Row: Botanical Wall Art-Vintage Flower Prints | British Wildflowers Illustrated Art Print | Wall Crown Eucalyptus Wreath 
Accents
Cottagecore home accents are probably the easiest to find, particularly with online shopping. Urban Outfitters and West Elm have some great options, from pretty candle jars to useful shadow boxes. If you would rather shop small creatives, Etsy has a number of great pieces. Some of my favorites include the framed pressed flowers below, the clover candles, and the pressed flower trivets.
Top Row, Left to Right: Pressed Flower Trivets | Chloe Glass Candle | Herbarium Pressed Flower Frame | Boho Plates
Bottom Row: Terrace Shadow Boxes | Pressed Leaves Foliage | Hand Poured Four Leaf Clover Candle | Tabletop Jewelry Stand
Lamps, Rugs, & Pillows
Pretty and practical, I found a number of great rustic vogue inspired pieces from Target, Anthropologie, and Urban Outfitters. Our current quilt, which has served us well, is from Target, so I decide to look there first for bedding. From pretty subtle patterns to useful yet unique lamps, they have a huge variety of pieces available. For a bit more whimsey, Anthropologie offers pretty throw pillows while Urban Outfitters sells a cute little mushroom rug that I'm loving.
Top Row, Left to Right: Clipped Chenille Comforter & Sham Set | All Roads Elijah Pillow | Belle Glass Pewter Table Lamp | Calhoun & Co. Plants! Throw Blanket
Bottom Row: Woven Rug | 3-way Turned Wood Floor Lamp | Mushroom Tufted Bath Mat | Iveta Abolina Paloma Midday Throw Pillow
Kitchen
Tea is a major player in cottagecore videos on TikTok, so I was sure to include plenty of tea-related pieces here. From kettles to cups, soft colors with subtle, almost natural patterns are very in line with cottagecore home decor. I'm partial to Pinky Up kettles — great for one person — and you might recognize the pink kettle below from a previous post of mine since I have it in green. For a bolder set, try a vintage-inspired Alice in Wonderland set.
Top Row, Left to Right: Annette Casablanca Pink Tea Mug & Infuser | Cottagecore Theme Mug | Linen Double Hemstitch Napkins | Teal Ceramic Mug | Vintage Floral Jacquard Napkins
Bottom Row: Counter Top Storage Cabinet with Glass Windows | Harper Marrakesh Teapot | Georgia Teapot | Grayston Napkins | Rory Dobner Tea Set
One of my favorite things about cottagecore home decor is the fact that it is so easy to personalize. Add more bright colors if you like, stick with neutrals, or do a mix of both! Make it whatever you want it to be. I like a bit of both, myself! Which do you prefer?
Interested in more cottagecore inspiration?
Read more about it and see some great styles inspired by the aesthetic here!