Why I Am Drawn to Milk Makeup
I've posted a bit about Milk Makeup before. I am generally drawn to this brand because of their vegan, clean beauty principals. Milk Makeup is 100% vegan and Leaping Bunny Certified (meaning its cruelty free). On top of this, the company's blacklist of ingredients include things like sulfates, formaldehyde, talc, and more. Beyond their brand ethos, I have generally just been a fan of their makeup (an exception being the primer I wrote about a while back that didn't work with my skin type; I since gave to a friend who is loving it).
Get a Free NEW Vegan Milk Moisturizer Smart Sample with all orders! Spend $35+ and get a Free NEW Deluxe Vegan Milk Moisturizer Sample. Offer valid 12/13-12/31.
Most likely to… give you the glow. The Steal the Spotlight Set, ft. all 5 shades of Glow Oil, is like having a spotlight on you at all times. $59 ($78 value). Offer starts 11/4.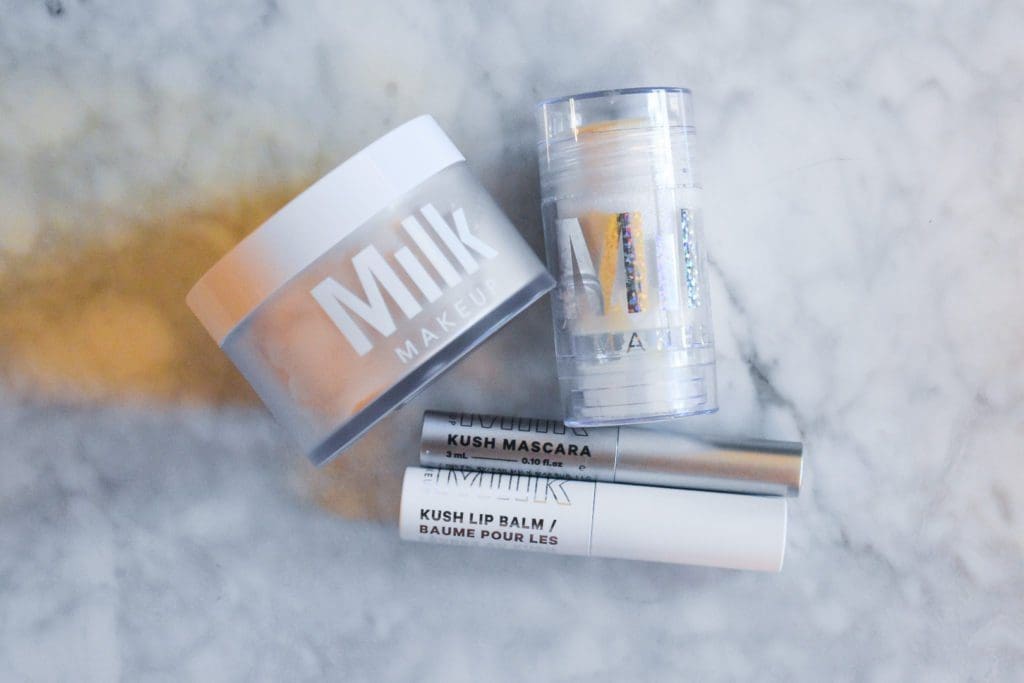 My Milk Makeup Favorites
KUSH Lip Balm Review
First and foremost, the KUSH Lip Balm is my absolute favorite from Milk. I have the Green Dragon colorless option, as well as Nug, which is a sheer, warm sand with subtle golden shimmer. I use the Green Dragon balm almost daily. It is so hydrating without being greasy, and it's useful for layering with lipsticks. The lip balms last a long time; I've had the Green Dragon one for a few months now and it's hardly worn down. Well worth the $16, especially since the tube has a nifty magnetic top, which means you don't have to worry about it coming apart in your purse! Win-win.
Why I Love the Glitter Stick
This multi-use glitter highlighter is a fun option, while a little outside the norm for me, since I tend to prefer a more understated makeup look. I like to use this highlighter over my primer and under my powder, just along the apples of my cheeks. It really accents any blushes or bronzers I use, which I love. The stick is a little expensive at $30, but, like the KUSH Lip Balm, this thing lasts for forever. If you're looking for something new and fun, this is the product for you.
My Honest Thoughts on Blur + Set Matte Loose Setting Powder
The Milk Makeup Loose Setting Powder is super-fine and comes in three broad colors — translucent light, medium, and deep. When they call the colors translucent, they really mean it; I purchased the translucent light expecting it to have some coverage of its own and was a little disappointed. So, this product doesn't really work as a super-light foundation; however, once I started using it as a true setting powder, I was pretty impressed. It lasts all day, does seem to hold my makeup in place better, and super easy to blend. This powder is really great for adding a bit of polish to any look!
Why the KUSH High Volume Mascara is Amazing
As I described here, I rarely stray from my favorite Trish McEvoy mascara, and Milk Makeup's KUSH High Volume Mascara is where I make that exception. The KUSH mascara is lightweight and buildable, while also being easy to remove. I haven't had an issue with it falling throughout the day, and I have been impressed with how well my regular facial cleansers are at removing it completely at night. I like to get the little tubes as opposed to the full size, if available, since I rarely finish a tube in three months (the recommended time to refresh your mascara).
---
Find more Cats & Coffee Beauty Favorites here!