Why AllSaints Is A Favorite Of Mine
I've been a fan of AllSaints for a couple years now, since my mom and I wandered into their Glasgow store in early 2018. Part of my attachment to the brand is probably related to this trip, which is kind of a fun feature of it for me. Besides that, though, I just love the Allsaints women's clothing styles. They really cover all the bases for me in that they are: first, relatively affordable; second, pretty neutral and monochromatic with some pops of color; and, third, well suited for a petite frame.
Because of all these reasons, I wanted to share a bit about the brand, because I think it somewhat under appreciated. Or at least that's how it seems here in South Florida which is, admittedly, probably not the brand's primary audience. Regardless, the brand is really great for anyone looking for high style, staple pieces.
I wore the AllSaints dress I bought while in Glasgow with my mom for my birthday dinner this New Year's Eve!
How Does AllSaints Fit
One of my favorite things about AllSaints is the fit. The AllSaints women's clothing fits pretty true to size, in my experience. Denim runs a little small compared to other brands, I think, because they typically don't use spandex or, if they do, use only minimal amounts. Besides that, though, I've found I typically buy my regular size in their pieces.
As for the dress length, I am pretty impressed with how the lengths work on me. Though I only own mini dresses from them, I have tried on a number of full length styles and found most to be a suitable length for my 5 foot frame. Quite the feat for someone who is five feet tall. Pun intended.
Here I am with my cats trying to take a proper Easter photo last year. Louis sort of cooperated. I was wearing a spring version of the Jayda wrap dress in a pattern exclusive to Bloomingdale's.
Where is Allsaints Sold
Finding AllSaints clothing in person can be somewhat of a quest. I've seen it pop up in surprising spots here in South Florida. If I buy it in person while not on vacation in New York, it's typically from the Mall at Millenia's Bloomingdale's in Orlando. The Boca Raton Town Center Mall does not have AllSaints — whether as a stand-alone store or in their Bloomingdale's, which typically has a good selection in other areas — but the Sawgrass Mills Outlet Malls about forty minutes south of us has an outlet. (P.S. that outlet is amazing; I got this dress from there on a whim for around $70.)
In the South Florida region, there's also an AllSaints store in the Bal Harbor shops in Miami. Writing this is making me want to go shop there and grab Laduree macarons, which are available down the street from the store.
I generally will just order things online — typically from Bloomingdale's — if and when something catches my eye. That way, if I do wind up needing to return it, I can simply return it to the Boca mall's Bloomingdale's. I recommend checking out the AllSaints women's clothing from Bloomingdale's, because I've found the department store typically has some pretty great deals on the brand.
It recently came to my attention that AllSaints is also available at Nordstrom, which is exciting. You can check out their selection of women's clothing here.
My Go-To Favorite AllSaints Finds and Styles
Evelyn Shimmer Tee
I included this top in my Christmas outfit post last month. It's a great, simple black tee with a bit of sparkle to make it pop just enough. It runs a bit small, so I recommend sizing up. This tee is currently available in black sparkle, as well as a more muted motifs of gray and white.
Jayda Dress
The Jayda style dress is one of the brand's staples, and they generally come out with a few new motifs each season. I've picked up two of these dresses, both on sale. Most recently, I wound up wearing this sort of feline-inspired one for Christmas because I got it on sale while I was home for the holidays and was so excited to wear it. Because they make so many versions of this dress, it's pretty easy to find a pattern on sale at the end of each season, which is nice. Nordstrom currently has four versions of this style dress available, including a long sleeve option and a solid black sleeveless option.
Pina T-Shirt
I'm a little concerned because AllSaints doesn't seem to have new versions of the Pina t-shirt coming out — at least, not currently (the Saro stripe tee may be an adequate replacement). This moderately-distressed tee is one of my new favorite pieces, and I've posted about it on Instagram before. I'm not exaggerating when I say I own at least five versions of this tee, including this one with the tiger motif. This snakeskin themed one I'm wearing here is one of my favorites.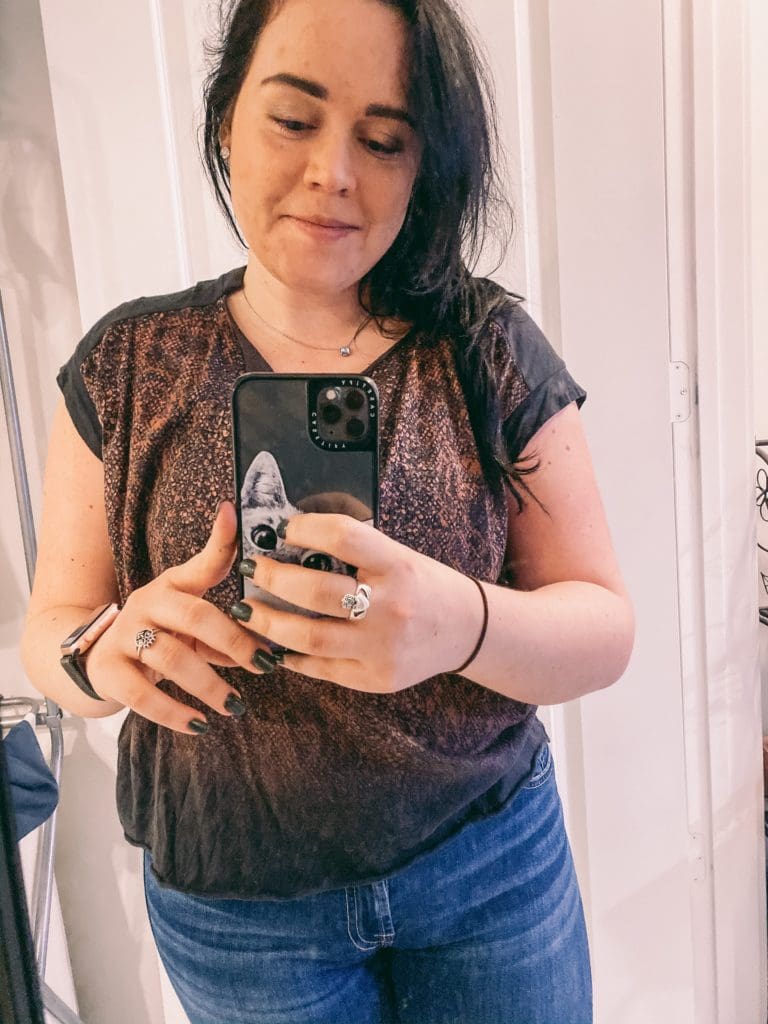 What I'm Currently Coveting from AllSaints
I wasn't originally going to break this section up from the staple styles of the brand that I love. However, I guess they just released a ton of great new pieces of AllSaints women's clothing, and I think that's worth exploring. So now, besides the gorgeous Fleur Wing minidress I featured in my New Year's Eve style guide, there are even more new pieces that I want.
Lea Leopard Print Skirt – Giulia Cyla Embroidered Funnel Neck Dress – Rylie Plume Skirt
AllSaints is having a bit of a leopard print moment, which I am loving. Between the Lea Leopard Print Skirt and the Redar Leopard Print Sweatshirt, the cat lady in me is very pleased.
The Giulia Funnel Neck Dress and Rylie Plume Skirt would be great spring transition pieces. Both would look great with tights, and one could easily style the skirt with a nice black sweater for a colder evening or a tee for a lighter, more casual look. You could probably even pair the black version of the Rina Glitza Drawstring Tee with the skirt!
AllSaints typically has a few great blazers available each season, and, this time, the Aleida Open Front Blazer caught my eye. I'm not sure what I would wear such a jacket for exactly, but these pieces always remind me of Chloe, the Detective from Lucifer, which makes me want one of my own.
Aleida Open Front Blazer – Rina Glitza Drawstring Tee – Redar Leopard Print Sweatshirt
---
Looking for more great style finds?
Click here to catch up on Cats & Coffee's Style posts.