Wall Art Decor
Recently, I visited the Rifle Paper Co. store in Winter Park, Florida, and the trip reignited my interest in pretty art prints. While I do have a number of my favorite art prints up in our apartment, I also have a number that still need to be framed. And once they're framed, I need to find a spot for them. Even with this backlog, I can't help but feel pulled towards pretty wall art decor pieces, particularly prints like the ones I saw in Winter Park.
So, since I don't have the wall space to house them all myself, I decided to create a round up of some of the pieces that have caught my eye. If you are in the market for some reasonably priced and unique wall art decor, this post is for you. Many of the pieces are even printable, meaning both that they are supremely affordable and you can customize the size.
Floral Art Prints For the Home
Florals are an obvious choice, and a genre of print that are at the top of my mind because of the trip to Rifle Paper Co. I was pretty impressed with the variety of floral art available at Target — particularly in their Opalhouse line (although some, like these, do seem to be knock-offs of Rifle).
Besides Target, though, West Elm has a couple great options. These are not exactly affordable options, but I was too enthralled by this three-piece option to not include it.
Top Row: Awakening from West Elm | Florals of the U.S. by Rifle Paper Co. | Painted Peonies by Rifle Paper Co. | Wildflowers from Juniper Studio
Bottom Row: Summer Rising from West Elm | Opalhouse Framed Floral Print | Wisteria from Juniper Studio | Rumi Quote Print from Rifle Paper Co.
Minimalist & Abstract Wall Art Decor
Two great themes for small space wall art decor are minimalist prints and abstract art. I find that pieces in these genres seem to make the space bigger. Plus, for apartment dwellers, they're a great way to either add color or dimension without sacrificing one's security deposit.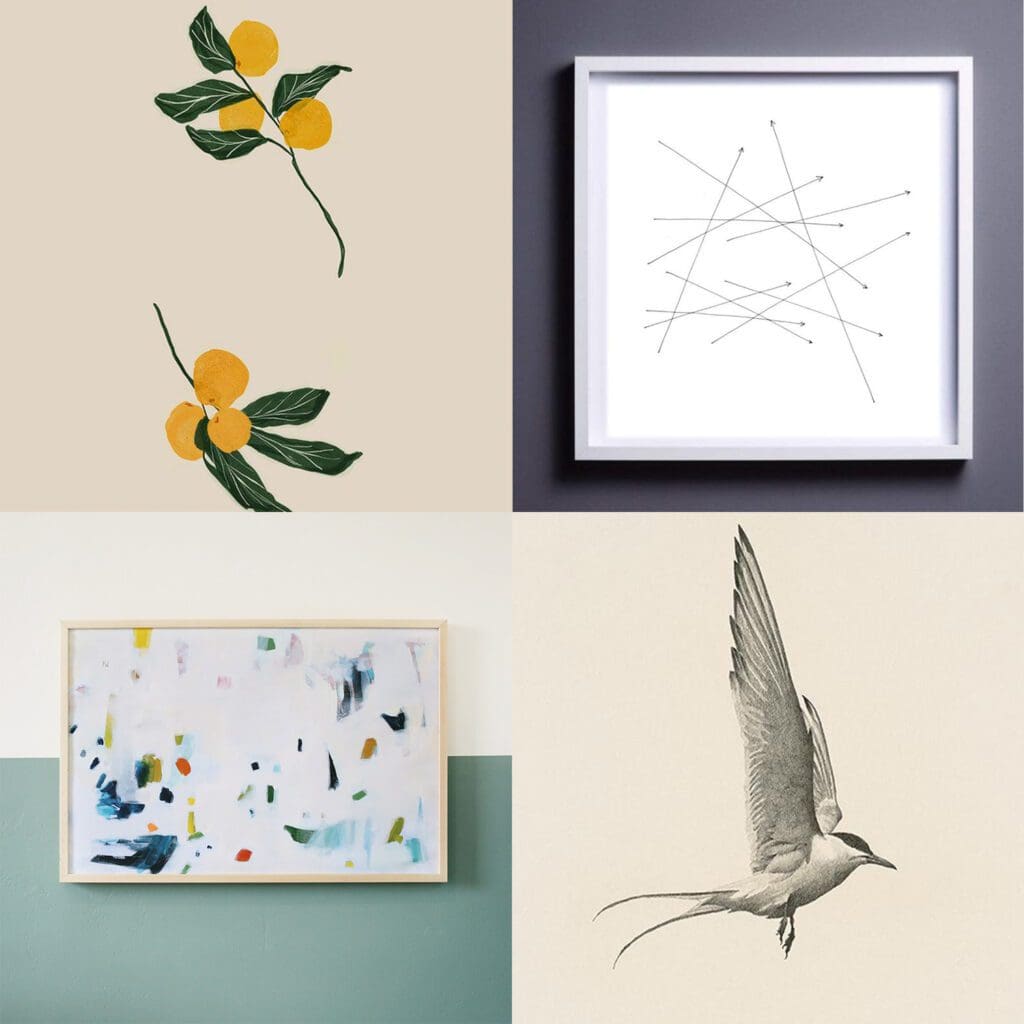 Top Row: Citrus II from Juniper Studio | Abstract Arrows by Indigo Ink Co.
Bottom Row: Sonnet from Juniper Studio | Flight from Juniper Studio
Animal Related Wall Art
I could hardly make a wall art round up without featuring some of my favorite furry animals. Rifle Paper Co. has adorable dog and cat prints which are almost minimalist in their design, but so detailed if you look closely.
Beyond these, though, I do love a Scottish Cow print (we have two in our apartment, the one pictured below and this larger option), and you can't go wrong with a beautiful cat silhouette.
For more feline related wall art and home decor, be sure to check out my Cats & Cuteness curated boutique!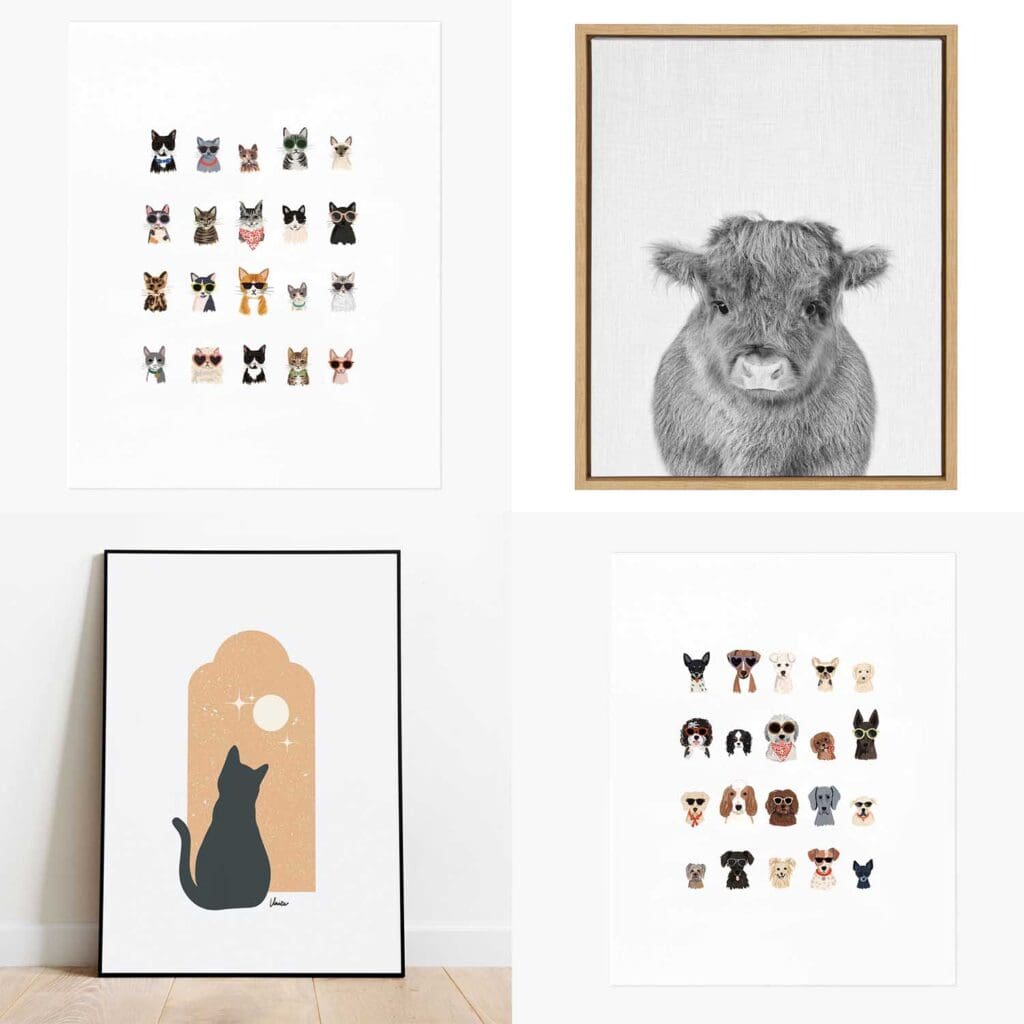 Top Row: Cool Cats Art Print by Rifle Paper Co. | Sylvie baby Cow Framed Canvas
Bottom Row: Black Cat Art Print by Unice Design | Dog Days of Summer Art Print by Rifle Paper Co.
Wall Art Prints with Quotes & Words
I'm not always a huge fan of wall art with wording; oftentimes, mass produced options are pretty trite (IE: "live, laugh, love" over every mantle on Pinterest ever). That being said, if done well, they can craft a cozy and welcoming ambiance. The options I picked here feature a variety of styles, from simple calligraphy to playful to naturalistic. Etsy has many great options, including customizable quote prints you can commission (like this highly-rated one). Besides Etsy, though, Rifle Paper Co. does a great job on these as well.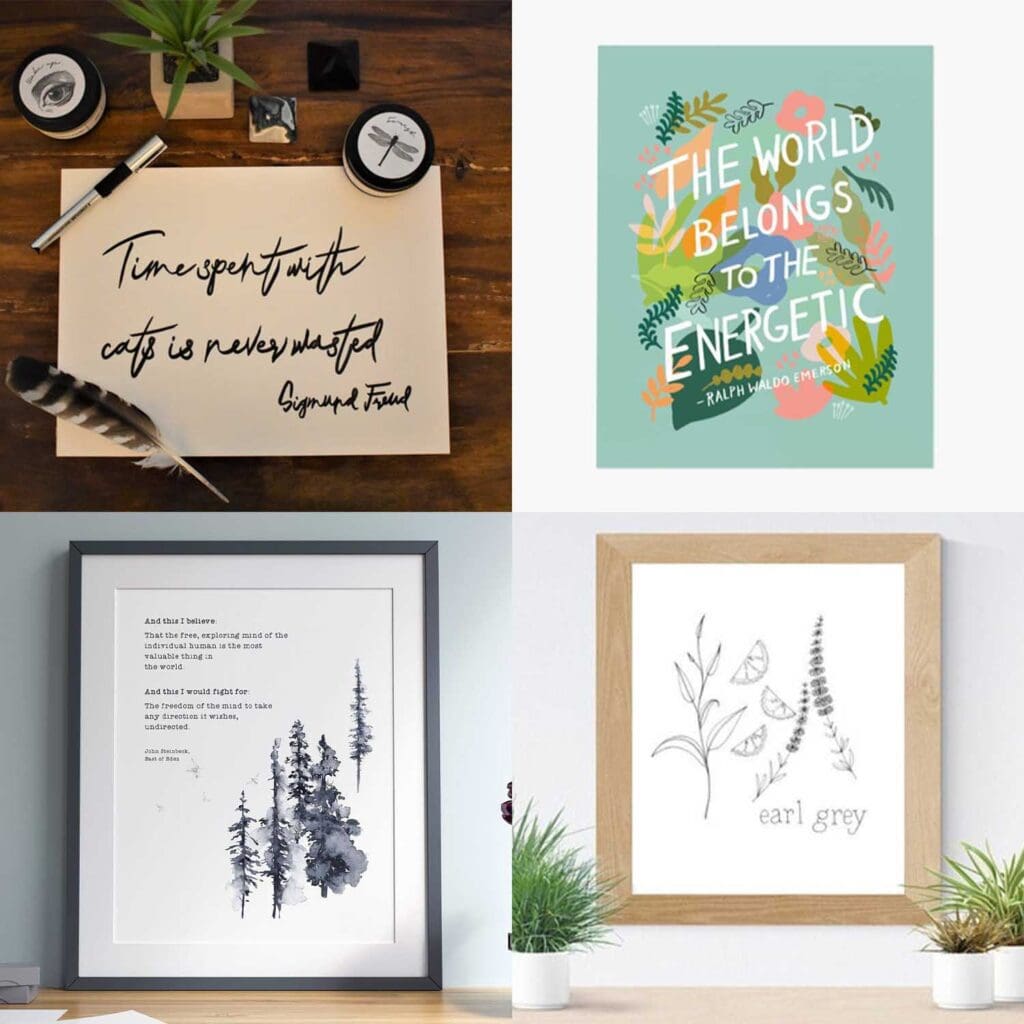 Top Row: Cat Calligraphy Quote by Indigo Ink Co. | Emerson Quote Art Print by Rifle Paper Co.
Bottom Row: East of Eden John Steinbeck Quote Designed by Nisha | Earl Grey Print by Indigo Ink Co.
Wanderlust & Travel Inspired Art
Last but not least, I have found a handful of lovely geography-inspired wall art decor pieces that I think you'll love. While the Opalhouse piece in the top left of the graphic is not local-specific, the other options all highlight particular places.
Each of the other three options listed — the West Elm Native Maps City Prints, the water color map of the Hebridean Isles, and the Rifle Paper Co. New York print — are available to showcase different cities and regions. Rifle Paper Co. has a variety of other New York styled pieces, along with beautiful prints celebrating various U.S. cities, Paris, London, the British Isles, Italian cities, and more. The same goes for EJayDesign's customizable maps (featured in my original Curated Content Series!).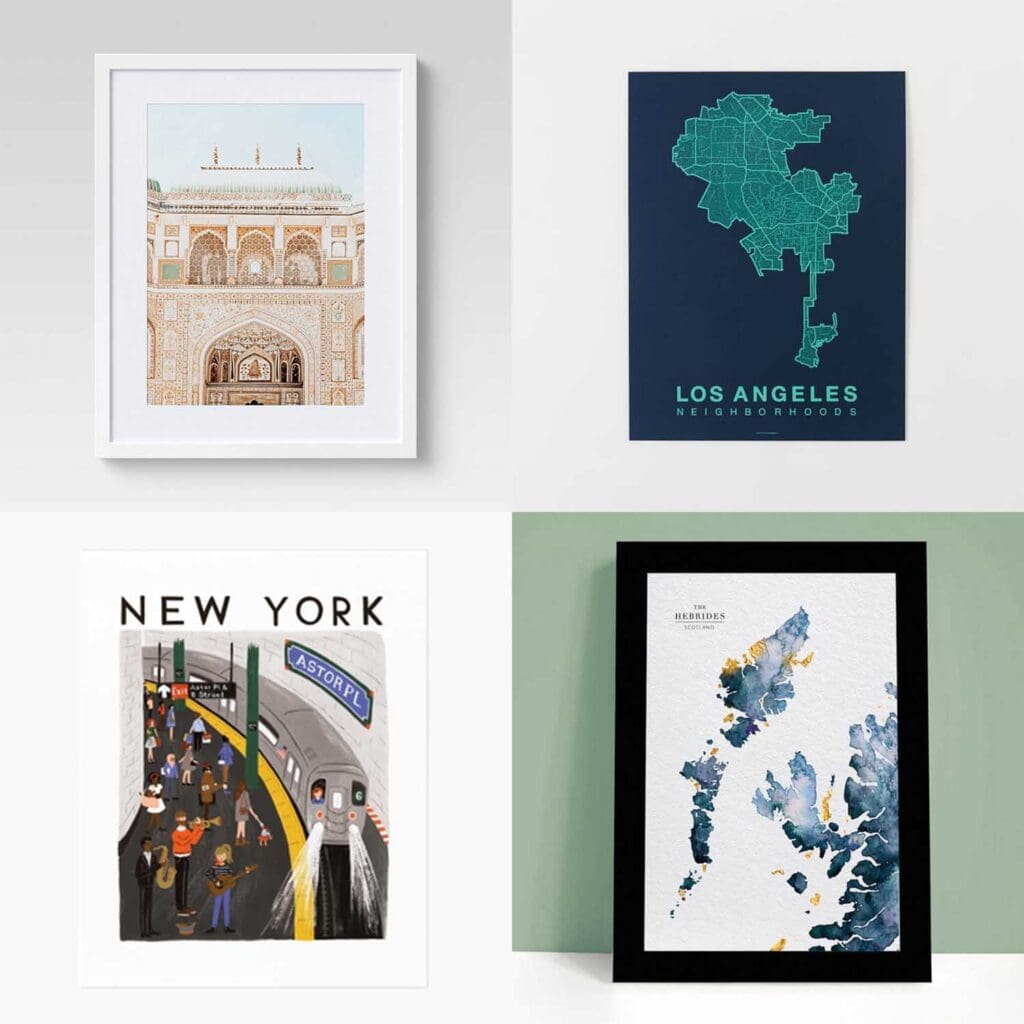 Top Row: Architectural Palace Photography Framed Wall Art | Native Maps City Prints from West Elm
Bottom Row: New York World Traveler Art Print by Rifle Paper Co. | Hebridean Islands Watercolour by EJayDesign