The Cats & Coffee Curated Content Series
Welcome to the February Edition of Cats & Coffee's Curated Content Series! This series features weekly content round-ups of articles, videos, podcasts, and Instagram accounts. I find content that is worth your time so you don't have to!
This series features shorter-form content on a weekly basis. For longer-form content round ups, be sure to explore My Current Loves.
Explore the January edition of my Curated Content Series for more great reads, listens, and Instagram accounts to follow.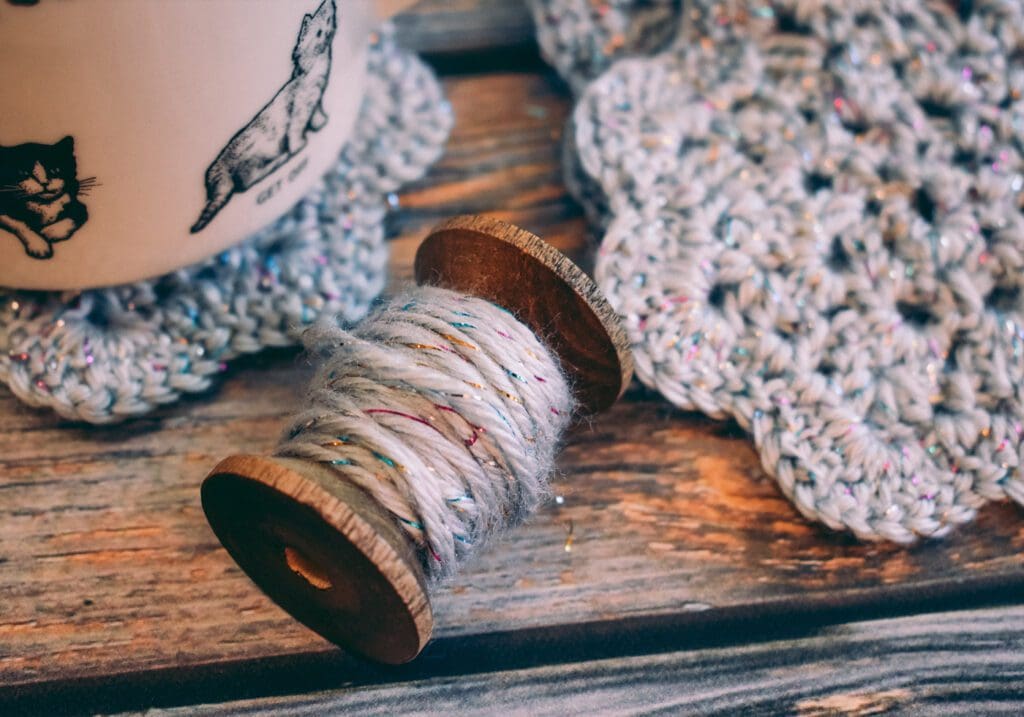 Cats & Coffee's Curated Content Series: February 24, 2021
This is not a new article, and Morning Pages are not a new concept, but it's something I'm toying with lately so I thought I'd share. Morning Pages, to cut to the point, is a journaling practice where one writes three pages in the morning in a stream of consciousness format. Per the practice's creator, Julia Cameron, "they are not even 'writing.' They are about anything and everything that crosses your mind– and they are for your eyes only."
So, if you're interested in getting into journaling, or want to work on your personal creativity (wherein lies my interest), Oliver Burkeman's article is a quick intro to the practice. I've heard about this practice from a number of creatives, and after absolutely hitting a wall with creating for social media the other week, I decided that it was time to give it more consideration. For more information, check out Julia Cameron's own website, which features an intro video on the practice here.
Read This column will change your life: Morning Pages by Oliver Burkeman for The Guardian here.
YouTube Video: NYC's Last Flower Makers Explain the Victorian Craft of Artificial Flower Production | Bernadette Banner
I've been a fan of Bernadette Banner's YouTube channel for some time. Recently, I've been blowing through her content, imagining that I could learn to sew and taking more of an interest in the entire process. Not that I need another hobby that requires copious amounts of materials, like my crochet habit….
Anyway, this particular video of hers was especially enlightening, covering how fabric flowers were originally created and how the practice continues to today. Bernadette visits the M&S Schmalberg fabric flower shop (the last of its kind in New York City) to learn about the process and commission flowers for a project of hers. Since watching, I've fallen in love with the M&S Schmalberg Etsy shop, where they sell finished flowers. I'll share a few of my favorites below the video here.
M&S Schmalberg Fabric Flowers

One of my favorite graphic design accounts to follow, @rachel_e_lettering specializes in colorful, hand-drawn quote graphics. Featuring quotes from a wide variety of authors and speakers, this account manages to inspire both through the artistic design and the words it conveys.
Rachel Eck is an incredibly talented artist, and clearly a thoughtful person based on her captions and quote choices. Give her a follow to add some continuous colorful inspiration to your feed.
P.S. she also sells prints of her designs on Etsy! I particularly like this Maya Angelou quote piece.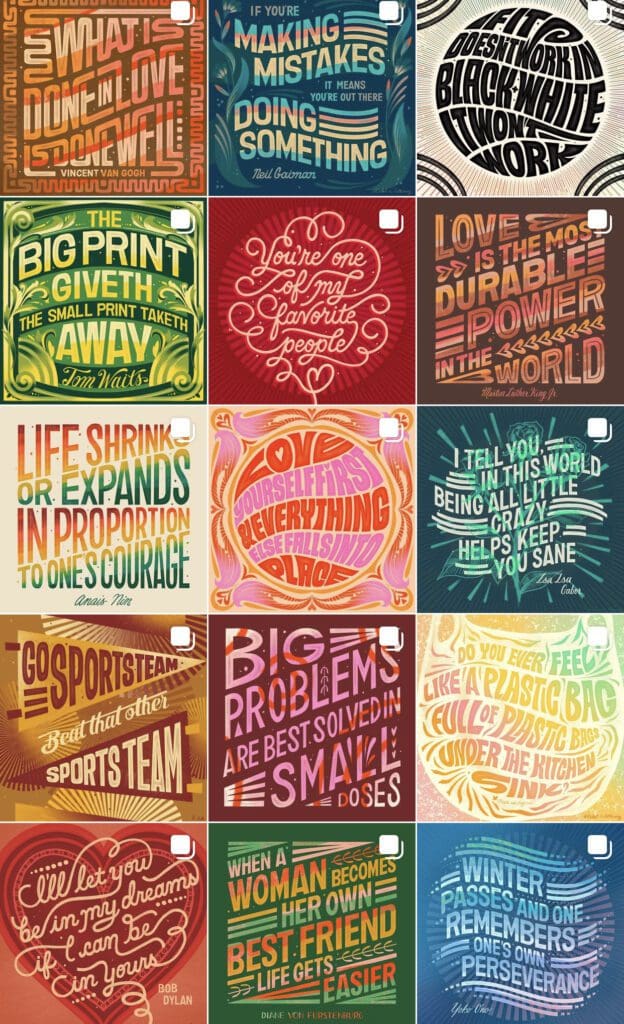 Cats & Coffee's Curated Content Series: February 16, 2021
I don't know about you, but I have been having a really hard time managing my tech/life balance lately. While I'm definitely an introvert, social distancing is really getting to me, combined with some of the negative aspects of social media. Lev-Tov's article popped up for me at the right time, then, and while I wish none of us were dealing with these feelings, I do appreciate knowing I'm not alone.
Overall, the article analyzes a question that I've been grappling with in my own mind: "But as we're forced to rely on digital technology now more than ever, what can we do to mitigate its negative effects?"
In all, reading the article just made me feel a little less alone, which is why I wanted to share it here. Lev-Tov interviews a "digital wellness consultant" who provides some tips for mastering tech/life balance. Most of them you've likely heard before, but it doesn't hurt to have a refresher on why taking screen breaks can be a good thing.
Read How to Master Tech/Life Balance During This (Seemingly Unending) Time at Home, Devorah Lev-Tov for Well+Good here.
Since I have spent the week binging Bailey Sarian Murder, Mystery, & Makeup videos (see last week's recommendation), I don't have a new YouTube recommendation, per se. Instead, I would suggest you check out Starz's new mini series, Men in Kilts: A Roadtrip with Sam and Graham.
You may recall that I recommended the book Clanlands in my 2020 year-end-round-up. The book and series follow Sam Heughan and Graham McTavish as they travel around Scotland exploring the country's history, beauty, and resources.
Clanlands follows the Starz series and has some fun behind-the-scenes kind of content about filming. Men in Kilts, however, is a true feat to experience. Episode one of the series came out on Valentine's Day, and it focuses on Scottish food and drink. Outlander fans are sure to love the show, as are those with a passion for Scottish history (often one and the same). However, I think the show would still be entertaining to anyone without those interests (Brett liked the first episode quite a bit!).
Men in Kilts Inspired Finds

If you're looking for brilliant social commentary, Danielle Prescod is a must-follow on Instagram. A writer and influencer herself, Prescod has written prolifically on fashion and now focuses on culture and current events. She is most active on stories, where she shares all kinds of relevant and interesting content. I've followed her on Instagram for some time now, and remember being most struck by her honest portrayal of having her eggs frozen via IVF treatments (this interview talks more about that if you're interested; her Instagram stories about the procedures are available here). After those stories, Prescod's account became one I would routinely check, even if it didn't show up on my feed on it's own.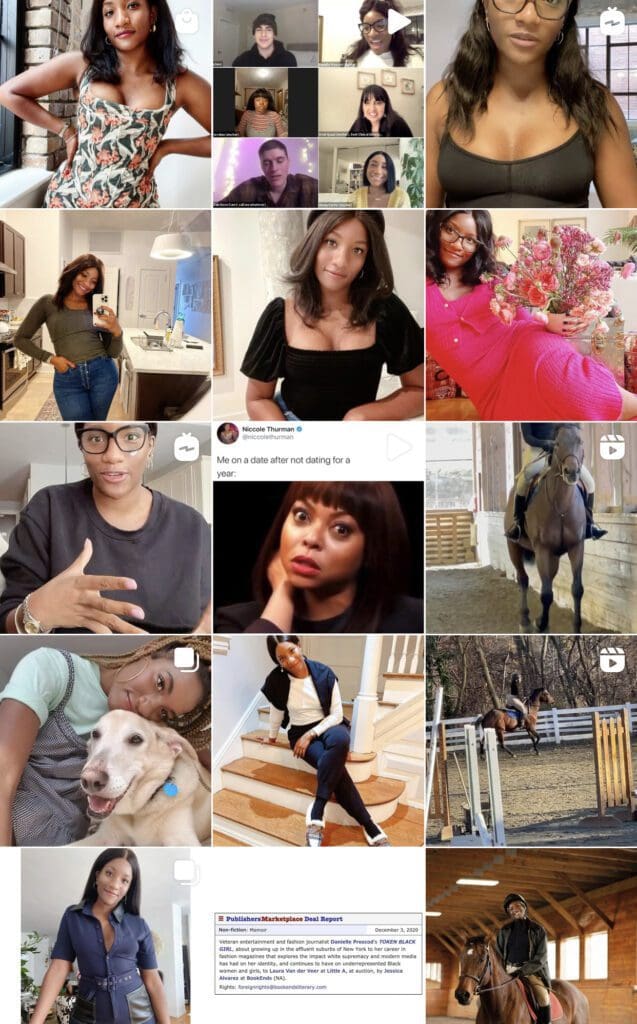 Much of her content surrounds her activism and anti-racism work, but her work doesn't end online. Prescod launched a consulting agency with Chrissy Rutherford called 2BG in response to the social media response to George Floyd's murder in summer 2020.
For example of Prescod's anti-racism work on Instagram, I invite you to watch this moving video Prescod shared in January after the insurgence on the Capital.
P.S. Prescod's fashion content is also amazing, and I need this corset top.
Cats & Coffee's Curated Content Series: February 10, 2021
This is not my normal article format for my Curated Content Series, but a friend shared this tweet series with me and it was too thought provoking not to share.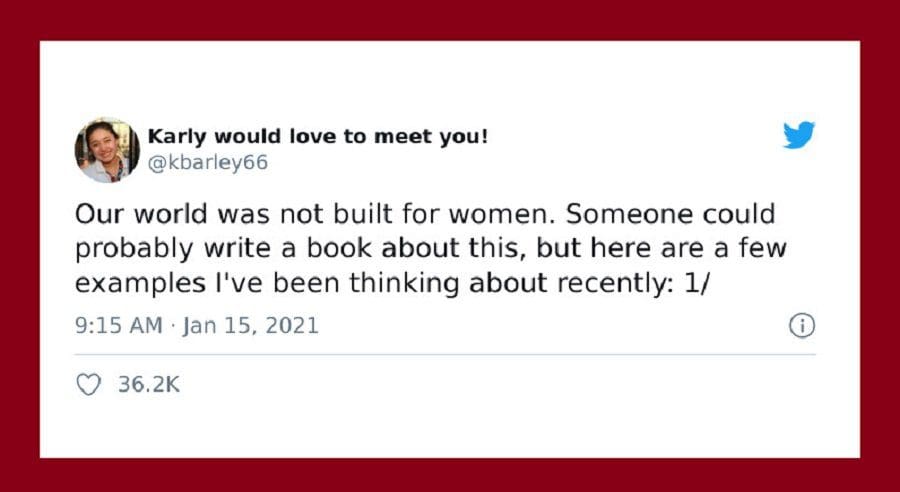 The article itself is a compilation of tweets from Harvard student Karly Hou, a computer science student who recently shared a thread about the current state of gender bias. According to the article, "the gender bias is very present, but not so obvious. She made a strong statement that our world was not built for women, and then proceeded to list all 18 disturbing examples of how it's hostile to females."
The round up will make you think seriously about how our world was designed, and about some of the weird details here and there that just seem off. One particularly relevant mention in the thread is about how PPE was not built for women. Hou writes: "Coats, goggles, and boots that are too large for female bodies are more than just an annoyance: loose gear means tripping in labs with dangerous materials and risking clothing getting caught up in moving machinery."
(P.S. Speaking of PPE, keep on wearing those masks, people!)
Read the tweet round up from Karly Hou on Femalista in full here.
YouTube Video: Who Was Bloody Mary? The Sad True Story of Queen Mary I – Mystery & Makeup | Bailey Sarian
This week's video recommendation is just the tip of the iceberg for my new favorite YouTube channel: Bailey Sarian. Well, more specifically, one series this particular YouTuber does: Murder, Mystery, & Makeup Monday. Every Monday, Sarian shares a video where she tells a true crime story or mystery story while doing her makeup. It's my new favorite thing and I watched probably 30 of her videos this weekend after getting the recommendation.
As I am such a history lover, I chose to share the Bloody Mary video here. Besides one instance of an incorrect date, the video was pretty well researched, I thought! Paints quite the different picture than the cute little kid in Spanish Princess (Mary Tudor who grew up to be "Bloody Mary").
If you are interested in social justice, racial equality, intersectional feminism, environmentalism, and the interaction amongst all these issues and more…well, then, do I have the account for you! This page is an environmental media and resource hub that explores the intersections of social and environmental justice. Through thoughtful content — shared on eye-catching and well-designed graphics — the account is spreading knowledge and practical information about environmental justice.
I've been following @intersectionalenvironmentalist for some time now, but when a friend brought this particular post to my attention, I knew I had to share it on the Curated Content Series this week.
It can be easy to think of all the issues mentioned above as separate and individual from one another. However, this is a gross oversimplification. As the post above notes, "food justice work is vital for the liberation, sovereignty, and health of all communities." The post above shares both information and resources on how to "uplift the food justice work happening around us."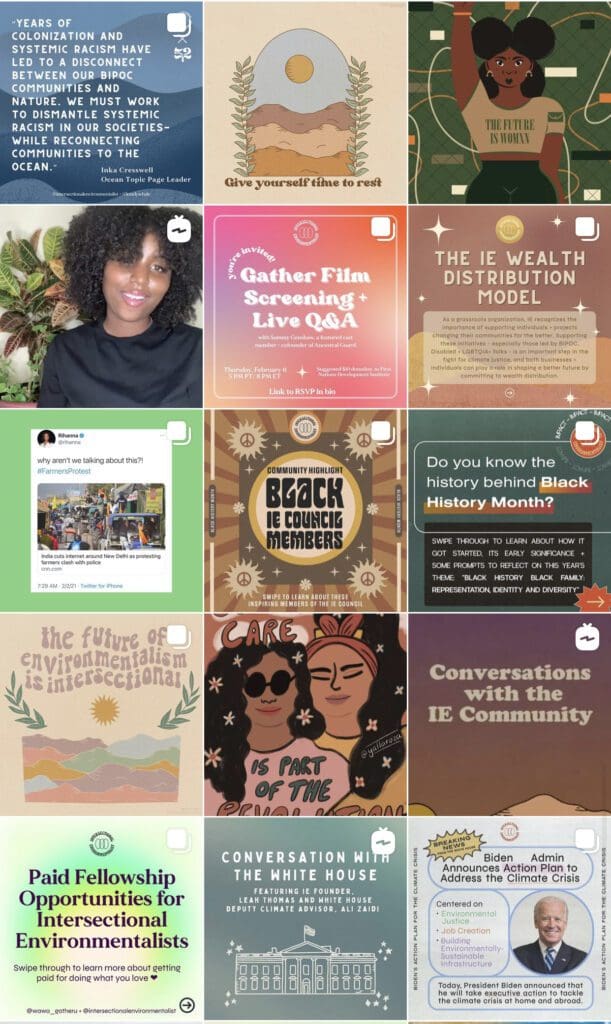 For more information on @intersectionalenvironmentalist, visit their website or resource directory here.
Cats & Coffee's Curated Content Series: February 3, 2021
Part of Elle's "Office Hours" series, Madison Feller spoke with the newest White House Press Secretary, Jen Psaki, about her first job, worst jobs, and perspective on her new job.
Beside learning about Psaki, I found the interview particularly illuminating on the role of women in the White House and in Biden's Administration. Leading the first all-female senior communications team, Psaki is bringing some normalcy back to the Briefing Room. It's amazing what a difference this can make, and it's only the first week of February!
Read Jen Psaki's interview with Madison Feller for Elle here.
Podcast: "Hope is a Strategy" – With Friends Like These featuring Rebecca Traister
Part of the Crooked Media monolith, With Friends Like These is a medium-length society and culture podcast. This past week, the show featured Rebecca Traister, progressive feminist author and senior writer for New York Magazine. Traister joins the podcast to talk about how Biden's missteps around issues of gender and race made him the white guy who could win in 2020. In all, it was an interesting, thought-provoking discussion — and a great history lesson refresher!
A word of warning, though — the recording seems a bit disjointed, like there might have been recording issues via Zoom when they did the interview. The quality of the content overcame this issue for me.
Listen to Rebecca Traister on With Friends Like These here.
P.P.S. check out my review of Rebecca Traister's book Good and Mad here.
Writer and "folklore lover from Scotland," I came across Oonagh Moon's Instagram a few weeks ago and was immediately drawn to her imagery. Part-cottagecore, part-Scottish landscapes — interesting how often those two go hand-in-hand — this profile features nature- and library-based photography sure to spark some wanderlust in your soul.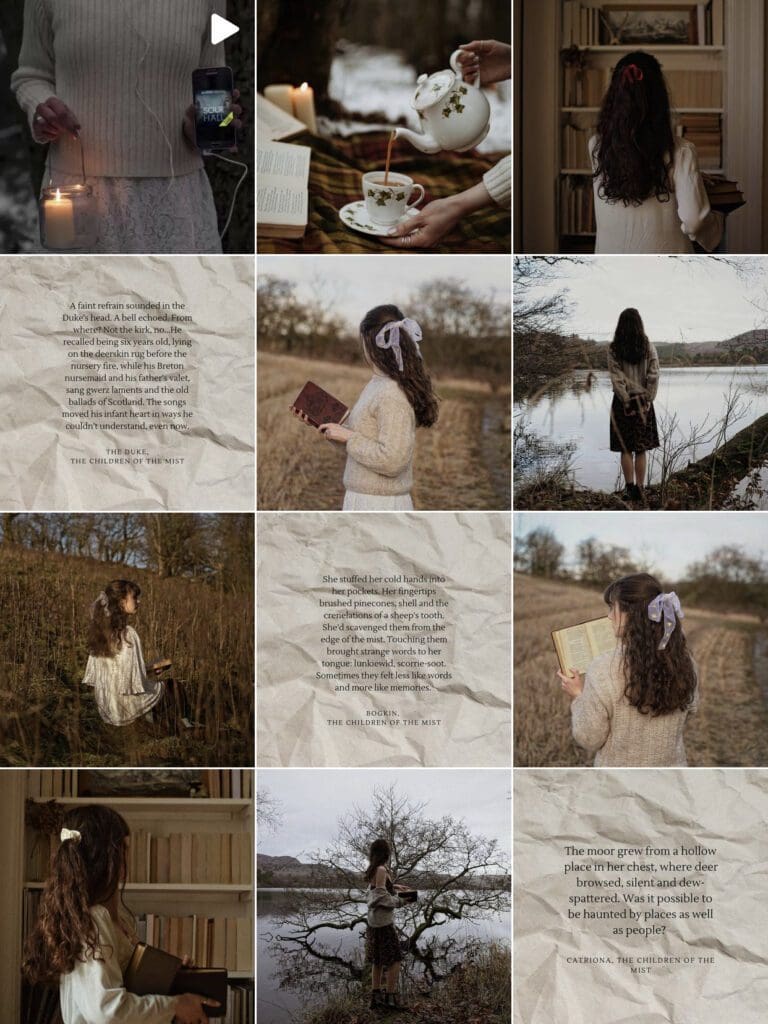 Besides her beautiful photography, Oonagh shares excerpts from her work-in-progress, and discusses her publication efforts. For further reading, be sure to explore Oonagh's blog here.