Weruva Pumpkin Patch Up Pouches
Weruva released a new version of their puréed pumpkin supplement pouches last week. These pouches are designed to promote health in both dogs and cats, and my kitties are obsessed. Weruva Pumpkin Patch Up pouches are now available in three flavors.
Louis, Olivia, and Emory were lucky enough to try the new products early, in exchange for our — their? — honest review.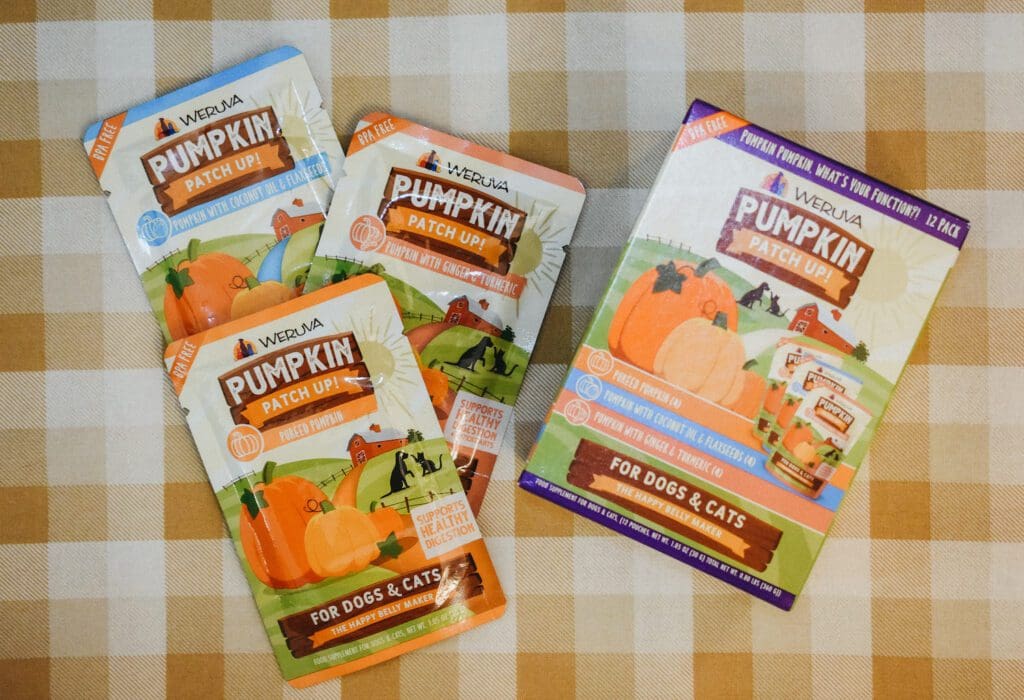 Why I Like the Pumpkin Patch Up Pouches
I've been feeding the cats the original puréed pumpkin supplements from Weruva on and off for a while now. Originally, I had picked up a couple individual pouches at the cash register of one of my favorite pet stores, and later on ordered full packs.
Pumpkin is a great source of fibers — both soluble and insoluble — and helps support pet digestive systems. Plus, I like the idea of providing variety to my cats by mixing the easy-to-serve pouches in with their regular wet foods.

New Pumpkin Patch Up Flavors and Pouch Sizes
Besides the traditional plain pumpkin flavor, Weruva has two new varieties: first, a coconut and flaxseed recipe and, second, a ginger and turmeric option. Furthermore, the pouches are now available in two sizes — 1.05 oz (the original size) and 2.8 oz.
Pumpkin with Coconut and Flaxseeds
Full of healthy fats and good fiber, this new Pumpkin Patch Up recipe is designed to provide fatty acids to support healthy skin and coat, along with digestive health.
Pumpkin with Ginger and Turmeric
This mix was designed to support gut health while also providing a bunch of great antioxidants. Ginger and turmeric help calm down upset stomaches alongside the pumpkin to reduce inflammation. My cats really enjoyed this recipe!
How to Use the Weruva Pumpkin Patch Up Pouches
There's really no wrong way to incorporate these pouches into your feeding routine. You can give your furbaby the pouch on its own as a treat, or mix them in with your pet's wet food.
I was hoping my cats would enjoy them as a treat, but they didn't show too much interest in the pumpkin on its own. Once I mixed it into their wet food, though, all three really enjoyed them. Clean plates all around!
Looking for more creative ways to treat your furbaby? Try freezing the puréed pumpkin in ice cube trays for a chilled treat, or incorporate it in a bully stick for pups.
According to Weruva, the pouches can replace up to 10% of your pet's diet, and can be fed daily with each meal. Any unused portions can be refrigerated between meals. For more detailed nutritional information from Weruva, visit the product page here.
Don't Forget to Recycle the Pouches with Terracycle
Like other pet food pouches, the Weruva Pumpkin Patch Up pouches are able to be recycled through Terracycle! Terracycle makes it super easy to recycle the pouches. You just have to request a mailer from them, clean the pouches after you open them and let them dry, and then mail them back. Learn more about how to recycle them, and other household waste, here!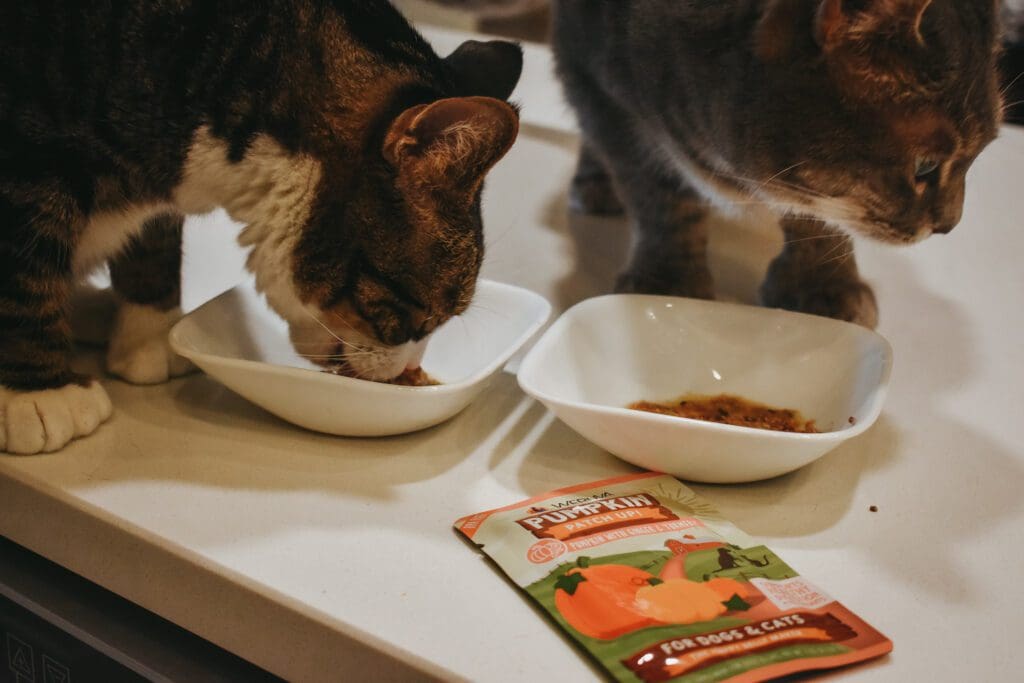 Where to Buy Weruva Pumpkin Patch Up
Weruva's Pumpkin Patch Up Pumpkin pouches are available at a variety of local retailers and online stores. The new flavors and original pumpkin are available on Amazon and Chewy.
---
*Thanks again to Weruva for gifting me this product to try with my kitties in exchange for an honest review! I'll definitely be buying more of them in the future.
---
Explore More Great Cat Mom Life Content