I Don't Like Eating Breakfast
Mornings are not my forte. As I am not a morning person, I really hate getting any kind of breakfast together. To make matters worse, I really don't care about eating in the mornings — which is weird, because I'm pretty into food any time else in the day. Just the concept of deciding what to eat for breakfast makes me want to crawl back into bed.
Maybe I'd feel differently if every breakfast could be Leslie Knope style waffles, but, alas, that's a lot of work, and I fear the blood sugar crash would only make matters worse.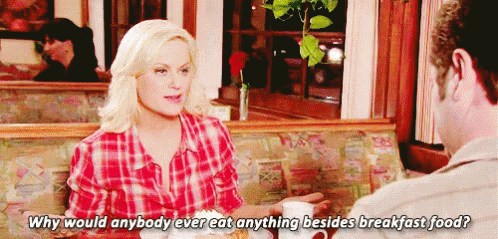 Anyway, in the mornings, all I naturally gravitate towards is coffee (as I did this morning, which is prompting me to write this post). Some people seem to do just fine without eating breakfast, but I'm not one of those people. I'll be doing just fine until about 3 PM where, even if I've had a decent — or even really nutritious — lunch, I'll still crash. So, in part to combat my own bad habit of not making breakfast, and to potentially help any of you who feel the same way in the mornings, I've come up with a little list of what to eat for breakfast, when you don't like eating breakfast. The idea is to keep it simple and stable — easy to replicate and easy to stomach, when you're just not feeling like breakfast.
What to Eat for Breakfast When You Don't Like Eating Breakfast
Overnight Oats
I really need to get back on the overnight oats routine. I was making these in law school and would bring a little mason jar full of them to the law clinic with me in the morning and snack on them during office hours. So easy! So satisfying! Why did I fall out of this habit!?
I'll have to put together the recipe of how I make my overnight oats — spoiler alert, they include Vital Proteins collagen (the vegetarian in me chooses to ignore that they're not technically vegetarian…). In the meantime, Pinterest has a bunch of great recipe ideas, like this one.
Toast with Peanut Butter
As a peanut butter fan, it's pretty easy to convince myself to eat a piece of nice, whole wheat toast (preferably Dave's Killer Bread) with peanut butter in the morning. I have been trying to find a natural peanut butter that I both like as much as Peter Pan and the like, and that isn't as high in sugar. I'm not pretending to know a lot about nutrition here, but I do feel there's a correlation between having better quality foods in how the body uses them throughout the day. So, I've been using MaraNatha peanut butter for the past week or so and am really loving it. It tastes really good and is easy to spread, unlike some natural nut butters. I also like Wild Friends a lot, but they stopped selling it at the grocery store by me, so I'm waiting on an Amazon order of it.
Kashi Cereal
Simple and reliable, if a bit boring, Kashi cereals and similar brands really do the trick for me in the mornings. I typically go with the Kashi GO Original. If I dress it up a bit with some blueberries or raspberries, I do actually find I enjoy having cereal. However, the reality is I rarely keep fruit around, so this is something I need to be better about when planning my shopping lists.
Larabars or Similar Protein Bars
I do love a good protein bar, even if they tend to be super processed and probably not as good for you as they make it out to seem. *Cue Leslie Knope and the Sweetum's Nutriyum bars*
Regardless, they are easy, portable, and consistent. I like Larabars because they seem the least processed (although I do love a good birthday cake protein bar). Larabars feature dates prominently in their recipes, and, as dates are low glycemic foods, this snack bar seems to be considered one of the "healthiest" options out there and the least likely to really mess with your blood sugar, from what I can tell.
Side note: don't you wish that you could get easily understandable and reliable nutrition information without being in the medical field!? Because I sure do.
Don't Forget the Water
Since we're on the topic of what to eat for breakfast so you feel like a functioning human come 3 PM, don't skimp on the water. I love coffee — see, e.g., the name of my blog — and can easily find myself drinking nothing but iced coffee until the afternoon. This is especially easy to do if I get lost in some writing task or other job. So, don't forget to grab a glass of water with your morning coffee — and maybe some green tea later on in the day instead of an afternoon latte — and your 3 PM self will thank you.
---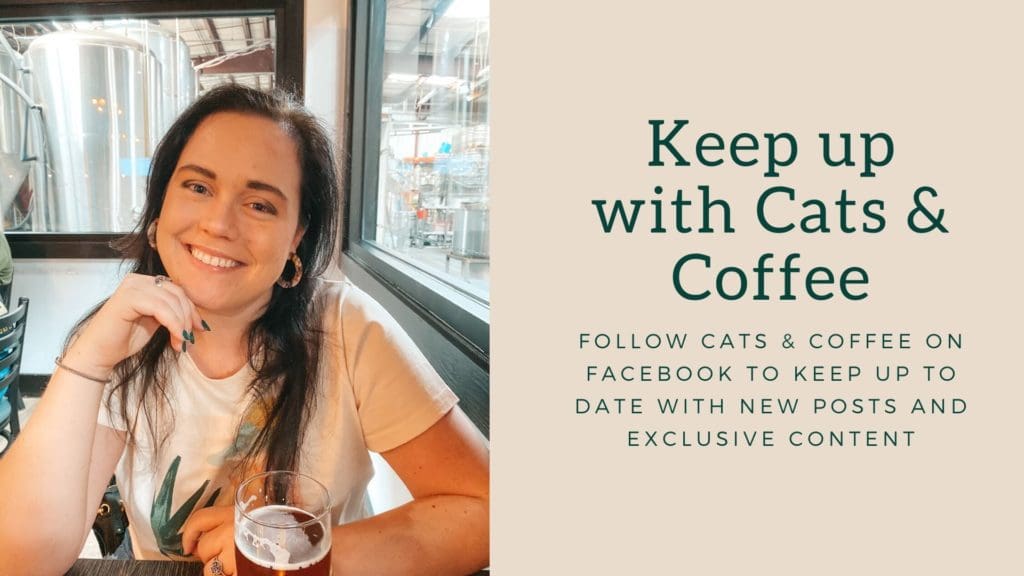 ---