Cat Scratchers for the Home
A common complaint among cat parents is that they scratch furniture. Cats seem to scratch at carpet and upholstery most, but can be known to scratch all kinds of home surfaces. And it can be quite annoying, either because of the noise or because of the destructive nature of the action. However, there are a ton of great cat scratchers out there that can help curb the behavior. Read on for a guide to the best cat scratchers under $50.
Before getting into the list of the best cat scratchers, though, I invite you to look into the psychology behind why cats scratch, because it's not just to annoy us — it's actually a natural instinctual urge of theirs and something that is totally normal.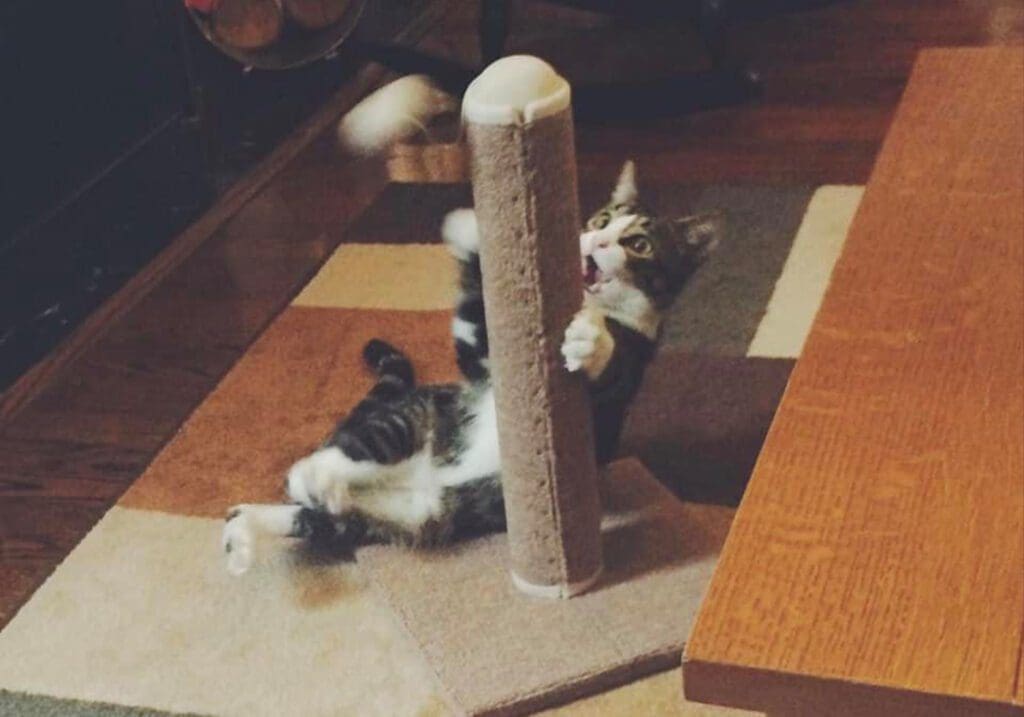 This is one of my favorite pictures of Louis, and his face always makes me laugh! This scratcher was one of his and Olivia's favorites, and lasted about three years before they completely shredded the carpet beyond repair.
Why Do Cats Scratch?
In the wild, cats scratch to mark their territory, which is a reason why house cats continue the behavior indoors. It marks territory both visually and through scent. Scratching also reduces anxiety, and helps trim nails. Like with yoga, it's even a form of exercise and it can strengthen their muscles.
When it comes to nail care, it's important to note that declawing is not the solution for scratching behaviors. Trimming cat nails is an important part of their care, so I recommend getting comfortable with that maintenance in conjunction with providing cat scratchers. For more information on trimming your cat's nails, click here.
The Benefits of Providing a Cat Scratcher
By providing a scratching post in a spot where your cat likes to stretch and scratch, you can help deter destructive scratching on furniture and home surfaces. As the Humane Society notes here, location matters, so be sure to put it in a spot where your cat will actually use it.
Introducing the scratcher can be necessary, as some cats don't really know what to do with them at first — or are simply indifferent. One way to introduce the scratcher is to incorporate it into a playtime routine, such as with a stick toy or laser, so that the cat interacts with the post while playing with the other toy. Alternatively, you can rub the scratcher with catnip or spray it with catnip spray (my cats' favorite!) to make it more enticing.
The Best Cat Scratchers Under $50
I was inspired to write this post after finding a great scratcher on Chewy for under $40. We have had many scratchers over the years, originally buying mostly the cardboard options. While these work great, Louis likes to chew on cardboard, and walking around picking up bits of cardboard got old really quick (this was the only one he couldn't destroy). So, I tend to go with the non-cardboard options, like rope scratchers or jute fibers.
Does your cat love to scratch? Do they have a favorite scratcher style?
Let me know in the comments!

*This post was originally published on May 30, 2021. It was most recently updated on August 4, 2021.