The Cats & Coffee Curated Content Series
Welcome to the May Edition of Cats & Coffee's Curated Content Series! This series features weekly content round-ups of articles, videos, podcasts, and Instagram accounts. I find content that is worth your time so you don't have to! This month features great bookstagram finds, FAQs on my favorite shows, small creatives on Instagram, and more.
This series features shorter-form content on a weekly basis. For longer-form content round ups, be sure to explore My Current Loves.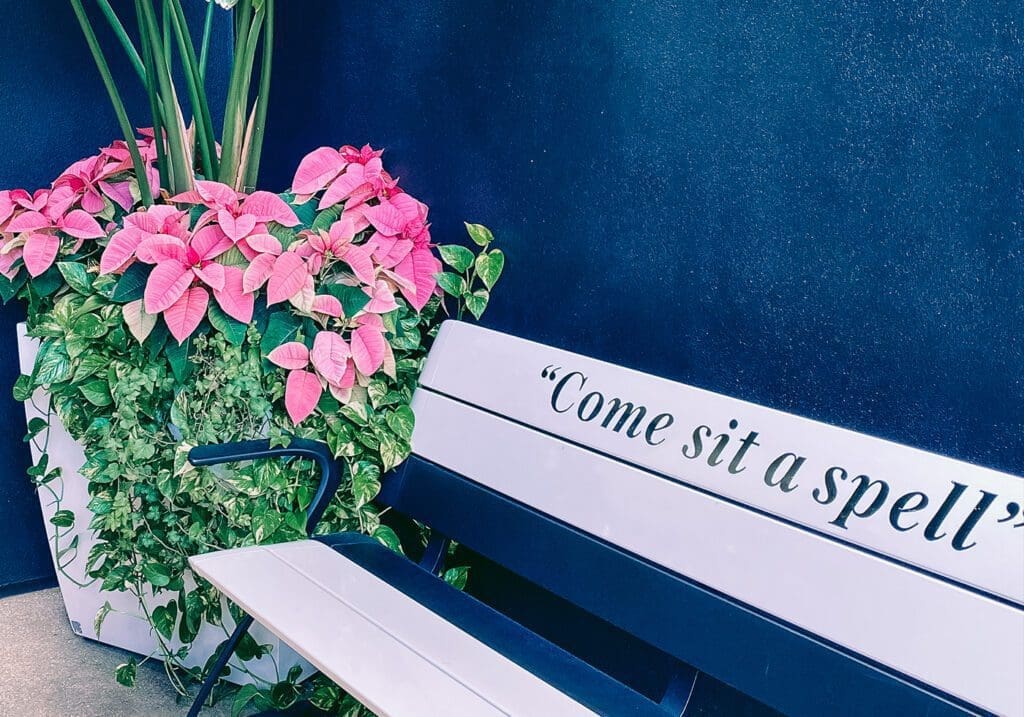 Cats & Coffee's Curated Content Series: May 25, 2021
Article: Rosary Beads Owned by Mary, Queen of Scots, Stolen in Heist at English Castle, Nora McGreevy for the Smithsonian Magazine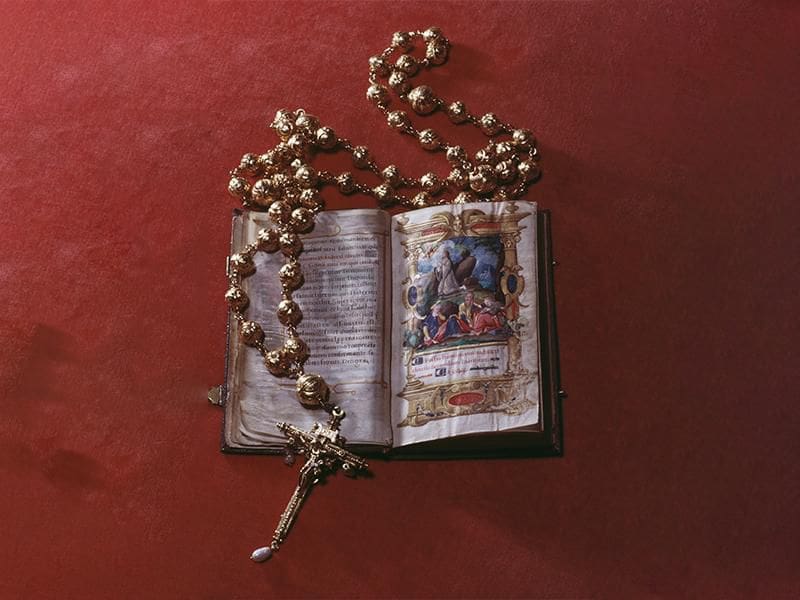 Photo from Smithsonian website, image credited to RDImages / Epics / Getty Images
As someone who follows numerous British history accounts, I was stunned to see the news on May 24 that someone broke in to Arundel Castle and stole a trove of historical artifacts, including Mary Stuart's gold rosary. Now, any item having belonged to Mary, Queen of Scots, is of interest to me, as she is my favorite historical character. This particular item, though, is an even greater loss, since they may have been the rosary beads Mary carried with her to her execution. If so, they were one of the only things of Mary's — if not the only item — to escape Fotheringhay Castle's makeshift scaffold. Mary's other personal effects — certainly her clothes, even the block she laid her head on — were burned to prevent them becoming relics to Catholics.
Kate Williams, author of one of my favorite Mary Stuart histories, Rival Queens: the Betrayal of Mary Queen of Scots, shared some details on Mary's rosary beads here:
McGreevy's article discusses the implications of such a theft, and describes how the heist took place. Besides the rosary, the thieves also stole a set of coronation cups given to Mary Stuart by a member of the Howard family. We can only hope that the pieces aren't being taken to be melted down.
Read Nora McGreevy's Rosary Beads Owned by Mary, Queen of Scots, Stolen in Heist at English Castle on the Smithsonian website here.
Interested in more history about Mary Stuart?
Here are some great books about the Queen of Scots:

Podcast: Suzannah Lipscomb's Not Just the Tudors | Anne Boleyn Special: Life and Afterlives, New Discoveries
I'm heavy on the Renaissance history this week, so I hope you're ready for a great new podcast I recently discovered: Not Just the Tudors. The podcast is produced by History Hit and hosted by Suzannah Lipscomb, whose job I didn't realize I deeply coveted until recently. Not Just the Tudors is is a newer podcast that highlights…well…not just the Tudors. But they do also cover the Tudors a bit! Basically, the show's summary speaks for itself:
Suzannah Lipscomb talks about everything from the Aztecs to witches, Velázquez to Shakespeare, Mughal India to the Mayflower. Not, in other words, just the Tudors, but most definitely also the Tudors.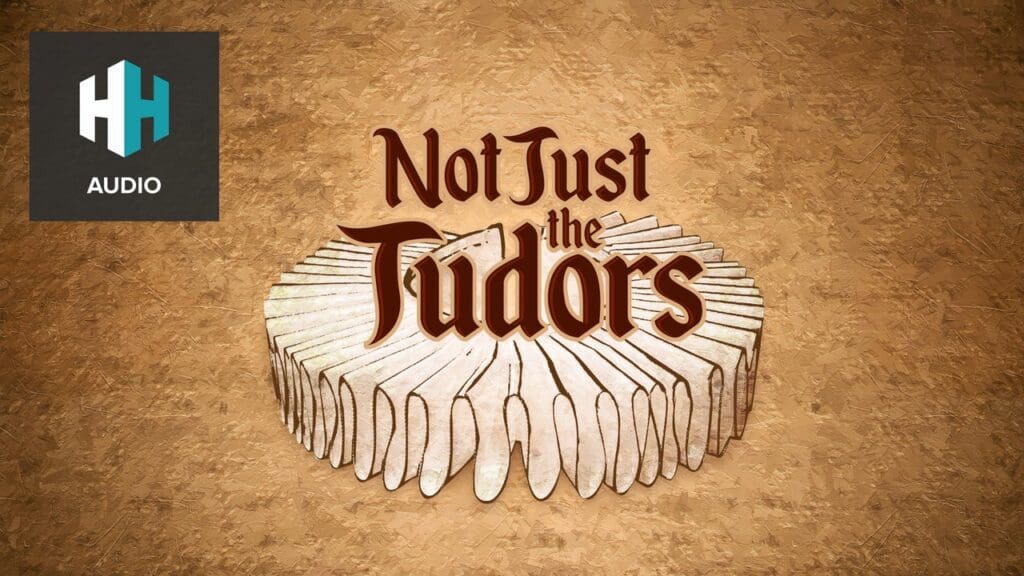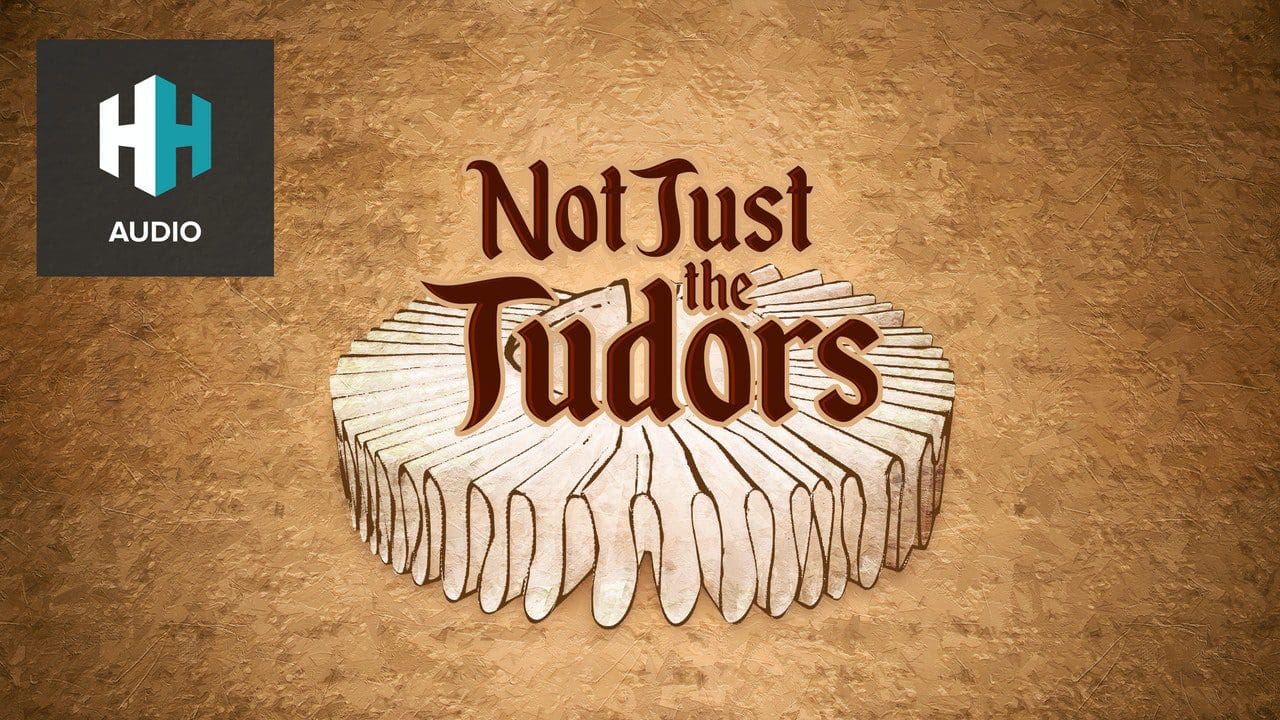 This past week, to mark the 485th anniversary of Anne Boleyn's death, Lipscomb offers a two-part series discussing the life and demise of Anne, as well as her re-creation through the media and historical writing after her death. Both feature guests, each of which offer unique insights and opinions on how Anne has been treated throughout history. It's a refreshing take on a fascinating and intelligent woman who is often painted as a two-dimensional pawn.
Click here for Part 1 of the Anne Boleyn Special: Life and Afterlives

Click here for Part 2 of the Anne Boleyn Special: New Discoveries
Mini things are always cute, which is what originally drew me in to Tatum Luckham's account, @threadedbytatum. Specializing in botanical and landscape embroidery, Luckham shares about her works in progress, the patterns she sells online, and the methods behind her craft.
Based in Jacksonville, Florida, Luckham creates one-of-a-kind hand embroidered art and accessories. Her most recent work features earthy tones, ranging mostly amongst blues, greens, and goldenrods. What drew me in to her originally were these hand embroidered floral pendants, which caught my eye on my explore page. As I said, mini things are so cute, and these are particularly lovely, and these feature birth month flowers, making them the ideal birthday gift for friends and family.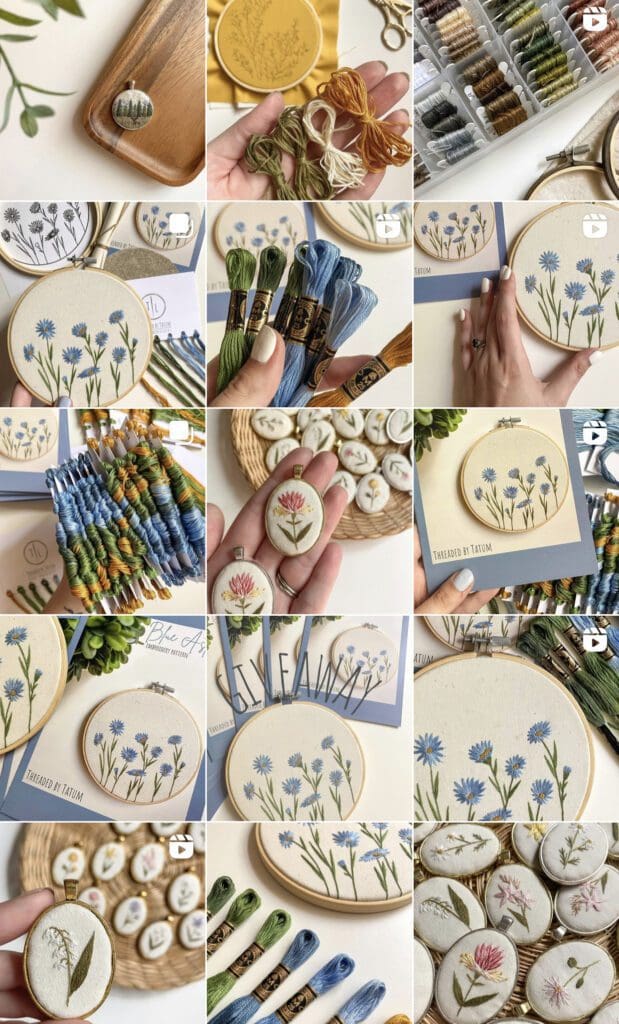 Join in on a monthly stitch along, or simply follow for the pretty embroidery pictures — either way, @threadedbytatum is a great addition to your feed. Learn more about her process or purchase her patterns or pieces here.
Cats & Coffee's Curated Content Series: May 19, 2021
Article: How Parking Destroys Cities, Michael Manville for The Atlantic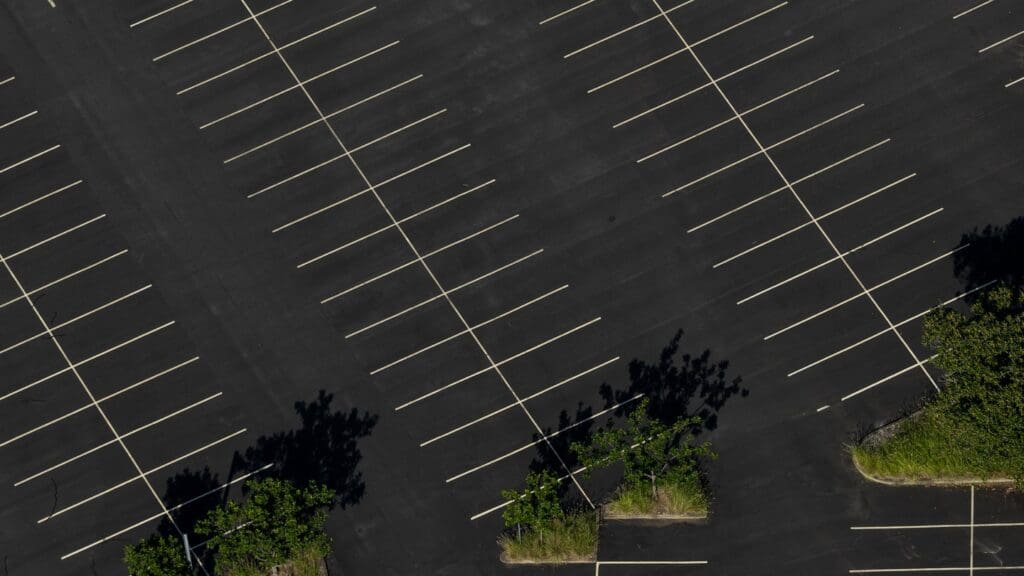 Photo Source: Cameron Spencer & Getty Images, from How Parking Destroys Cities, Michael Manville for The Atlantic
As with many of my classmates from UF undergrad and law school — or, really, any big university — I have come to develop strong feelings about parking. My knee-jerk reaction is to say there's never enough parking; but what I really mean is that it's often so poorly designed. Having now lived in five cities throughout Florida, ranging in size from a quaint college town to sprawling South Florida, my experiences have been varied. Fort Lauderdale and West Palm Beach have their own issues, for example, unique from the nightmarish hellscape of parking for class in law school.
But I digress…. My article this week is all about the rationale and failures of city planning in regards to parking. It's something that is easy to overlook, but as cities grow — and often grow quickly — parking can have a hard time keeping up. Solutions are inefficient, destroying green space while not really providing the best option for motorists anyway, often for rather exorbitant prices (looking at you, Boca Raton).
Michael Manville discusses how the development of cars related to the growth of autonomy — both physically and temporally. With a car, people can go where they want, when they want. But what one does with the car after leaving point A and arriving at point B can be its own headache.
Read Michael Manville's How Parking Destroys Cities on The Atlantic's website here.
P.S. if you want more on this topic, here is a related article also from The Atlantic about how the use of street space has changed since 2020 and what that means going forward.
YouTube Video: Jessica Kellgren-Fozard – I dressed like a princess for a week and I have no regrets
Jessica Kellgren-Fozard of @jessicaoutofthecloset is a treasure. Since I was introduced to her work (more on that here), I have come to really enjoy not only her IG content, but also her longer-form videos. The videos are always well thought out and informative, all while being a bit whimsical and entertaining. The video I chose to share this week from Jessica's YouTube account is no exception. As someone who dearly enjoys a great dress, and who is falling deeper and deeper into the "princesscore" side of TikTok…well, this one just really spoke to me. Jessica takes her normal clothes and turns them up to "max extravagance." So, really, you're in for a treat. Enjoy!
Just for Fun…Some Princess Dress Inspiration!

In a January edition of this series, I featured Siobhan Ferguson's wildly popular @theprettycities as my IG account of the week. I wanted to feature Siobhan's own photography account separately because it has been really inspiring me lately.
Based in London, Siobhan Ferguson highlights beautiful spots around the city, along with getaways throughout England. Recently, for example, she shared about a gorgeous resort in Suffolk that I have added to my list of places I want to go when it's safe to travel internationally again. Besides travel content, though, the account offers beautiful botanicals, home decoration inspiration, and simply stunning color compositions.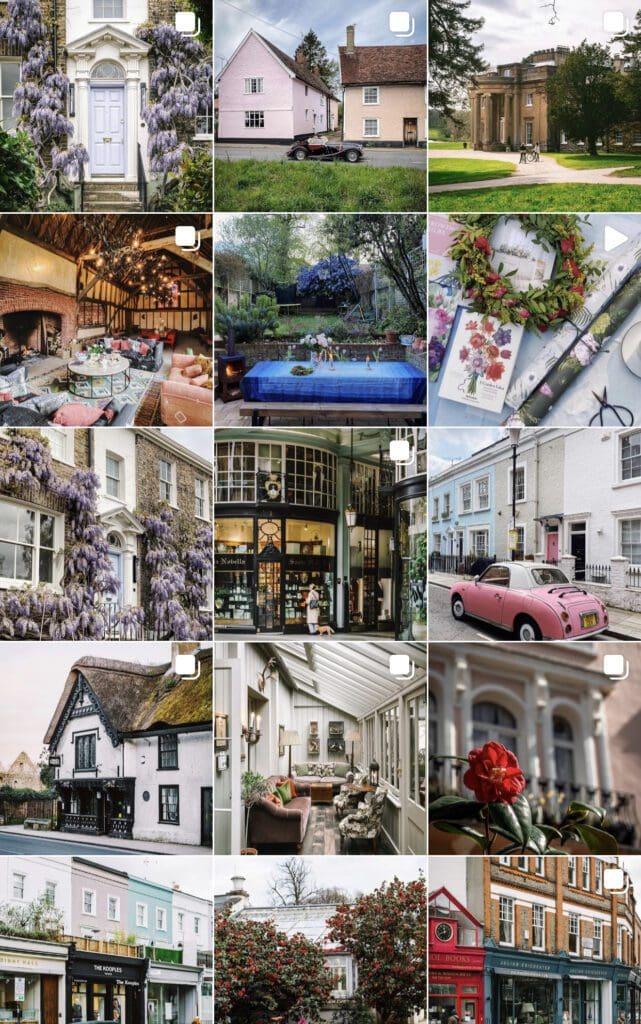 Give Siobhan Ferguson a follow at @siobhaise, and check out her other accounts: @prettycitylondon, @theprettycities, and @prettycitiesdublin_. Besides hosting pretty Instagram accounts, Siobhan also has three photography books on New York, London, and Dublin, along with a coloring book, available here.
Cats & Coffee's Curated Content Series: May 12, 2021
Article: The trend making the internet wholesome again, Leah Dolan for CNN
It's no secret that I love yarn crafts, and it's been fun to see more handmade projects show up on newsfeeds throughout the past year and a half (hey, what else has there been to do?). Leah Dolan discussed the resurgence of both knitting and crochet, and how they're being showcased online, particularly in vlogs and TikToks.
Dolan discusses how crochet and knitting as pastime has turned into small (and sometimes large) businesses for crafters (on that note, check out my crochet shop Critter Crafting here!). Besides the benefits that come with supporting small business (more on that here), there is a great sustainability aspect of such handmade operations. On the downside, some fast fashion brands have caught up with the trend and are undercutting small makers (typically while also exploiting workers).
"The amount of hours that go into even small items and the fact (fast-fashion brands) are selling them at crazy low prices means the wage of the garment workers must be pennies…"

Nancy Roberts-Smith to Leah Dolan in CNN's The trend making the internet wholesome again…
As someone who crochets, I can corroborate the time that it takes to make even the simplest piece (to say nothing of the cost of materials). If you're interested in this topic, I recommend this video from Bernadette Banner where she dissects a knock off of one of her personal designs and discusses how much making the dress originally really cost. So, I'll get off my soap box with this reminder: supporting small creatives is generally more expensive, but it is made with human hands supporting living wages and a more sustainable future.
Read Leah Dolan's The trend making the internet wholesome again on CNN here. If I've sufficiently piqued your yarn crafting interest, read my article on why knitting and crocheting is so good for you here.
YouTube Video: The Try Guys – Ned & Ariel Write A Cookbook
Ned Fulmer, one of the four Try Guys, and his wife Ariel recently announced their upcoming Date Night Cookbook. Besides being interested in seeing what kinds of dishes they included and how they found the inspiration for the project, I found this video to be really interesting from a photography standpoint. It shows the behind-the-scenes work of food photography that is both mouth-watering and mind-blowing.
The Date Night Cookbook is available for pre-order from a number of stores, including Amazon, Target, and Bookshop.
I love to follow small creatives on Instagram because, as my friend calls herself, I'm a magpie for shiny sparkly things. When someone recommended I check out @blueandblueshop on Instagram, I clicked "follow" pretty much immediately.
Run by Emerald Zedonek, the Blue and Blue handcrafted jewelry shop is based in Portland, Oregon, and features a variety of styles and designs. From simple rings (available here) to ornate engravings, Emerald Zedonek creates beautifully earthy pieces that you're sure to love. I had a hard time picking a single image to feature above, but found that I kept returning to the two-faced pendant necklace.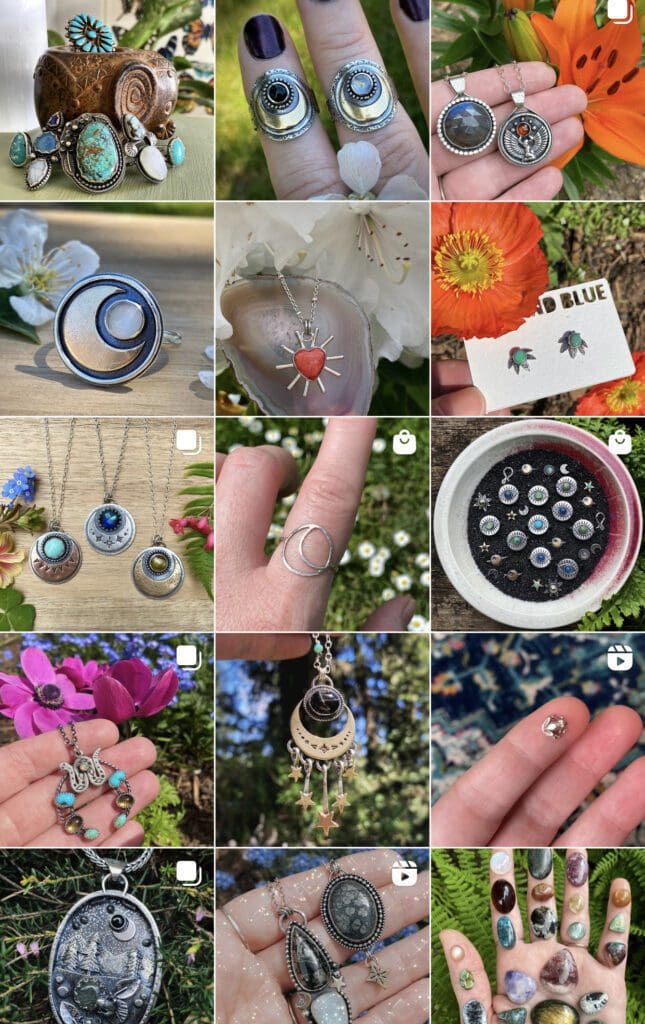 Follow @blueandblueshop on instagram here and check out the shop here (she's also on Etsy)! (P.S. the shop also has really cute custom pet tags! I'm obsessed.)
Cats & Coffee's Curated Content Series: May 5, 2021
Article: What The Fashion Industry Can Learn From Apple, Véronique Hyland for ELLE
Véronique Hyland analyzes the ways in which the fashion industry can learn from Apple about environmentalism. Speaking with Lisa Jackson, Apple's vice president of Environment, Policy and Social Initiatives, Hyland offers insight into the ways in which these two business arenas are actually quite similar.
Lisa Jackson, Apple's vice president of Environment, Policy and Social Initiatives, "draws a parallel between the company's products and "investment pieces" in fashion. 'We make these devices; people use them; they oftentimes re-sell or pass them on for a long lifetime after the first lifetime," she points out. 'They're made to last….'"

What The Fashion Industry Can Learn From Apple, by Véronique Hyland for ELLE
Beyond the fact that Apple has often involved style and design in its pieces — most obviously seen with the Apple Watch bands — both Apple and fashion brands deal with intricate supply chains. Hyland and Jackson discuss the issues fashion companies face in even determining how sustainable their supply chains are, and offers insights into why doing so is so important.
Click here to read: What The Fashion Industry Can Learn From Apple, by Véronique Hyland for ELLE
YouTube Video: Adelaide Kane: Reign Q&A – FAQS
I really don't know how I missed this video when it came out, but Adelaide Kane has a FAQ vlog (and other Q&A videos) all about Reign on her YouTube channel. Since I've been rewatching Reign while unpacking our new apartment, I figured this was a great video to share. Adelaide Kane discusses dresses, co-stars, and how she got in trouble for her accent on set, as well as why the end of the series seemed so rushed. I particularly enjoyed the insights she offered into researching her role, as Mary Stuart is my favorite historical figure.
I've been finding myself falling deeper and deeper into bookstagram and booktok lately, which is how I came across my Instagram account of the week, @prettybookplaces. The name really says it all — the account is full of pretty books and pretty places. Founded by @beautelicieuse, @prettybookplaces is based out of Cologne, Germany, and features images from all over the world.
One of my favorite things about accounts like this (or the pretty cities accounts I featured here) is that it helps me find even more great Instagram accounts to follow, since @prettybookplaces features other content creators' and photographers' images. Whether you're into bookstagram, looking to inspire some wanderlust, or simply want home library ideas, @prettybookplaces has a bit of it all!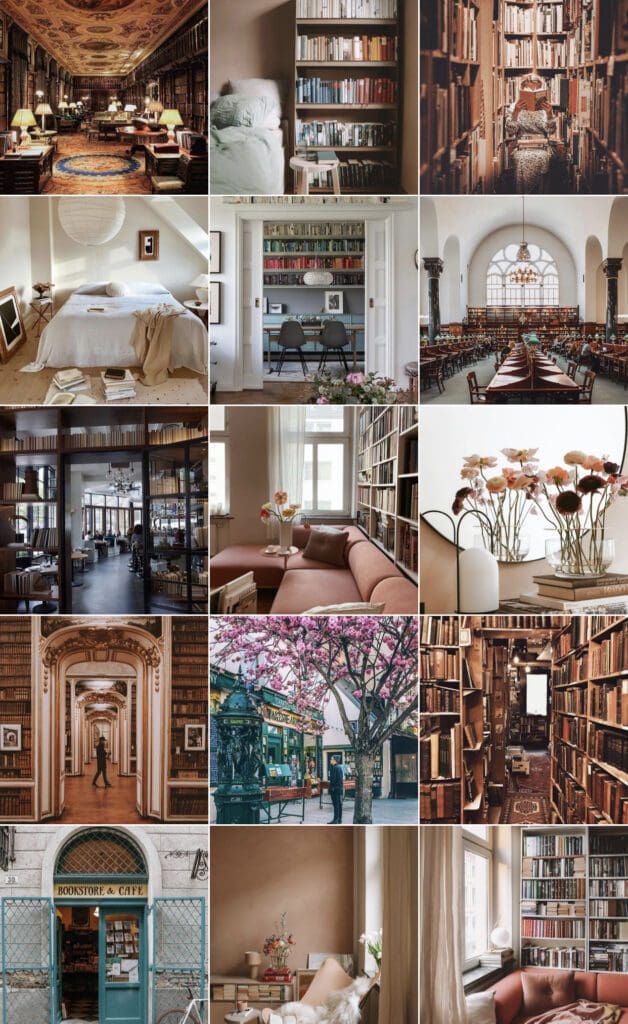 ---
Want more great finds like these? Explore the April edition of my Curated Content Series for more great reads, listens, and Instagram accounts to follow!