Salt Scrub Recipes
Originally, I set out to make a sugar scrub for holiday gifts this year. I figured this would be a nice addition to some of the other store-bought gifts I gathered for friends and family. There are many, many recipes online for homemade body and hand scrubs, and most are pretty similar, if not the same. I ultimately settled on a salt scrub because it's supposed to reduce inflammation and flush away toxins. I'm not sure how true this is, or how it works if it is accurate, but it sounds nice anyway.
Homemade Salt Scrub
Coconut Oil and Sea Salt
My ingredient list was simple and to the point — sea salt, coconut oil, and essential oils. A lot of the sugar scrub recipes I came across included citrus and other perishable ingredients, which I found a little intimidating at first, and I was looking for something pretty straight forward that would for sure last for a while.
The ratio I used was 1 cup of melted coconut oil with 2 cups of sea salt. This wound up making four four-ounce jars of scrub; the ratio is easy enough to double or triple if you want to make more at one time. To melt the coconut oil, I just put it in the microwave for about 30 seconds. Next time, I would use a little less coconut oil — probably 3/4 of a cup, like this recipe calls for — but, overall, I was happy with the consistency. It was easy to mix together; I recommend using a fork, so you can break up any salt clumps while you incorporate the ingredients.
Essential Oils
Once you get the salt and coconut oil mixed together, all you need to do is add the essential oil of your choice and you're good to go.
I decided to split my batch into two bowls so I could make two distinct scents. Lavender is an absolute favorite scent of mine, so that was a no brainer. I used about eight to ten drops of lavender for the halved mix, and topped the jars off with a tiny bit more once I packed them.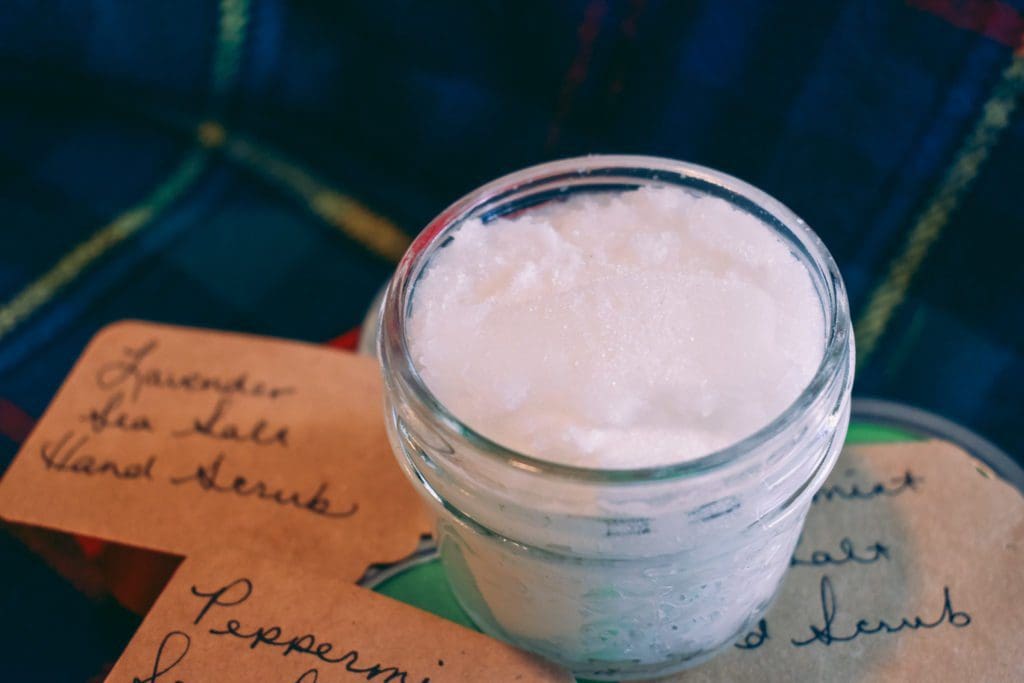 Besides lavender, though, I wanted to make something minty, and an Instagram friend of mine had sent me two mint oils — peppermint and spearmint — a few months back, so I decided to use one of those, too. I wound up going with the peppermint, and added about eight to ten drops of the oil to the halved oil and salt mixture.
Packaging the Homemade Salt Scrub
Like I said, I used little four ounce jars to hold the scrub. I think this is a good size, especially if you make different scents and want to give people a couple kinds.
My intention was to make the packaging super festive, and I bought some pretty holiday ribbons to tie around the lids. However, I found tying the ribbons around the lid, either with or without the fabric on the jar, was a bit of a nightmare and more trouble than it was worth. Of course, I had some feline helpers, so that might have contributed to the futility.
The fabric and little tags added a nice level of polish to the jars, in my opinion. Again, if I didn't have some cat help, it might have been easier to get perfectly uniform fabric squares. But, at the same time, I think it all adds to the rustic feel of the presentation.
Plus, you can get whatever fabric colors/patterns you want. So if you wanted to make this as a birthday gift, for example, you could get the person's favorite color or animal print! The possibilities are endless.
---
Pin this for later!