Welcome back to the Cats & Coffee My Current Loves series. This edition features four things that stand out in the last month for me: the SteamLine Luggage Mini, Hill House's Ellie Nap Dress, Davines MINU shampoo and conditioner, and the Stories of Scotland podcast series.
Check out my last edition of this series here, featuring handy mason jar lids, Trader Joe's Dark Chocolate Peanut Butter Cups, the Secrets of the Six Wives PBS miniseries with Lucy Worsley, and TeBella Earl Grey Lavender Tea.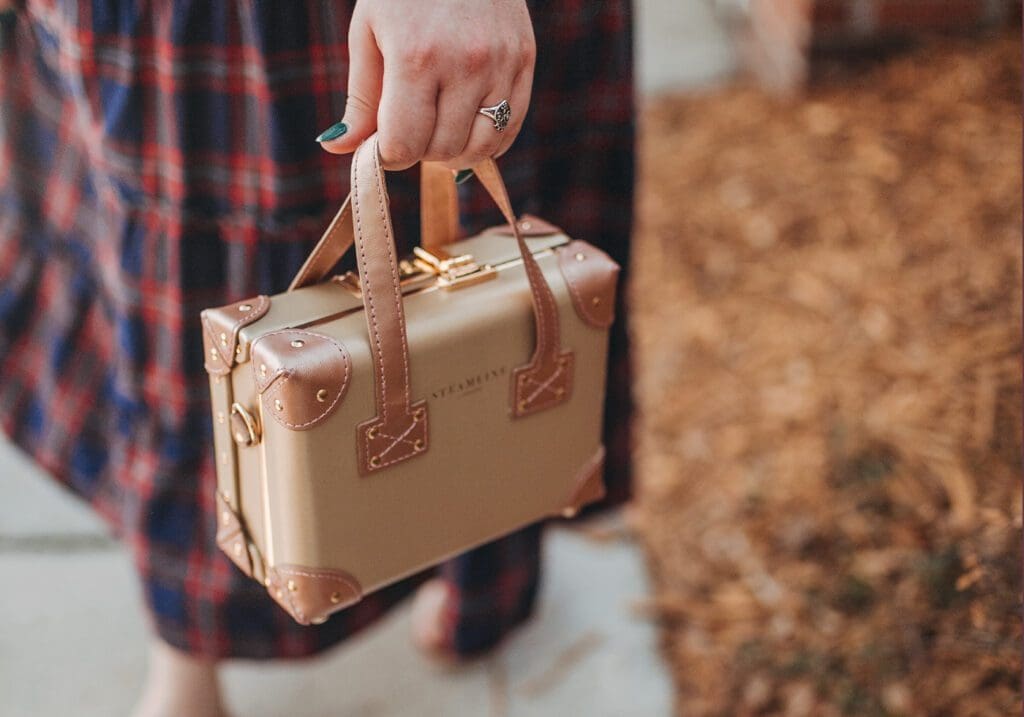 Photos of the Hill House Nap Dress & SteamLine Luggage Mini Purse by Carter Fish.
Let's dive right in:
The SteamLine Luggage Mini Purse
I get so many compliments about my SteamLine Mini purse, I figured it was time to feature it here properly!
As someone with a tendency to overpack, whether for a trip or for the day-to-day, the SteamLine Luggage Mini purse has really helped to curb that habit. The Mini is the perfect size daily carry bag and can be worn either as a clutch or a crossbody. I typically go with the latter. With a hard case, the Mini keeps my belongings nice and secure, which is great if I forget a glasses case.
Available in almost twenty colors, the Mini pictured here is part of the Alchemist Collection; I also have it in dark green. The gold version is made with vegan leather and features a beautiful Art Deco lining. Check out all of the SteamLine Luggage Minis here, or pick up my exact Mini from Nordstrom here!
More Favorites from SteamLine Luggage

Hill House's Ellie Nap Dresses
The Hill House Ellie Nap Dress is the perfect one-and-done dress, and they just released a fun new mermaid inspired collection just in time for summer. I have four Ellie dresses at this point, and this red and blue Iris Tartan is by far my most-worn. (It's still available alongside the new releases!) Wear them casually or for a date night out — there's really no wrong way to style them!
At first, as a five-foot tall woman, I had been hesitant to order the Ellie. I thought the length would be an issue. The length is really perfect, though, and hits a bit above my ankle. Definitely size down for this style, though, especially if you're petite. I have a medium which is definitely a bit on the bigger side, most noticeably in the length. However, the dresses are machine washable and can be dried in the dryer, during which time they shrink up a bit.
See all the available Ellie Nap Dress motifs here.
Davines MINU Shampoo & Conditioner
I've been using Davines' MINU shampoo and conditioner for about a month now and I am totally hooked. Designed for color treated hair, MINU gently cleanses the hair while also protecting the color and natural shine. The conditioner leaves hair super hydrated without weighing it down. I find that the combination works wonders with the Florida humidity, and really prevents frizz without any trouble. Plus, I find that I can go a bit longer than normal between washings with these. This is especially true if I add in my favorite Lulu Organics dry shampoo on day two.
On top of keeping my hair clean and hydrated, Davines' products are made with all natural ingredients and 100% clean energy. Further, their minimalist packaging is fully recyclable. Davines' products are around the same price point as Bumble & Bumble ($29 for the shampoo, $33 for the conditioner). Based on my usage over the past few weeks, I find that a little goes a long way. A bottle or tub will last you quite some time.
You can order the MINU shampoo and conditioner from the Davines website or Amazon.
The Stories of Scotland Podcast
"Prepared to climb into caves, cairns and chaos, [hosts] Annie and Jenny travel around Scotland and investigate how stories of the past can help us make sense of modern life."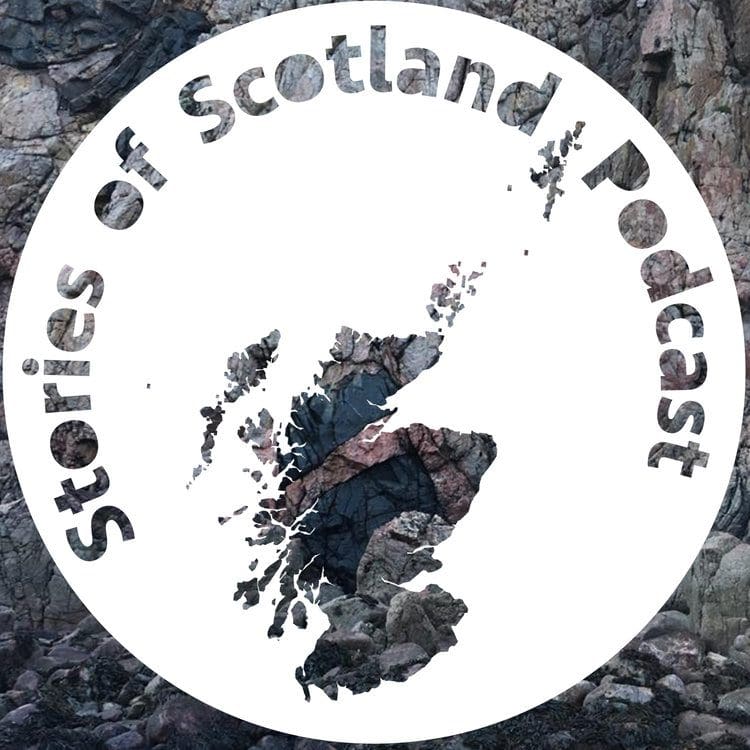 Stories of Scotland popped up as a recommended podcast for me on Apple podcasts and I am totally hooked. This award-winning series explores Scottish history through a quirky conversational tone with hosts Annie MacDonald and Jenny Johnstone. MacDonald and Johnstone are passionate about "forgotten or misrepresented histories and environments on the edge," and their passion for Scottish history and culture are pervasive throughout.
MacDonald and Johnstone have been creating the podcast since summer 2019, so there are plenty of episodes to binge. I highly recommend starting out with their Loch Ness series (click here for part 1), all about how "the Pictish beast" came to be so renowned.
Stories of Scotland is available on Apple Podcasts and Spotify.
---
Favorite Finds from June