Sometimes, We All Need a Little Pick-Me-Up
Whether it is a career roadblock, social anxiety, family drama, general fatigue, or just a funky day, it's easy to get stuck in a dreary mindset. When this happens, there are a few things that I like to try to lift my spirits. These pick-me-up ideas are not fool-proof or 100% guaranteed, but it can't hurt to try.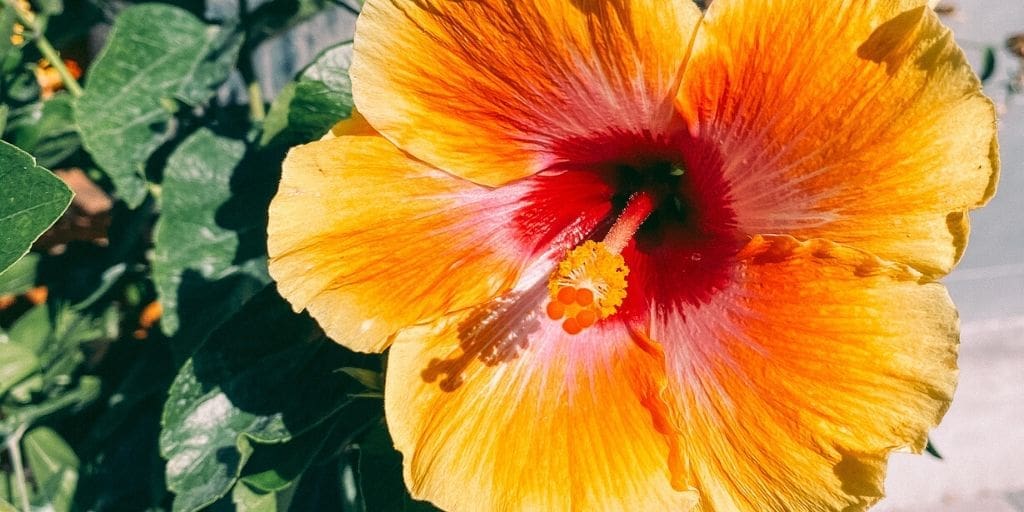 Check out my five favorite Mood-Lifters and Pick-Me-Up Ideas:
1. Take a Nice, Long Bath
Baths are always lovely. Whether you read a book or magazine, listen to a podcast or audio book (my go-to), or simply let your mind relax and meditate, you really can't go wrong. Pour yourself a cup of tea, light a candle, and relax.
I like to enhance any bath experience with bubbles and salts. If it's been a particularly rough day, a Lush bath bomb may be in order. As for bubble bath, I really love Dr. Teal's bubble bath. It's a pretty big bottle, so it lasts a while, and it comes in a few a great scents. For salts, I usually go with the Dr. Teal's salts, as well. Their eucalyptus scent is great, but I usually go with the lavender because it's just my favorite. I'm curious to try the Herbivore "Calm" option, but I haven't splurged on it yet.
2. Work Out
Ok, this is more of an aspirational one for me. After a tough day, it is pretty difficult to make myself put on work out clothes and go run — or even walk — on the treadmill.
However, on the occasions that I have gotten myself to the gym on tough days, I generally do feel better because of it. There's something about endorphins that really perk you up. Elle Woods was on to something….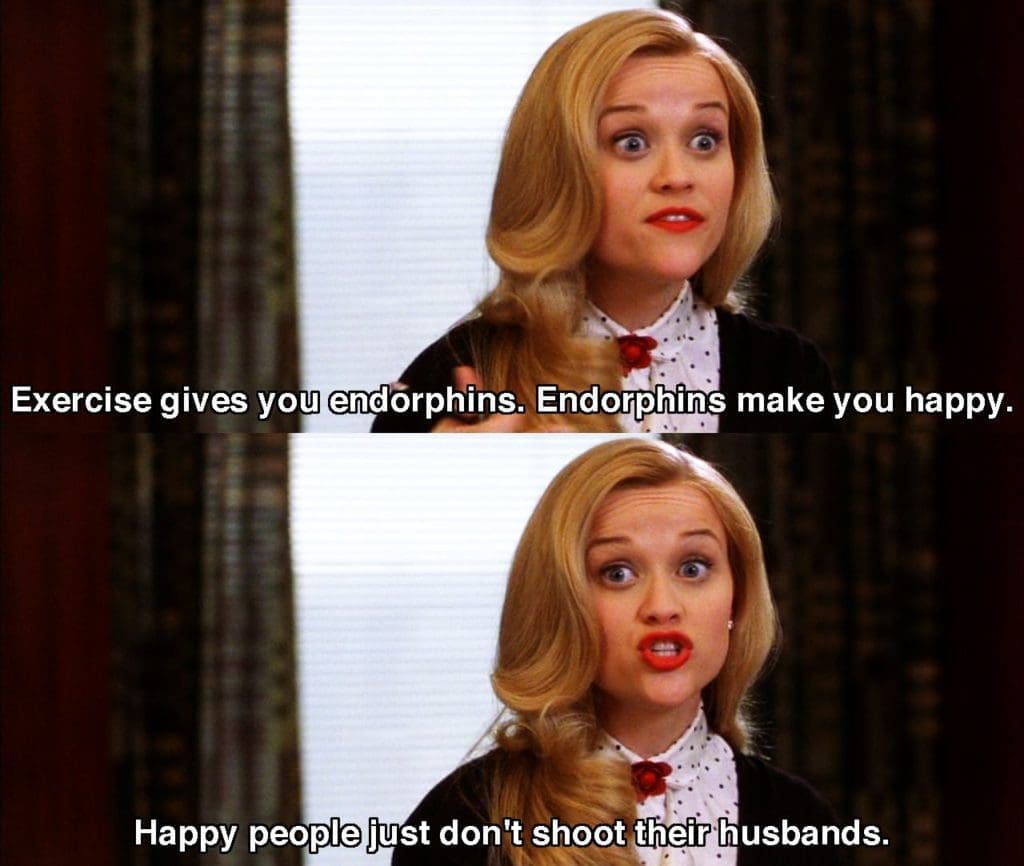 That being said, I don't think really forcing yourself to do something that you REALLY don't feel like doing is going to help much. So if it's been a super rough day and I'm just feeling way too drained, I do pay attention to my body and stay home — probably to take a nice bath.
3. Go Out for Ice Cream
Sometimes, I find going the treat-yo-self rout really can work wonders. We have a great ice cream place down the street from our apartment, and on rough days, sometimes it just calls my name. There's nothing like a little bit of sweetness to perk you up after a long day.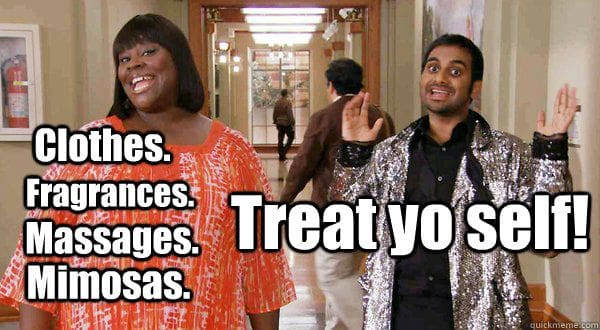 4. Walk Around the Mall
Along the same lines as my work out suggestion, walking around the mall at least gets me moving and away from the couch. It's always fun to people watch and pick up Sephora samples.
Plus, even if it isn't a vigorous walk, sauntering from store to store gets your blood flowing a little. I find it super easy to sink into the couch and watch Netflix for hours — which can be awesome, don't get me wrong — but sometimes, just the change of scenery helps lift my spirits.
5. Make a Fun, New Recipe
I like to cook and bake. A lot of times, though, I wind up making the same type of thing over and over again. So, if I'm looking for some pick-me-up ideas, cooking and baking can be a great diversion to pick out a new recipe and give it a shot.
I am a huge fan of Smitten Kitchen and regularly save their Instagram posts to a folder for cooking and baking inspiration. If I'm craving something in particular, I might look for a certain type of food, but it can be fun to shuffle through the "surprise me" option on the Smitten Kitchen website.
Following a new recipe and getting everything prepared really untangles my thoughts and helps me take a step back from whatever is bothering me. Plus, at the end of it all, there's something tasty to eat!
---
Check Out Popular Lifestyle Content on Cats & Coffee