Simple Italian Cooking with Gardein Sliced Italian Sausage
Plant-based meats are becoming more popular by the day, especially with production disruptions in the meat industry during the early days of the pandemic. I've tried a number of meat substitutes since I stopped eating meat, and the Gardein Sliced Italian Sausage is one of my favorites (along with their Mandarin Chick'n, which I reviewed previously). I've been meaning to put this Gardein meatless sausage review together for some time, but I was always too impatient to get pictures when I'd made it previously. It's that good. If you're looking for an easy meat substitute, I highly recommend giving this product a shot.
Gardein products are some of my favorite meat substitutes across the board, largely because they're so easy to incorporate into a vegetarian or vegan diet. Overall, Gardein meat substitutes have been some of my favorites. I think they're some of the best tasting meat substitutes around. The sliced sausages are one of their newer offerings, having been released in mid-2019, and is my favorite substitute for Italian sausage so far.
How to Cook With Gardein's Sliced Italian Sausage
I've always loved pasta with sausage, but, even before I became vegetarian, I never cooked sausage myself. Instead, I'd get it at restaurants or my grandmother would make it. This hesitance to cook it myself translated to vegetarian substitutes for Italian sausage, but it's really so easy to cook with! I'm not sure why I was intimidated by it, but maybe if I had found the Gardein version earlier, I would have been enjoying it this whole time.
Vegetarian Pasta with Italian Sausage
My favorite way to use Gardein's sausage is with pasta and red sauce of some kind. It's a simple, classic favorite of mine that can be put together rather quickly. Marinara sauce pairs well with the sliced Italian sausage, which features a variety of Italian spices and fennel.
While I prefer to make my own sauce, I used a jarred sauce this past time and was really happy with how it turned out. The only thing I added was a bit of nutritional yeast to thicken it up a bit and add a bit of cheesy flavor to the dish.
Cooking the Frozen Sausage Slices
Gardein's sliced Italian sausage comes frozen, and can be heated simply in a skillet with a bit of olive oil. In all, cooking the sausage takes about 10 minutes. Be sure to flip the slices over so they heat evenly.
If you're making pasta with red sauce, try finishing the sausage cooking off in the sauce itself. I did this with the jarred sauce pictured here and it really helped incorporate the flavor of the sausage throughout. If I had more time and vegetables on hand, I would bulk up the sauce with some spinach or kale. This is an easy way to add more vegetables to an already largely-plant-based dinner!
Other Ways to Use Gardein Sliced Italian Sausage
Besides making a meatless Italian classic, there are a lot of ways to use this product in your cooking. The sausage has a nutty, earthy flavor to it that makes it pair well with grains like quinoa or barley. I like to toss it with rice and vegetables for an easy Sunday night meal prep dish.
You don't have to look specifically for vegetarian recipes with meat substitutes, either; swap this for actual sausage in any recipe you love and I think you'll hardly notice the difference.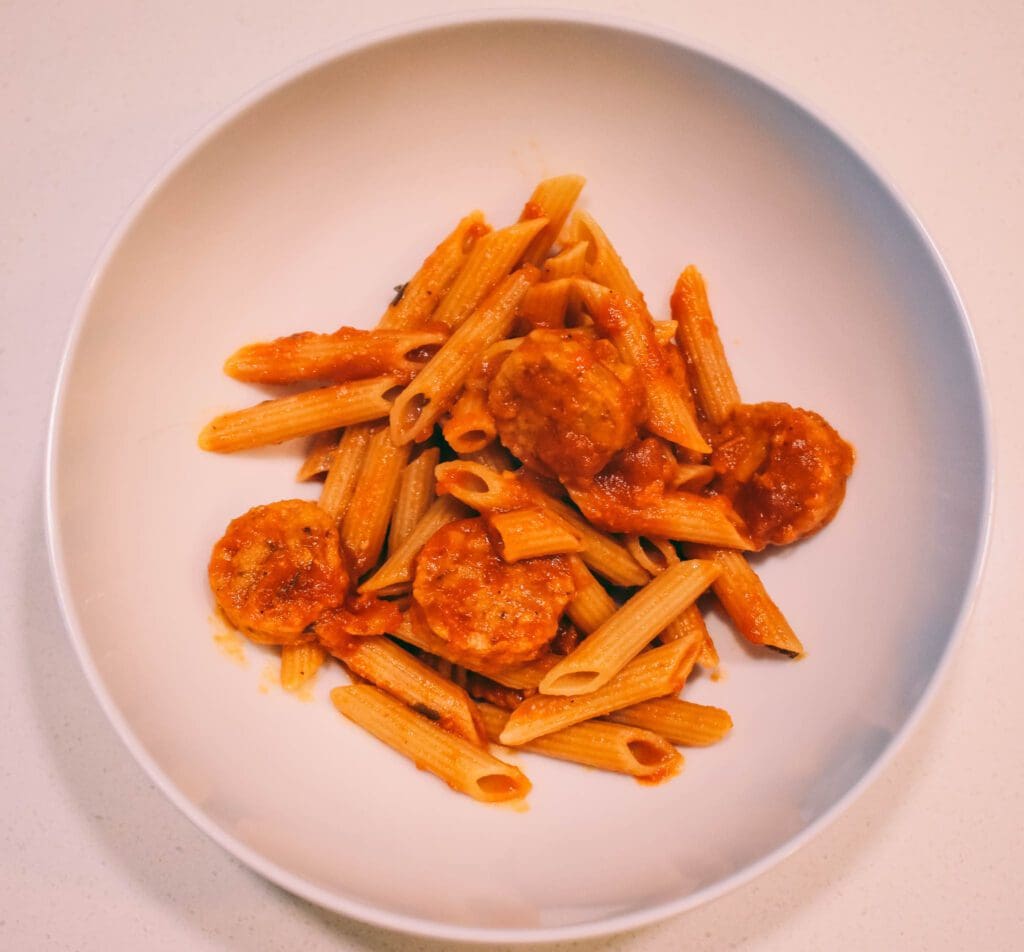 Where to Buy Gardein Italian Sausage
Gardein's products are pretty widely available and can be found in the frozen section of grocery stores. I can generally find this product at my normal Publix, and often see it at Target as well, so you can likely find it at your local grocery store. It is also available at Whole Foods and can be delivered through the Whole Foods-Amazon partnership if you're interested.
---
Looking for more plant-based meat substitutes?
Explore more Gardein favorites here!
Pin this post to save it for later!
---